The consumer packaged goods (CPG) industry has changed fast over the last five years.
Ever since the global pandemic, businesses have had to pivot in more ways than one. Companies not only need to meet the latest consumer needs from a B2C standpoint but continue to navigate B2B challenges as well.
From labor shortages and supply chain issues to major cost inflation, it's become apparent that the B2B customer experience (CX) is just as important as the end consumer experience.
But this realization is nothing new. In fact, many CPG businesses are actively investing in the right tools to listen to customers and quickly act on their feedback all in real time.
Why? To unlock massive market share opportunities.
Heineken, Coca-Cola HBC, JustEat Takeaway, and AB InBev (to name a few) are setting the bar high with their industry-leading benchmarks. How are they achieving such successes?
By developing world-class Net Promoter Score (NPS) programs with CustomerGauge's Account Experience (AX) software and methodology.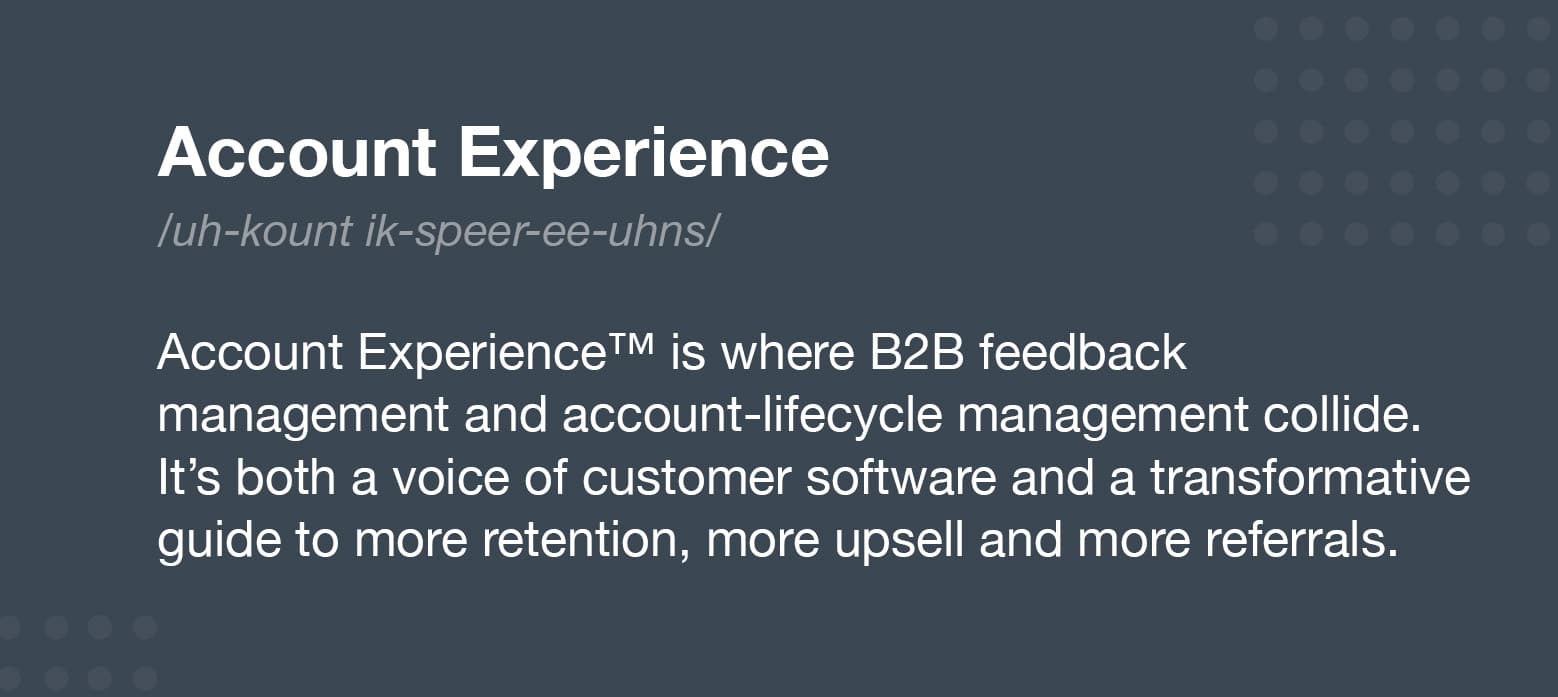 Keep reading to hear how top CPG brands are evolving their B2B customer experience.
Importance of B2B Customer Experience (& How It Helps to Watch For Industry Trends)
In an industry where competition knows no bounds, organizations that make B2B CX a cornerstone of their strategy gain a competitive edge.
Being the preferred choice isn't only about having a superior product; it's about offering an unparalleled customer experience. This twofold approach ensures that customers not only love what you offer but also appreciate how you offer it.

Real Field Example
Nigel Tordoff, Chair of the CPG Experience Council, shared a great example of this as he joined CustomerGauge Co-Founder and CEO, Adam Dorrell, on The Account Experience podcast.
After 30 years in the beer sector, Nigel told a story about how he was at one of his end consumer's stores and an employee was building a display of a competitor's brand.
Nigel asked why they were building a competitor's brand over his and the employee responded, "They don't have glue on their boxes of beer; yours does and it gets on my hands and uniform."
At the time, Nigel's brand used glue to secure the beer while in transit, however, it also meant that beer wasn't being promoted once it got to the end location.
What might sound like a very simple problem likely resulted in the loss of profit because this store's employees didn't want to display their boxes to encourage sales. After listening to the customer, Nigel relayed this feedback back to management and arranged a new way to transport the beer.
This is important because distribution partners and retail outlets aren't just one-time buyers — they morph into advocates who enthusiastically refer your brand to their network, organically generating new leads for your business.
When your existing customers are satisfied they become more receptive to exploring additional products or services from your portfolio or cross-sell and upsell opportunities.
This naturally translates to increased customer lifetime value and a healthier bottom line.
But B2B CX isn't just about nurturing B2B relationships; it's about gaining a panoramic view of customer expectations and behaviors.
This view within the CPG sector can offer a predictive lens into emerging trends and preferences. Companies that leverage real-time B2B feedback from their distribution and retail partners about their deliveries, service, and products will create deeper relationships than their competitors and grow marketshare faster as a result.
Before heading into how Heineken, one of the world's largest brewing companies, is evolving their B2B customer experience, let's hear why their focus on it (using CustomerGauge's Account Experience) is so important to them.
As the expectations of B2B customers skyrocket, businesses catering to them must continually innovate to meet these demands. This focus on innovation, personalization, and value-added solutions closely mirrors the expectations of end consumers in the CPG world.
By drawing parallels between the two, business leaders can identify emerging trends in CPG before they fully materialize.

Top Brands Evolving Their CPG B2B Customer Experience
Household name brands are already ahead of the game achieving insane success with their B2B experience programs. Their secret? Breaking down data silos and once-a-year feedback collection to build a strong, real-time feedback approach.
Enough from us though — let's hear from the leaders spearheading these world-class B2B CX programs.
Heineken: Gaining a Competitive Edge by Closing the Loop With B2B Value Chain Partners
The brewing company giant's key to better customer insights? Continuing conversations with B2B customers at all times.
Before leveraging Account Experience's real-time feedback, Heineken was only in contact with customers when they would call or visit (or if customers had a complaint).
Stefan Visser, Voice of Customer Program Lead at Heineken says, "Today with CustomerGauge we're also reaching out to them saying, "What can we do to help you?" and that's helped us become more customer-centric and where we, as a company, want to move towards."
They also don't just close the loop with detractors, but promoters as well. "We want to hear from all our customers," explained Visser.
That being said, Heineken now has an integrated process for their sales reps to speak with all customers to increase account retention. Spoiler alert: When customers are happy, the conversation doesn't end!
Today, their sales reps are always asking what more they can do to deliver an even better experience.

👉 Hear from Stefan Visser and his colleague Iris Boon presenting on stage at our VoC Conference Monetize!
Coca-Cola HBC: Arming The Frontline With Tools to Build Better Relationships
Successful CPG businesses like Coca-Cola HBC said goodbye to collecting customer data a few times a year and hello to an 'always-on' channel approach.
In the past, Coca-Cola HBC had partnered with Advantage Group which specializes in once-a-year market research.
One major drawback of the Advantage Group was their services are only available in six countries, which didn't provide CCH with the total view of their key accounts such as Tesco and Dominoes, etc.
Now that they're working with CustomerGauge, they moved to real-time insights 365 days a year and cover every single country offering a much more comprehensive view of their customer base.
Plus, they're always collecting responses from customers, allowing their team to intercept and act on feedback just as fast as it comes in.
"
Just by getting closer, we saw a new level of insights that were really quite transformative and creating opportunities. And we said, "Now we need to shift from listening to a few customers a year to an always-on feedback approach with all customers in terms of capturing feedback." That's what led us to explorations and ultimately the CustomerGauge partnership.
The holistic view is something we could never get before. We'd get this by country with Advantage Group, but we have the total picture which is far more powerful.
Stuart Ward
Head of Customer Capability, Coca-Cola HBC
Fast forward to today: Stuart Ward shared he's now reaching 566,000 customers worldwide every single day — that's over 50% of all their customers in different countries, direct and indirect, providing feedback.
It was while Stuart's team was looking at their previous customer satisfaction model, they found 4 out of 5 areas customers provided feedback on were the capability of their people.
Coca-Cola HBC has 15,000 salespeople who go out into the field and interact with customers on a weekly basis. Based on this feedback, it only made sense to arm them with the tools necessary to receive a holistic view of their customer base as well as proper training.
Why? To build stronger B2B customer relationships and act on feedback fast.

💡Learn how Coca-Cola HBC is also breaking down internal silos with NPS
Just Eat Takeaway: In-Depth Customer Reporting Unveils the Root Cause of Major Challenges
Just Eat Takeaway.com is a global online food delivery company that operates
in 24 countries. On a daily basis, they connect millions of consumers with over 580,000 local restaurants through their websites and apps.
The Account Management team at Just Eat works directly with restaurants in the onboarding process to ensure they're providing the best B2C experience
possible — that includes everything from menu item selection to packaging.
What makes their CX program unique is that feedback from the B2B experience is often driven by the B2C customer experience. With this in mind, they called on CustomerGauge to help create a better experience from onboarding to growth for the restaurants they partner with.
Lucinda Anderson, Commercial Excellence Manager at Just Eat Takeaway shared,
"What we started doing, we did run NPS but it was just a lot of data and didn't really say that much. But when we started deep diving a bit more, that's where CustomerGauge's tool gave us lots of insight. This is what we're doing well, this is what we really need to improve on, and also the complexities within the different markets.
...reporting has created transparency and visibility, which almost by itself created ambassadorship within the different levels of the organization."
Leveraging smart customer dashboards within their business, Just Eat Takeaway can identify where they need to improve and quickly act on feedback.
Jump to today and the company closes the loop on 97% of all detractors within 48 hours.
This has made a direct impact on how satisfied their B2B customers are with their business, increasing the longevity of their relationships and word-of-mouth referrals.
With the right tools and their Improvement Special Project Manager dedicated to following up with Account Managers, closing the loop with all accounts has never been easier.
AB InBev: Gaining Visibility Across Multiple Global Markets (27+)
Think rolling out an NPS program across multiple different markets is impossible?
One of the largest CPG manufacturers in the world, AB InBev, did exactly that — across 27 markets.
Prior to launching their CPG program, AB InBev discovered technology was making the beer distribution environment more accessible and competitive globally.
In other words, beer manufacturers were striking up relationships with their distributors who then sold more of their beer instead.
Gone are the days when distributors only had a few options. Plus, today distribution clients tend to be more influenced by the experience they have with the manufacturer over anything.
Then Sr. Global Director of Contact Strategy at AB InBev, Luiz Gondim, rolled out Account Experience to measure and act on channel feedback within accounts from anywhere in the world.
The results? Eye-opening. The brewing company discovered a negative NPS in multiple markets but was motivated to change fast.

It was only after a few short months that AB InBev rolled out Account Experience across 27+ global markets to start collecting feedback from their distribution network.
CPG Companies Are No Longer Relying on Gut Feelings
We have seen first-hand what real-time B2B customer feedback can do for CPG companies.
Checking in once a year and relying on your gut to steer you in the right direction is no longer an option. Don't think you know what customers want, listen to what your customers want!
Ready to improve business long-term and grow marketshare? Reach out to our team to see a demo of our Account Experience software live!
About the Author