When collecting feedback for your voice of customer (VoC) program, it's easy to be torn between quality and quantity.
On one hand, a large sample of customer feedback can help you spot insights and trends.
On the other, it's the detailed responses that provide a better understanding of how your customers think — and, more importantly, what you're doing to make them think and feel that way.
Although larger sample sizes can expose trends and otherwise hidden sentiments of customer groups, they raise the question of bias. If data is biased, intentionally or unconsciously, the insights gleaned from it are faulty.
It's why researchers typically work so hard to remove any kind of bias when drawing conclusions from their data.
VoC research isn't like other kinds of research. Sampling bias occurs when the group you collect data from doesn't accurately match the group you want to learn about. But what two B2B customers are alike?
In this article, we want to show you why sampling bias in VoC research shouldn't be your first concern in B2B contexts.
Your research is a tool for tailored, targeted action, much more than for building generalizable patterns and trends. And in that context, sampling bias doesn't matter so much.

Why Sampling Bias in Voice of Customer Research Doesn't Matter for B2B
In consumer research, biased data is a legitimate concern.
If your data is skewed, the lessons you learn become inaccurate, the patterns you identify distorted, and the action you take misguided.
Yet, voice of customer research is not like normal research, particularly in B2B contexts.
Here's why:
1. Every B2B Customer Relationship Is Unique
When it comes to VoC data, B2B customers are a very different group to B2C. B2C relationships tend to be shorter, similar in size and value, and driven by the same needs.
This means that patterns can be easily gleaned across the full range of your customers.
B2B relationships are typically longer and more logical, they involve more people, and, crucially, these relationships are tailored to suit the value of each account. Therefore, B2B customer feedback often doesn't translate well across the range of business customers you service, giving patterns much less value.
Instead, VoC feedback is more specific to each account and often best dealt with on an individual basis.
2. The Main Purpose of B2B VoC Research Is to Drive Action
B2B is about the relationship — and that relationship is with a unique group of people.
What's true for one B2B customer is unlikely to provide much insight into your relationship with another.
But the fundamental purpose of VoC research in B2B is to inform tailored action.
It should…

Show you how a customer feels

Shine light on the individual problems they have

And reveal how you can intervene to improve their experience
Of course, a large sample size, high response rates, and substantial customer engagement in surveys make large-scale action better informed. But when you are closing the loop with individuals, bias doesn't enter the equation at all.
Below is an example of the impact closed-loop feedback can make: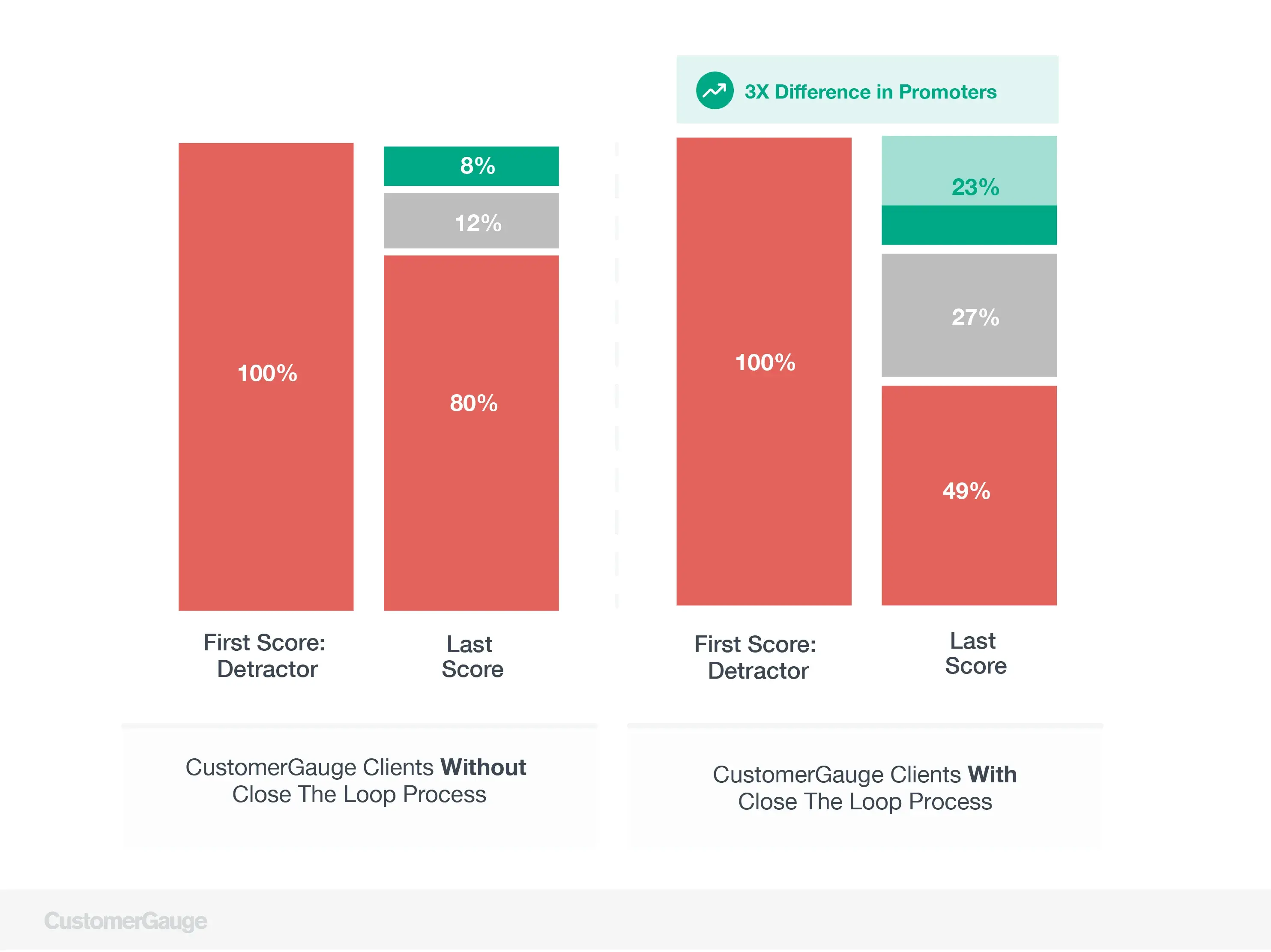 There are More Important Things to B2B Research Than Bias
In short, large VoC datasets aren't so important when working to improve B2B customer experiences.

What is important is opening the channels of communication, acting on the customer feedback that you receive, and continually working to solve your customers' individual problems.
Here are three things you should focus on in your B2B VoC research:
1. Build Stronger Customer Relationships Through VoC Research
A VoC program helps you to understand what your individual customers think about you.
These thoughts can then be used to strengthen individual relationships, understand what it is that makes your customers happy (and unhappy), and quantify the monetary value of those sentiments.
The value of VoC research is that it can shine a light on customers' experiences for everyone in your organization.
And that means that when launching a VoC program everyone at every level of the organization should be on board as CustomerGauge's VP of Education, Cary T. Self, explains:
"A retention strategy has to have everyone in the customer journey involved. To better understand how to retain a customer you have to understand the entire customer journey, where each department engages with the customer, and the impact each interaction has on overall loyalty."
Because B2B relationships are so different from the B2C customer experience, the approach to B2B VoC programs also needs to be different.

Cary T. Self puts it like this:
"The biggest misconception that we hear when talking to B2B companies is that a CX solution will work. The reality is a business-to-business voice of the customer program is significantly more dynamic than a simple customer experience program.
"Think of it this way. Customer experience is very one-dimensional; it usually consists of one person speaking to one person getting feedback and putting out a fire. With a B2B voice of the customer program, companies are able to measure the relationship between multiple departments and multiple levels of an organization."
This way, you'll really get a deep understanding of your customer account. With so much complexity in the B2B relationship, you want to know it inside out.
2. Drive Tailored Action Through VoC Research
As our VP for Education once said, "VoC is not a research tool, but an action tool."
Customer feedback is worse than useless if it isn't used to instigate action.
If you don't act and show that you're not only listening but also doing something with the information, you'll damage customer relationships.
"Nothing frustrates customers, and quite honestly employees, more than taking the time to ask for feedback and getting it, then having nothing done about it," says Cary.
"Why bother having the program if you aren't going to create change from the feedback you are receiving? If driving growth was easy, everyone would be doing it, but if you aren't even taking action on the feedback you're receiving, do not expect growth to be there."
Cary's right.
Much more than statistical accuracy or unbiased data, action is the key element of your VoC research and closing the loop is what matters more than anything.
Closing the loop reduces the risk of customer churn by letting them know what you're doing to solve the problems they raised.
It's a process that involves responding to customers and demonstrating that you've taken their feedback on board. Companies that close the loop in this way, within 48 hours, experience a 6-point increase in NPS scores.
A closed-loop process needs to include some key elements for it to be effective:

Speed. Speedy replies make customers feel valued. Aim to make follow-up calls within 48 hours or less.

Multiple channels. Generally, a phone call is the fastest way to respond to customer feedback. In some cases, however, progress and plans that arise from VoC data are better communicated by email as they allow customers to digest them at their convenience. Over time, you'll find the survey distribution methods that work for you.

A focus on engagement. Detractors certainly need to be responded to, quickly, but passives and promoters also need replies. Passives can be elevated to promoters with the right communication while promoters need to feel valued, too.

Buy-in from across the organization. Each of your teams play a role in your customer's experiences. Making closed-loop processes the sole responsibility of your frontline or customer service team is a mistake. Replies from the person or team with the closest relationship to the customer's feedback are more meaningful and more likely to reduce customer churn.
3. Use VoC Research to Inform Your Strategy for Growth
Satisfied customers drive revenue growth. And while VoC research can be affected by bias, revenue growth doesn't lie.
However, if you can't prove the ROI of your CX program, it's difficult to understand where opportunities for retention, referrals, upsells, and cross-sells are.
That's why it's so important to tie your VoC data to revenue. It clarifies the cost of keeping customers happy against doing nothing. It allows you to be truly customer-centric by investing where it matters most.
The final piece of the puzzle of driving growth through a VoC program is customer-centricity and understanding customer needs through the lens of revenue.
Again, our VP of Education, Cary T. Self, has some words of advice to share on this aspect of VoC programs.
"Every company we talk to including our own is driven by the investors and leadership, but in order to truly drive growth in an organization, all of your decisions need to be focused on the needs of the customer. It's easy to believe that investors and leadership know what is best, but the paying customers make their decisions on [how] well a company responds to their feedback."
The easiest way to get leadership to focus on customer needs is to tie those needs to revenue and growth.

Account Experience does exactly that. Not only does this allow you to justify spending, but it enables spending in the exact areas that will move the needle on your business.
Get Started With VoC Research Through CustomerGauge

Sampling bias in VoC research for B2B businesses isn't really an issue. What really matters is collecting customer feedback from a broad sample of stakeholders within each of your B2B accounts.
Once you have that feedback, act on it quickly and transparently. Then, use those actions and insights gleaned from B2B customer satisfaction surveys to keep solving your customer's problems.
You'll be rewarded with more loyal customers that easily translate to greater growth and value.
Interested in learning more about Account Experience? Reach out to our team for a demo!
About the Author