Closing the customer feedback loop isn't anything new. Fred Reichheld and Rob Markey have long spoken about the benefits companies such as Charles Schwab have experienced upon implementing their closed loop programs (11% revenue increase; 25% jump in Net Promoter Score® — not something easily dismissed).

However, little research has been done on just how detrimental not closing the loop, or more pointedly, not closing the loop correctly, can have on a business' bottom line.
Customer service is no longer a siloed set of tasks designated to the aisles of call centers or those staff at the frontline. Nor can it be thought of as a simple afterthought destined to be endlessly repeated in a templated fashion. Customers won't stand for it, and companies can't survive with this strategy. So, why is it that many companies still struggle to devise operational strategies for closing the loop at every level of their organization?
In 2017–2018, CustomerGauge collaborated with MIT CISR for their NPS® & CX Benchmarks Survey which surveyed 468 companies to assess Net Promoter® and customer experience strategies and practices across industries. The findings confirmed many held beliefs within the CX industry around closed loop practices, but also uncovered an increasingly urgent narrative around companies churning customers as a result of sub-optimal closed-loop practices.
According to the study, companies that do not close the loop at any level increase their churn by a minimum of 2.1% per year.
In contrast, companies who close the loop at every level — which includes respondents, management and the executive level — decrease their churn by a minimum of 2.3% per year.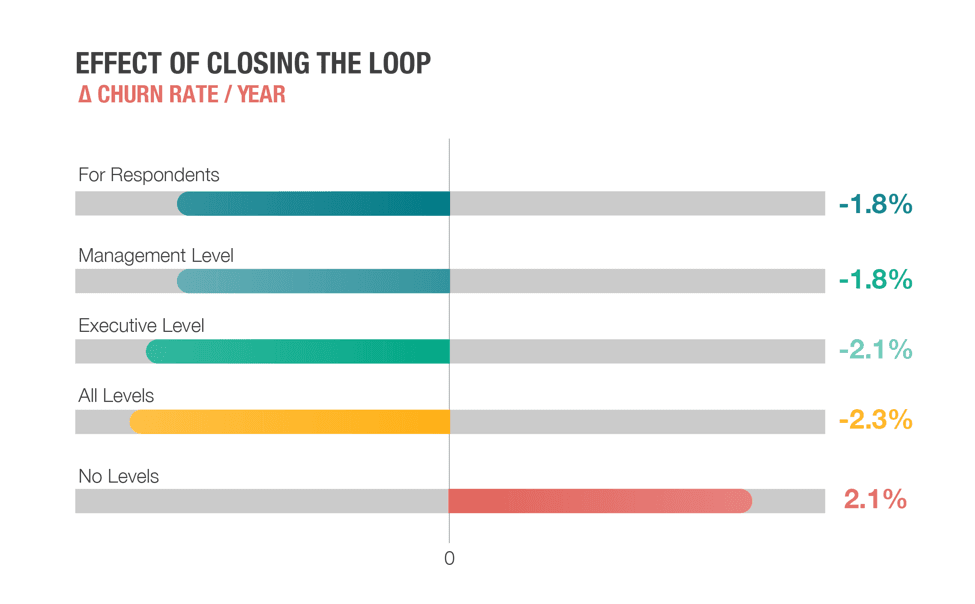 But does a 2.3% reduction of churn a year really impact bottom line revenue in a significant way? The short answer is yes. Say you're a $500m company with a 20% churn rate per year. Keeping revenue growth completely flat, if you reduce churn by 2.3% every year over a 5-year period, you're adding $234 million back to your bottom line over that entire period.

At this point you may be going, "Well of course WE close the loop. Who wouldn't have a customer support option?" And yes, many companies have a closed loop strategy in some way, shape or form. However, more often than not, these companies only close the loop with their front-line staff or customer service teams directly with respondents, leaving the door open for unnecessary churn to occur.
So how do companies close the loop at all levels? And just how much churn are we talking about? Let's dive into more of the research findings to find out.
Closing the Loop at the Frontline
As mentioned, when closing the loop, it's important to distinguish between the responsibilities at each level of the organization: the frontline, management level and executive level.
At the frontline, depending on the type of business, it's imperative to close the loop with respondents (for B2C companies) or accounts (for B2B companies).
For both of these cases, speed matters.
Companies whose frontline closes the loop within 0–48 hours decrease their churn by a minimum of 2.2% annually.
Beyond solving issues quickly to reduce churn and increase retention, actions taken at the frontline are necessary for portraying a "quick remedy" of issues in the mind of customers which contributes to an increase in positive brand sentiment.
Here is where many companies will stop. After all the frontline has fixed the issue — right? But what about those issues where band aids aren't enough? Or more importantly, what about those issues and/or touchpoints — if fixed or better yet, improved upon — would have a lasting impact on customer churn and a company's bottom line?
Closing the loop at the management and executive levels become essential activities for companies taking a long-term, strategic approach to significantly reducing customer churn.
Closing the Loop at the Management Level
In order to easily identify any problems and friction in the customer experience, root cause must be identified. Once you have established statistically significant root cause, issues can be prioritized and then subsequently, acted upon for widespread organizational change — and your churn rate will decrease by a minimum of 2.1%.
It's also up to management to compare results across the organization to identify top performers and best practices. Especially for large and complex global enterprises, comparing results and best practices is essential to ensure a consistent customer experience across all divisions and touchpoints.
But how do we ensure the improvements management is making to reduce churn are well received and accepted across every division/department? This is where the executive team comes in.
Closing the Loop at the Executive Level
In simple terms, executives are responsible for ensuring long-term customer experience improvements, while maintaining employee and customer buy-in.
Lack of buy-in from employees can quickly stall a CX or NPS program. In CustomerGauge's 2016 research report, 23% of companies surveyed attributed the primary driver of program success to be C-level buy-in.
It's imperative for the executive level to communicate actions and handle strategic issues for a program to succeed and sharply reduce customer churn (by up to 2.5%).
Closing the loop at the executive level can take many forms. For example, some companies may choose to use their CEO to communicate directly to customers on what they've learned from their feedback and what actions they've taken as a result of that feedback.
Additionally, as mentioned above, internal communication cannot be underestimated. The C-level must re-assure employees the actions being taken by the management level are supported and an integral part of the company's future.
Another effective tactic is to simply raise the visibility of the program by discussing it on a weekly, monthly, or quarterly basis — perhaps at the same time the company addresses financial metrics.
Conclusion
Companies who only close the loop at the front line with respondents are causing unnecessary and preventable churn. A complete closed-loop system requires actions of the frontline staff, management team, and executive team working in sync to significantly reduce customer churn. All three levels must be involved in order to take a long-term and effective approach to reducing customer churn, increasing their bottom line and ultimately, shareholder value.
Get The Most Comprehensive B2B NPS and CX Benchmarks Report on The Planet