5 Elements of an Impactful Churn Reduction Platform

1. Account Coverage

Fundamentally, it makes sense that the number of accounts you receive feedback from is important (the more, the better.)
CustomerGauge's AX platform is built to ensure your experience program has these churn-reducing best practices:

You should have NPS responses from 100% of your customer accounts. If you don't have a response, you should consider that account a churn risk.
The best results come from surveying your accounts with a relationship survey quarterly. Customer's will not be annoyed by a quarterly frequency as long as you show them it's worth it by taking action. The data shows that quarterly surveys correlate closely with higher retention.
You should tie financial data to NPS scores and response metrics. It does not matter if you have a 60% survey response rate if the 40% who didn't respond are your top 5 largest accounts.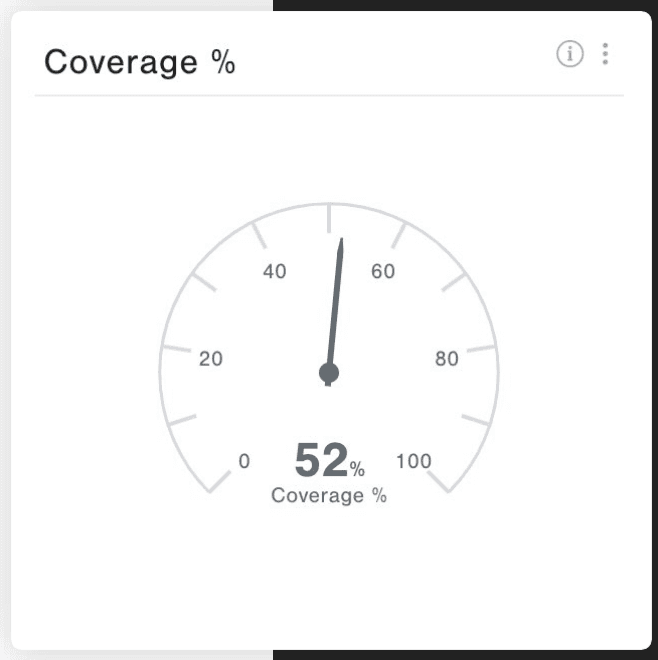 CustomerGauge's platform provides you the functionality to track and improve account coverage at an executive level, as well as providing your frontline account management teams with the visibility to identify and engage low coverage accounts.
2. Customer Engagement
In step one, we focused on account coverage. Companies often stop here—"as long as we have some positive feedback from every account, we're safe!"
That's not the case.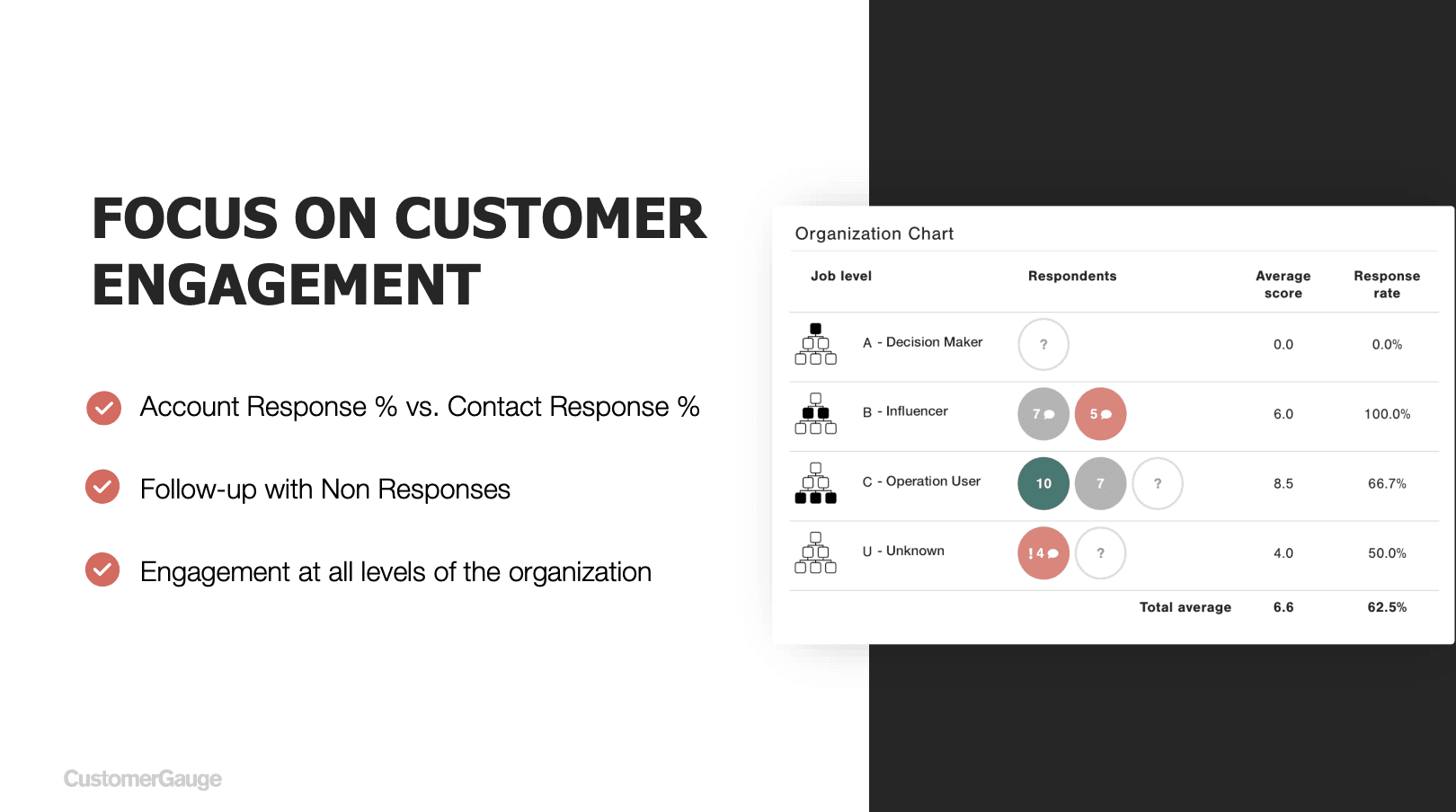 Here are four key bits of best practice to drive customer retention from CustomerGauge's platform:
Care about account response rate AND contact response rate. We recommend surveying everyone you possibly can within an account who's impacted by your product. You need their manager and their manager's manager to be safe from churn. CustomerGauge will make it painfully obvious if you're lacking adequate account or contact response rates—make it easier for your team to prioritize these accounts.
Non-responses should be considered NPS Detractors to have a realistic view of account churn-risks. CustomerGauge's will alert your team to non-responses and make it easy to follow-up with them.
Customer engagement should be at all levels of the organization. As in the chart above, there are many people involved in the renewal decision-making process, not just a happy user.
Monitor more than offered feedback. CustomerGauge continuously monitors multiple engagement signals (not just NPS surveys) to identify gaps in engagement—those include product usage; customer support contact; meeting attendance; and more (example below)
I'll leave you with one final powerful chart from the CustomerGauge AX Platform (pictured below).
If you choose to become a CustomerGauge customer, you will have a clear understanding of which accounts are at-risk (Detractors), grey zone (Passives) or safe (Promoters) from churn.
But, you'll also have this final ominous column, 'Unknown'.
If you told your C-Suite that we're getting zero engagement signals from 6 accounts which represent $100m in annual revenue, what would they say?
3. Close the loop
There's nothing more important than acting on customer feedback.
Closing the loop is the process of following up with survey respondents to let them know "what next?"
According to CustomerGauge research, companies that don't close the loop increase their churn by a minimum of 2.1% every year.
Furthermore, from our database companies that do close the loop tend to 3X the number of Promoters next time they run a survey on those customers.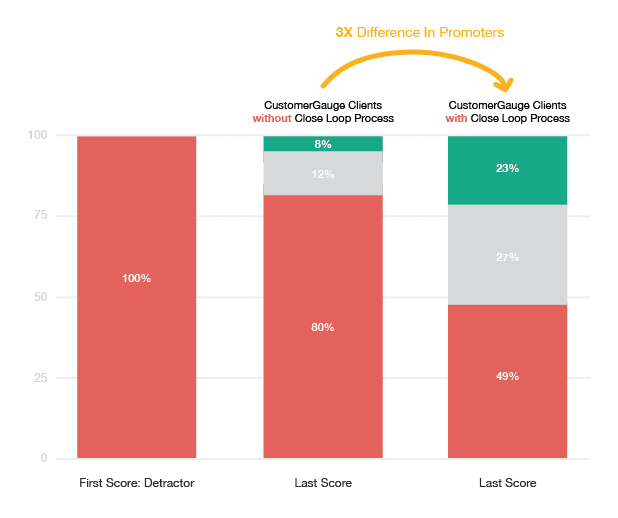 AX programs are only as successful as your internal capability to act on the results.
We only recommend you close the loop with NPS Detractors within 48 hours. And if you can't, survey fewer people and build up slowly.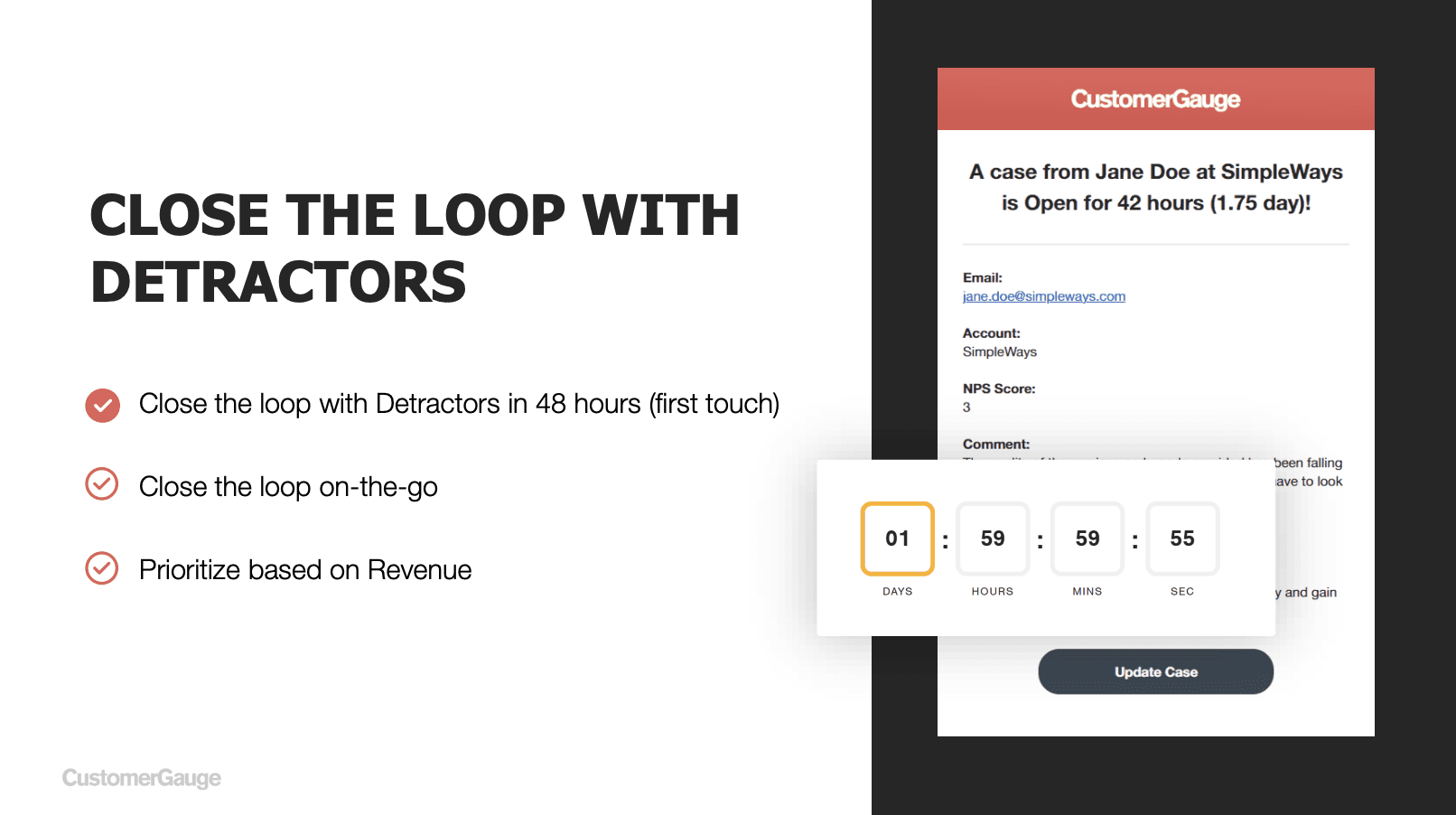 A key AX platform functionality is the quality of case management.
CustomerGauge has built the most sophisticated closed-loop case management system on the market today.
It's simple for frontline teams to close the loop, account managers can even do so on the go from their smartphone. We take the effort out of being consistent, CustomerGauge has built an advanced alerting system that ensures closing the loop stays to within <48 hours.
Frontline agents and senior management can both receive notifications when negative feedback has gone unanswered. This nudges your team to take churn-busting action every day.

4. Revenue Prioritisation
As we alluded to before, tying financial account data to customer feedback is core to our Account Experience platform.
Why? Because the benefits for YOU are powerful.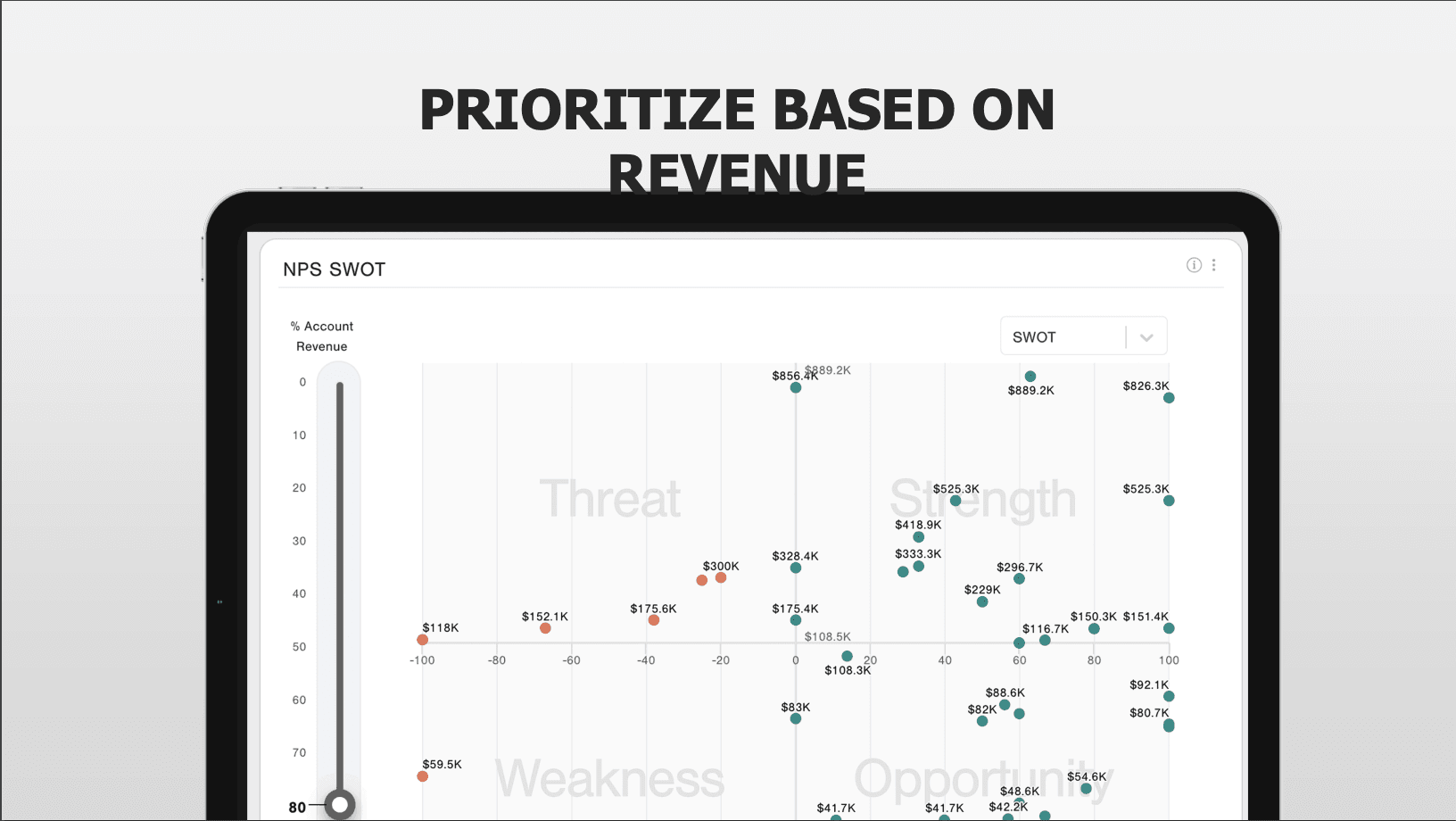 We have a number of visualizations that let you cross-segment your customer base by revenue and feedback.
With CustomerGauge, you can:
Quickly identify churn-risk accounts, and prioritize them by revenue size
Quickly identify which issues are creating the most at-risk revenue, and get buy-in to fix them
Let me walk you through the SWOT chart in the image above.
At our conference in September 2022, a consultant from Bain & Co gave a powerful example of this in action.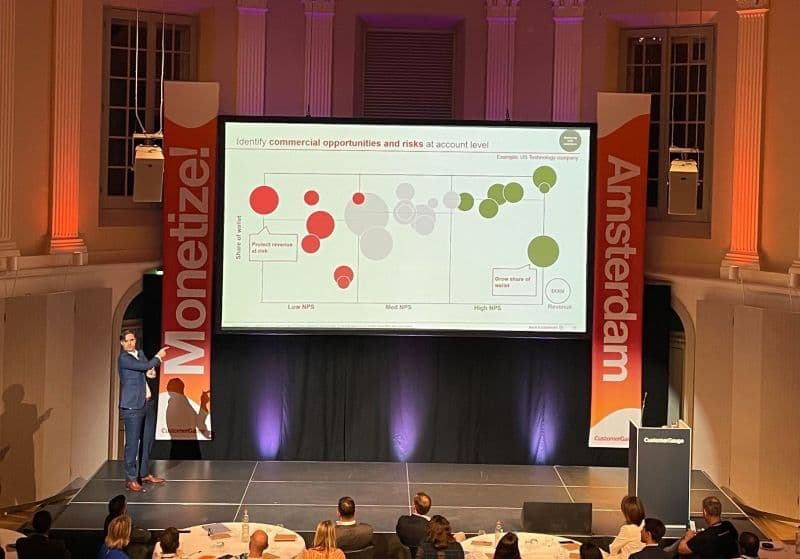 Here's LJ's chart explained in our LinkedIn post: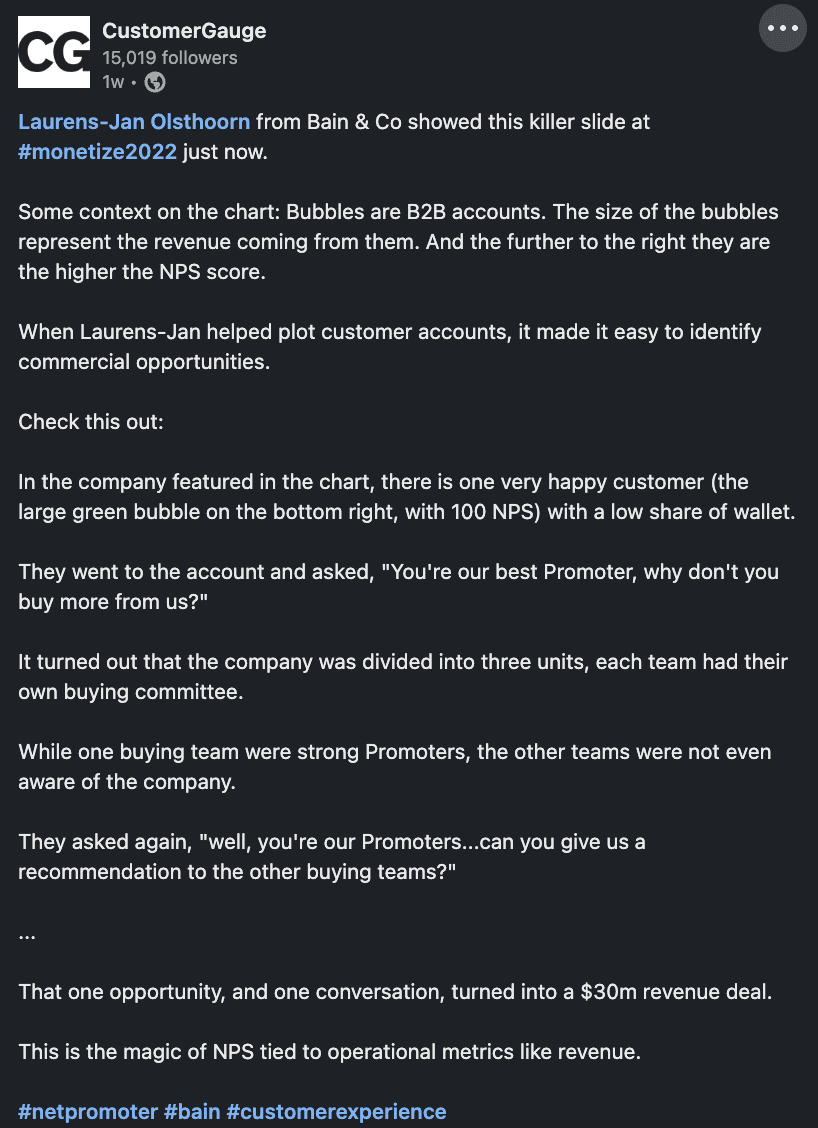 Our SWOT graph helps you identify commercial opportunities like these easily.
With financial value tied to NPS score, customer accounts that are strong Promoters but low value can be picked up by your sales team and asked "you're so happy with us, but why don't you buy more?"

Equally, the SWOT chart helps you quickly identify high value accounts with low NPS scores. Which are a clear area of focus for your account management or success teams.
You'll have 30+ widgets in the Account Experience platform to help you drive account retention and earned growth.
5. Activate Promoters—Go beyond customer churn reduction
If you're reading this, right now you're probably focused on churn reduction.
But, that's just one element of earned growth.
In the CustomerGauge AX platform, you're able to go one step beyond retention—to drive referrals and upsell.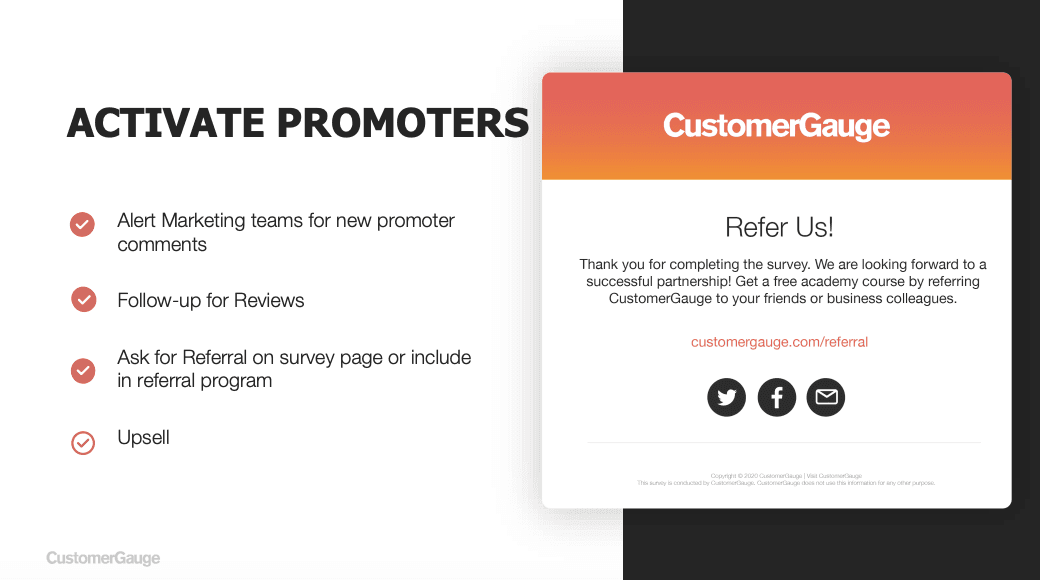 Now you're regularly surveying customers, you're likely to have a visible stream of Promoters.
It's time to activate them.
NPS Promoters correlate with spending more, staying for longer and generating referrals.
Setup your alert system in CustomerGauge to let your marketing or sales team know when a Promoter appears, so they can quickly leverage the opportunity.
Generating millions in new revenue really could be as simple as asking for a case study, a review or an introduction.
About the Author