Our research shows that 90% of B2B leaders understand the importance of customer experience (CX). And the majority of those use Net Promoter Score (NPS) as a tool to measure, act, and grow using the voice of the customer.
If you're ready to join them, here's what you need to know about how to implement NPS — from what to think about before launching your program to what to do with the results.

What to Know Before Implementing a Net Promoter System
Before you introduce a Net Promoter System into your organization, there are three things to consider:

Why are you tracking customer experience?

What do you need to do to meet your objectives?

Who is going to own the customer experience program?
Let's take a look at each of these in a little more detail.
1. Why are You Tracking Customer Experience?
You might have a loose idea that you want to start tracking your customers' experience. But before you launch a Net Promoter System and start firing out surveys, you'll need to firm up your "why."
Why now? And what's your goal? If you don't have this formalized and understood, you could end up trying to solve too many objectives simultaneously. This matters, because using NPS to improve customer service is a lot different from using it to drive customer retention, for example.
So, knowing why you want to track customer experience will act as your guiding light, against which all your later efforts and successes will be measured.
2. What Do You Need to Do to Meet Your Objectives?
Once you've cracked your "why," you should next determine what you need to do to meet your objective.
If your aim is to improve your customer service, what sort of resources do you require? Will you need additional support or technology to get the job done? Understanding this early and putting these measures in place will help you get to the heart of your objective sooner—that is, gathering and learning from that all-important customer experience data.
Don't worry though; if you are just starting out with NPS, it doesn't need to be perfect from the get-go.
There will be time to fine-tune the system later on.
3. Who Will Be in Charge of the Customer Experience Program?
Finally, before you rubber stamp your customer experience program, you should know which team or individual will take ownership of it.

Will it be part of your marketing process?

Part of the customer service team?

Or, in the case of B2B, part of the account management team?
Launching a customer experience program like NPS surveys can't be a part-time gig tagged onto someone's existing list of responsibilities. It's a full-time endeavor that requires care and attention over the process and data.
And while an individual or team might lead your NPS program, CX is not for them alone. Instead, to deliver truly excellent customer service, everyone should play a role, from the C-suite to frontline staff.
Many companies rush headlong into customer experience, believing that they need to start as soon as possible to retain customers and grow revenue.
However, simply pausing and asking why you need to do it, what you're going to do, and who is going to do it, could save you from stress and complications further down the line.
Here's our Global VP of Education and Services, Cary T. Self, on building an NPS program from the ground up:
How to Manage the Change to Running NPS Surveys
Once you've landed on your objective, figured out how you're going to track it, and know who's going to own it, the next thing you need is buy-in from your colleagues and management.
And that requires you to manage change.
We discuss change management best practices for Net Promoter® and CX programs in far more depth here. But in this article, we're giving you the best bits.
Introducing an NPS program means new metrics, new workflows, shorter, more frequent surveys, and new insights. It's only natural that so much change so soon can prompt pushback from within your organization.
To counter this, you need to:

Create a sense of urgency and use it to get the C-suite on board. Your C-suite team is the ultimate decision-makers. Getting their buy-in from the start can smooth the path toward implementing NPS throughout your company. To do this, establish a sense of urgency, demonstrating the problem in terms your executives will respond to (e.g., if your customer retention rate falls below 90%, you'll lose at least 10% of yearly revenue).

From there, you can build a strong case that the insights gained will improve processes for mid-level management and workplace satisfaction for frontline staff.
To help make the case for investing in your CX, work out how much doing nothing is costing you right now with our ROI calculator.

Develop a customer-centric strategy. Once you have cross-departmental buy-in, you need to agree on a customer journey map.

People in your sales department might think their interactions with the customer are the most important, while those in product units may think the product is key, and people in service units may think that services are what matters most.

The customer journey map highlights to all internal stakeholders that customers have more than one important interaction and that they don't see their journey as individual interactions, but as one singular experience.
Empower your people to enact change. You can't ask your employees to track customer experience and meet critical objectives without giving them the tools to make it happen. And we don't mean an ad hoc approach of Word docs and spreadsheets floating around without oversight or version control.

NPS Platforms like CustomerGauge can ride to the rescue here, sitting on top of your CRM to streamline the survey, follow-up, and retention growth aspects of your NPS and CX program.
Change managed effectively? Now it's time to set up your first Net Promoter Score survey.
Net Promoter in Practice
Net Promoter Implementation in Practice In 2019, the catering brand, Alchemista, lost its biggest client without warning.
Yet, by investing in a CX program based on NPS, the company now boasts a 100% retention rate. "Onboarding CustomerGauge has had the highest ROI of anything I've ever done at my company," says Christine Marcus, Alchemista's CEO.
Setting up Your First NPS Survey

Customers want their voices heard, but not at the expense of their time. Keep your NPS survey short and sweet by asking the ultimate NPS question:

"On a scale of 0 to 10, how likely are you to recommend our business (or product or service) to a friend or colleague?"
You should then leave space to allow further insight: "What is the main reason for your score?"
That's it. Nice and simple. Well, sort of. You still need to figure out when you want to send your survey to best meet your objectives.

If you're trying to gauge your customers' overall feelings towards your organization, you might want to survey them quarterly, half-yearly, or yearly.



But if you want to know more about their experience with a specific transaction or department, you should send it soon after their encounter.
You can read more about these different scenarios and types of surveys here: Relationship vs. Transactional Net Promoter Surveys (When & Why).
Expert Tip: The Multiple, Multiple rule. The best retention improvements come from surveying multiple stakeholders in each customer account (not just one or two) and by surveying them frequently (we recommend quarterly).
Read the full blog on this rule here.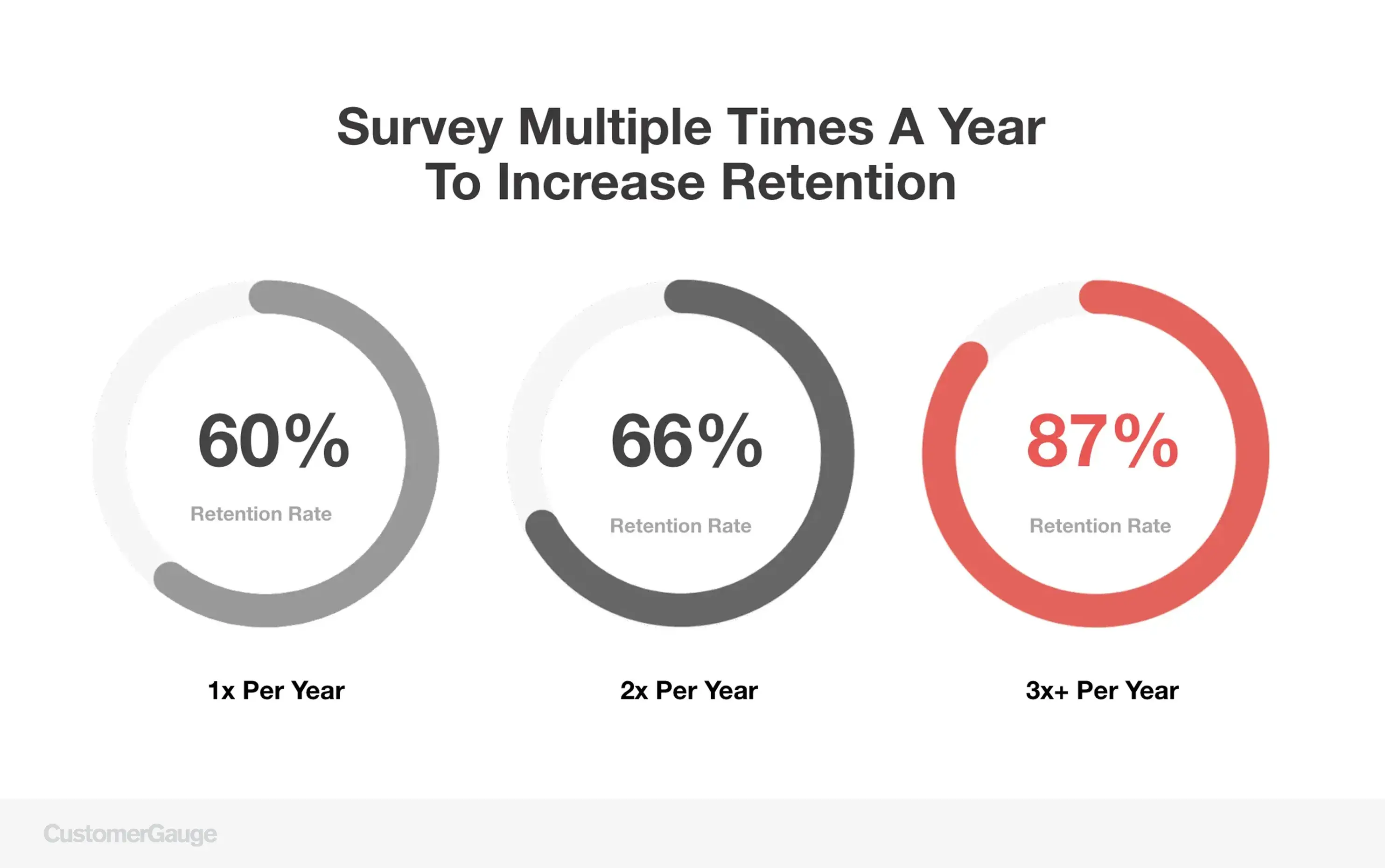 Hear From an Expert
Marianne Mølgaard, Service Operations Specialist at Dun & Bradstreet, has had a unique VoC journey building out a new CX program after the acquisition of her previous company.
Dun & Bradstreet expanded to 15 CRM systems, 14 languages, and many cultures where she continues to test NPS survey strategies with a strong focus on data and closing the loop.
At Monetize! this year, she shared her #1 piece of advice for someone wanting to build a successful program:
What to Do with Your First NPS Score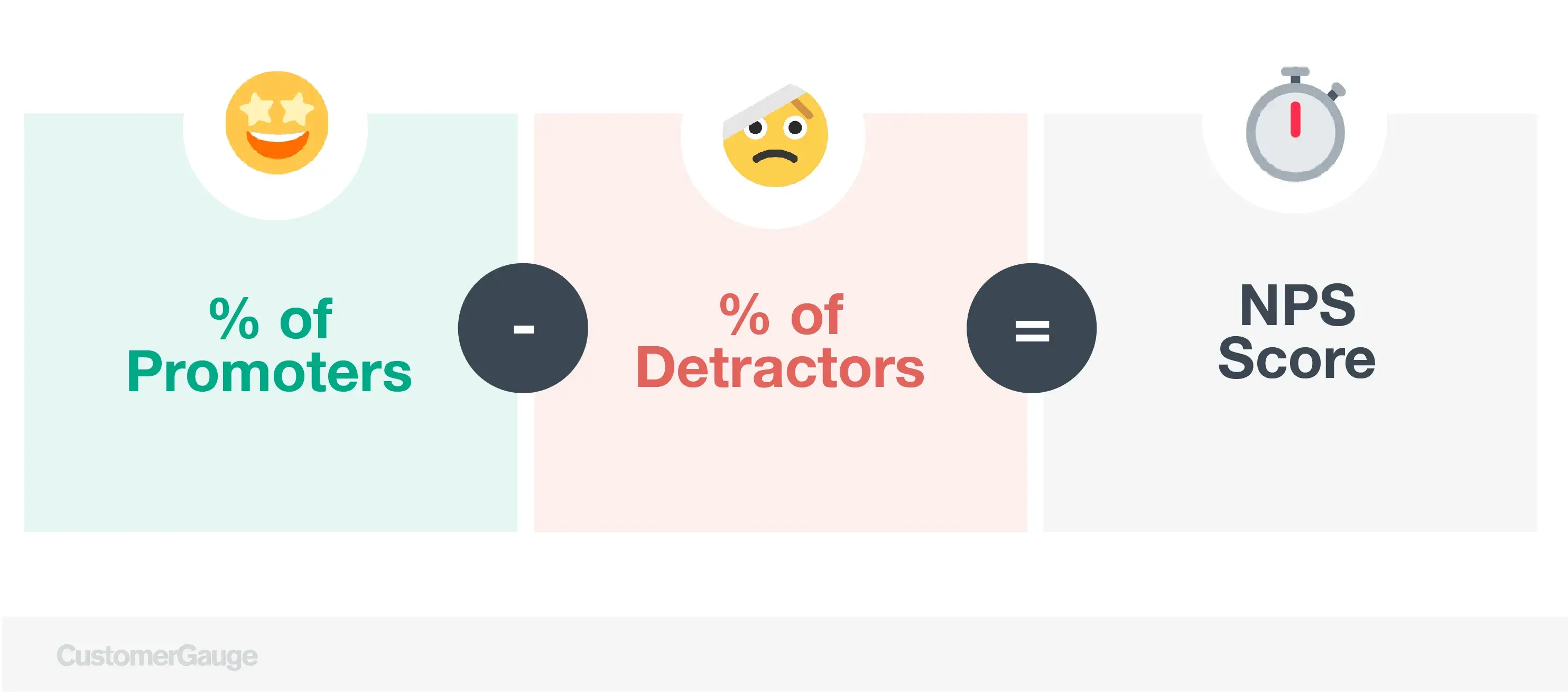 After running your first survey and gathering the data, you might be wondering what you should do with your NPS score moving forward. You'll need to act to improve your business processes.
The idea behind tracking your NPS is to enhance customer experience, improve retention, and boost revenue. But before you do that, use your score to benchmark performance and "close the loop" (acting on customer feedback quickly and effectively) to create real growth.
Your next steps:

Interested in how CustomerGauge helps businesses implement NPS?
Contact our team
to see our Account Experience software live in action.
About the Author