Big brands often boast incredible customer loyalty.
98% of Tesla drivers, for example, would buy the same vehicle again. Meanwhile, Netflix enjoys impressive brand loyalty, with only 20% of customers having accounts with other streaming brands. Or, to take another example, Zoom has a dollar retention rate of 130%, meaning customers on average spend more than they did a year ago.
These customer experience benchmarks will be valuable for tracking your own performance. But what can you do to reach similar levels of customer loyalty?
For B2B brands, creating customer loyalty and retention doesn't need to be a game of guesswork. Rather, led by data, you can secure excellent customer experience, make your customers stay for longer, and boost your bottom line.
So, how to make that happen? Account Experience, CustomerGauge's CXM software platform and methodology, makes it easy.
We've been consistently ranked by Gartner as the number one customer experience management platform for B2B brands. And we've helped many businesses cut churn, boost retention, and grow their revenues through upselling and referrals.
Here, we want to show you how to build loyalty and retention—through 7 steps that we teach our customers.

7 Steps for Creating Customer Loyalty and Retention
Studies repeatedly reveal how important customer loyalty is for your bottom line. It is estimated, for example, that acquiring new customers costs as much as 25 times more than selling to existing customers. Meanwhile, a 5% increase in retention is thought to boost profits by as much as 85%.

The rewards of customer loyalty can be incredible. Follow these 7 steps—from measurement to growth—to ensure you're getting the best retention rates you can.
1. Measure Loyalty and Define Your Customer Loyalty Objectives
The first step in boosting your customer retention is measurement. And that means measuring your current loyalty and retention rates.
This might sound like a given—but it really isn't. According to our research, 44% of business executives don't know their churn rate. However, to improve your loyalty, you need to know how you're performing today.
You can find out how to measure churn in our ebook Retention Management to Combat Churn (or following the instructions to measure retention in Excel here). But don't focus on churn rates alone. By measuring your NPS too you'll understand the specific drivers that are having the biggest impact on churn.
Once you have insight into your present performance, it's time to set goals for where you're heading in future. What results do you want to see in a year's time, for example? Setting these targets is crucial for rallying support, tracking your progress, and boosting motivation.
By the way, using CustomerGauge's Account Experience methodology, Alchemista went from losing their biggest client to securing a 100% retention rate in just a year. You can do it too.
2. Secure Internal Buy-In
Next, your teams are crucial to your customer loyalty program. Without securing buy-in from across your organization—at all levels—your retention efforts are unlikely to get you off the ground.
There are many ways to grow support for your customer retention efforts, among executives and frontline staff:
Show the cost of doing nothing. Customer retention is not just a revenue opportunity. Low retention is an active drain on your business's finances. And by doing nothing to tackle it, you'll be actively losing cash.
Find out for yourself what impact doing nothing to cut churn has on your business, with our ROI calculator. Sharing a predicted ROI can help you gain support too.
Prioritize leadership buy-in. Your executives are the ones who will sign off on investment in your customer retention efforts. Support from them will help you better tackle any lingering resistance later on.

Leverage personal ambition. Among management and frontline staff, being clear on the personal benefits of supporting your program can help. In our experience, we've found that individuals who help deliver an excellent customer loyalty program are often in line for promotion.
3. Implement a Customer Loyalty Tool
You and your team may not be able to do everything related to customer loyalty all by yourself. This is particularly true in B2B contexts, where large customer accounts add complexity to your operations.
Instead, customer loyalty software and tools are crucial for a successful implementation of your customer retention program. They can help you manage surveys and closed-loop feedback, cut the cost of manual processes, and enable you to visualize revenue gains—all in one place.
Account Experience is the best customer retention software for B2B brands out there. Before you start with your customer experience efforts, secure the technical support you need.
4. Run Customer Loyalty Surveys
Customer surveys are the primary way you'll assess the sentiment and drivers behind customer loyalty trends. If you're serious about creating loyalty and retention, you need to reach out to customers to ask them what they think.
Net Promoter Score surveys are the best way to do this. They're fast and simple for customers—ensuring an optimal response rate—while delivering nuanced insight for you by digging deep into your customers' perspectives.
What's the best way to run customer surveys? Try these three best practices (you can find plenty more here):
Use transactional and relationship surveys. The two main types of NPS survey give you different insights. Relationship surveys track customer sentiment over time, while transactional surveys assess customer responses to specific drivers.
You need both. Find out why here: Relationship vs Transactional Net Promoter Surveys
Survey every quarter. While many companies fear survey fatigue, this is less of a risk than it might seem. In fact, our research has found that surveying customers every quarter can boost retention rates by 51%.

Keep surveys short. NPS surveys reduce the demands on customers by being short and simple. We find that between 2 and 6 survey questions is enough to provide the insight you need while optimizing response rates.
5. Close the Loop with Customers
Customers take your surveys in trust that they'll see some benefits. And the only way that you can deliver on that trust is by closing the loop.
Closing the loop means acting on customer feedback and telling your customers what you've done. It's a sure-fire way to cut churn and improve long-term engagement in your surveys. It builds trust too—and can increase your retention by as much as 8.5%.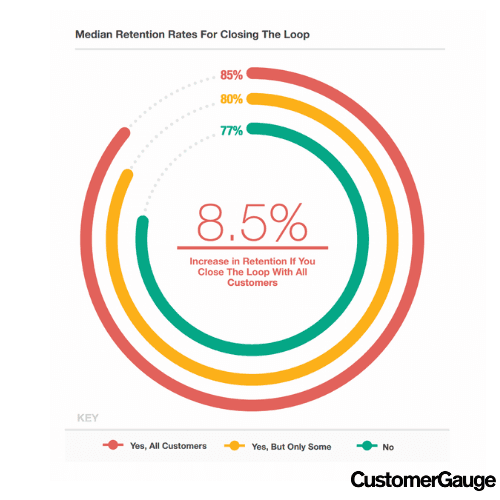 In closing the loop, the faster the better. Our experience shows that those companies that close the loop within 48 hours have the best chance of driving retention.
6. Tie Your Customer Loyalty Data to Revenue
To get a full sense of your customer loyalty performance, you can't rely on customer experience data alone. Instead, it's crucial that you link up your retention metrics with financial data. This will show you the impact your work is having on your bottom line.
What do you need to get insight into?
The value of your at-risk customers. How much revenue is being lost to churn? And how much is at risk? Linking your customer loyalty metrics to your financial data can tell you exactly that.

The cost of specific drivers. It's likely that specific touchpoints are having a disproportionate impact on your bottom line. Knowing what these are—whether onboarding or technical support—and how much they're costing you is crucial.
By the way, 70% of business leaders aren't linking their customer experience to financial data. But with Account Experience it's easy.
7. Realize Strategies to Boost Retention and Revenue
Finally, to create customer loyalty and retention, you need to use that financial information to improve your business performance. How? Try three strategies:
Improve specific drivers. The drivers that you identified in step 6 are one of the most important ways you can reduce costs and boost profits. If you know that technical support is a major driver of churn, for example, you know where best to put your retention-boosting efforts.

Engage with churn risks. NPS surveys can tell you which customers are most likely to churn. But by linking that to financial data, you can find out how much those at-risk customers are worth. Reaching out to them with a reason to stay will be a fundamental part of your churn-busting strategy.

Identify upselling and cross-selling opportunities. Those customers who stay will be great opportunities to referrals and resells. According to Gartner, 80% of profits come from 20% of customers. It's an important thing to remember when considering your churn rate.
CustomerGauge Can Help You Drive Customer Loyalty and Retention
At CustomerGauge, we're experts in customer experience. We can help you listen to the voice of your customers, cut churn by improving their experience, and boost your revenue growth.
Creating customer loyalty and retention can be a lot of work. But you don't have to do it alone. Book a demo to see for yourself how we can help.

Hey there! Did you know we have a library of customer retention articles? Check these topics out:
Get The Most Comprehensive B2B NPS and CX Benchmarks Report on The Planet