According to CustomerGauge research, only 30% of B2B brands measure the impact that customer loyalty has on revenue. This shows that, while the idea of customer loyalty has been at the forefront of recent B2C developments, B2B brands companies aren't taking it seriously.
But the truth is that customer loyalty may be even more important in B2B, as each client is likely to represent a much larger chunk of your revenue.
And on the flip side, the data's clear: when customer retention grows by 5%, profits grow by 25%-85%.
Why? Because acquiring a new customer is at least 5 times as expensive as retaining existing ones, while loyal customers are more likely to buy your upsells and cross-sells too.
So, how do you turn disengaged customers into loyal ones? Firstly, by understanding the drivers of customer loyalty. These are the factors that make customers stick around and spend more in the long run.
In this article, we explore the main drivers of customer loyalty and show you how to understand your customer sentiment through Net Promoter Score (NPS), the most powerful metric for understanding customer loyalty.

Net Promoter Score and Customer Loyalty: Understanding the Link
The primary tool for recognizing the drivers of customer loyalty is Net Promoter Score.
NPS is a metric designed to measure the willingness of your customers to recommend your company, product, or service and help you to understand why customers feel the way they do.
The NPS score is based on a single question:
On a scale from 0 to 10, how likely are you to recommend our product/service/company to a friend, colleague, or family member?
Based on customer responses, you can filter your customers into 3 categories:
Promoters: Score 9 - 10. Promoters are your most loyal customers. They will keep buying from you and recommend you to their peers.


Passives: Score 7 - 8. Passives are fine with your product/service, but aren't necessarily enthusiastic. They'll neither recommend nor badmouth your company.


Detractors: Score 0 - 6. Detractors are unsatisfied customers who are likely to switch to a competitor. They're likely to churn and even encourage others to churn, too.
Yet the NPS question by itself doesn't tell the full story. It doesn't tell you why promoters are loyal to you, or what it'd take to turn detractors into promoters.
Instead, that's the task of driver questions — follow-up questions that dig deeper into your customers' sentiment to tease out which touchpoints or transactions led to their number on the scale.
Finding out what drives customer loyalty can be as simple as: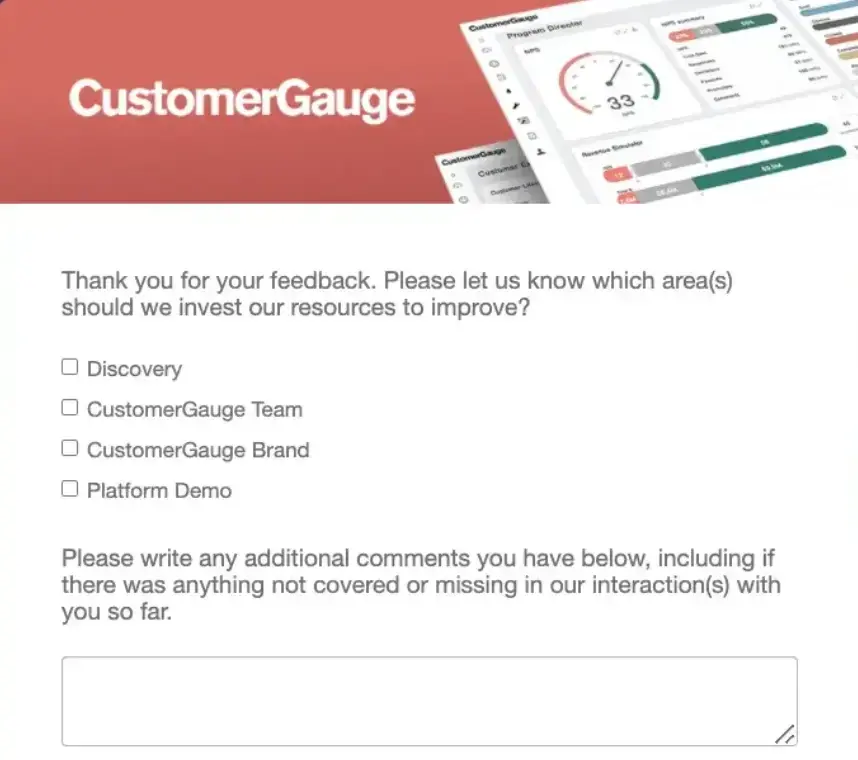 This gives customers the opportunity to tell you what you need to do to improve and boost their loyalty. And there's no more valuable information for your customer experience (CX) than that.
So, what are some of the most common drivers of customer loyalty for B2B brands? Here, we explore five.
1. A Frictionless Customer Experience
Delivering an experience that truly works for customers is one of the key components of customer loyalty. For B2B brands, this is an urgent issue.
According to a 2021 report, 44% of B2B buyers struggled with delivery and tracking their online orders, while 34% had payment issues and the same number had problems with product visibility.
Yet, these problems are not only undermining CX. They're having an impact on your loyalty rates, too.
To boost loyalty in the long term, you need to make the buying experience as smooth and effortless as possible. It's worth it.
As data from the Harvard Business Review shows, customers who have a positive experience are likely to spend as much as 140% more.
So, think about it. How smooth is your sales process? Can you reduce friction by developing the ease of interaction there? Are there other interactions in which you could improve the customer experience?
Remember, building a phenomenal customer experience starts with understanding how your customers interact with your business, and how each point of contact between you and your customers influences your sales.
This lets you improve the customer's journey at every stage.
Find out more about how to build an exceptional customer experience here: Customer Experience Management Guide for 2022
2. Relationships Customers Can Trust
To be loyal, customers need to trust your business. And trust comes as the result of solid customer experience. As a Qualtrics study from 2020 found, 90% of customers who
How can you build trust with customers? Communication.
For example, over 75% of NPS frontrunners send thank you follow-up emails. And multiple managers interviewed by Harvard Business Review mentioned how important the little things are when building rapport.
Yet conducting frequent surveys may be the best place to start. As part of our research for our The State of B2B Account Experience report, we found that surveying customers quarterly can have a 51% increase on customer retention.
But surveying by itself is not enough. Reach out to people who are assigning you a low NPS score, and close the loop with them. This can boost trust among your customers and have a direct impact on customer retention.
Prove you care about your customers, and they'll start seeing you as a trusted partner long into the future.
3. Outstanding Customer Service
88% of respondents to a HubSpot survey on the state of customer service agree that customers have higher expectations than they did in previous years.
But does your customer service meet these expectations?
Find out by sending an NPS survey 10 minutes after the customer service resolution. This is when the customer service interaction is still fresh in the customer's mind, enabling them to give you an accurate sense of your customer service performance.
If your support is difficult or impossible to reach, it will quickly become a pain point for customers. To put things in perspective, HubSpot's survey found that 85% of service professionals agree that customers are more likely than ever to share positive or negative experiences with others.
That's why outstanding customer service is essential to any business that wants to secure loyal customers.

4. Ease of Contact
Several of our customers have seen the biggest increase in their NPS and customer retention rates by improving their 'accessibility and responsiveness'.
Additionally, in a 2021 survey by Statista and Sana, 31% of the respondents claimed that making it easier to contact a human for technical support would improve the online customer experience of B2B buyers.
If you want to reduce customer churn and increase customer loyalty, make sure you're easy to get hold of and quick to respond.
You can do this by:
Answering your phone to reassure you're calling back timely

Responding to emails, social media enquiries, and live chat within 24 hours

Posting your contact information in an obvious place on your website
Having yourself easy to contact will show customers you care about their experience, questions, and concerns, and that you're invested in keeping them as a customer. This will go a long way in reducing churn and increasing loyalty.
5. Unique Loyalty Programs
Finally, programs designed to optimize loyalty are underrepresented in B2B brands compared to their B2C counterparts.
However, recent research suggests they can be just as valuable in B2B contexts, too. If you want to drive retention, creating a loyalty program that works can be an important step.
Yet, B2B works quite differently from B2C. An important thing to keep in mind when building your B2B loyalty program, for example, is that buyers are not always primary decision-makers.
Similarly, there may be many people in your client account that are using your product, and your loyalty program should take that into account.
That means the best loyalty programs are those that are tailored to your clients and your business goals.
An example of such a B2B customer loyalty model is a real-life event/workshop where you invite your best customers. These events could be about showcasing new products or about where the industry is heading.
Alternatively, build an academy where you offer specialized content that's not available to the general public, like the CustomerGauge Academy. This will help create loyalty and a sense of community amongst your best customers.
Increase Loyalty and Retention with Account Experience
Every business wants customers that will keep buying and sing your praises. When customer satisfaction is high, loyalty follows.
Yet, not every customer wants the same thing. And the best way to find out what your customers want is to ask.
CustomerGauge helps you dive deep into the drivers behind your CX with customer loyalty software, so you can improve your NPS and drive long-term customer loyalty. With our customer loyalty methodology, Account Experience, we can help you cut wasteful resources chasing new customers and focus on satisfying your current ones.
Want to reduce churn and unlock the full power of customer loyalty? Request a demo today.
About the Author