Customer loyalty is what we all want for our B2B brands. You'll likely know the advantages already: it costs perhaps 25 times as much to acquire new customers than to retain existing ones, while satisfied customers spend 140% more on your products or services.

But not every loyal customer is the same — and nor are they of equal value.
One customer could be loyal because they're genuinely enthusiastic about your brand (they'd be a promoter in your Net Promoter Score surveys). However, another could be loyal because you have no competitors (they could be passive customers in the NPS system), and so could very quickly become disloyal.
It's essential to know the reasons behind your customer's loyalty and that begins with knowing the different types of customer loyalty.
Here, we share 5 types of loyalty, from transactional loyalty to emotional and advocacy loyalty, as well as the behaviors that underpin them.
But first, let's dig into what we actually mean by customer loyalty in the B2B world.

What Is Customer Loyalty?
Customer loyalty is a way of describing a continued engagement between a customer and a business.
You might see it referred to as an "emotional relationship", or as a customer's "commitment" or "devotion" to a brand. In this way, customers are loyal to a brand in the way that they might be to family or friends.
Crucially, though, customer loyalty is not just an emotional connection. In reality, it's an action as much as an attitude. True loyalty reveals itself through continued retention and other interactions, including recommendations and referrals, positive word of mouth, and sustained engagement with a brand's surveys and campaigns.
In other words, someone might like your brand a lot. But if they're not buying, you can't really call them a loyal customer. Nor are they that loyal if they buy but aren't really enthusiastic about your brand.
All of these different possible actions and attitudes explain why there can't be just one type of customer loyalty. Unlike customer retention, where customers are either retained or not, loyalty exists on a sliding scale.
5 Key Types of Customer Loyalty in the B2B Space
So, what are the different types of loyalty?
Here, we discuss five: transactional loyalty, engagement loyalty, emotional loyalty, behavioral loyalty, and advocacy loyalty.
1. Transactional Loyalty
Transactional loyalty is one of the most common types of customer loyalty. However, it's not the deepest kind of relationship you can build with your customers.
Sometimes referred to as functional or cognitive loyalty, transactional loyalty is where a customer weighs up the value of a product or service, decides whether to make a purchase and then sticks around for the future. Based entirely on individual transactions rather than any emotional attachment this is simply a form of customer retention.
Of course, you can incentivize customers to keep coming back by encouraging them to join a loyalty program to access exclusive offers and better deals in the future.
However, given that this type of customer loyalty doesn't involve an emotional bond, any offers, discounts, or other tactical promotions can come at a high cost so you need to balance that against the expected loyalty that these will bring.
As such, these techniques shouldn't be the sole focus of a business's loyalty-building efforts.
2. Engagement Loyalty
To build stronger relationships, you want your customers to stay in touch with you through whichever channel works best.
When customers interact with your brand on social media, by email, or on your website (as well as making purchases) we call this engagement loyalty.
This is a deeper relationship because it lays the foundation for an emotional connection. Through white papers, social media posts, competitions, or newsletters that engage customers, you're delivering value to them while they're showing you that they're interested in what you're doing.
As such, don't fall for the common misconception that social media is beyond the reach of B2Bs.
To build loyalty, encourage social sharing through retweets, likes, and comments, or incentivize customers to share posts to their own profiles and timelines (as that's a form of advocacy, we'll see below).
This way, you'll keep customers up to date with your brand while increasing the likelihood of further conversions later on.
3. Emotional Loyalty
Emotional loyalty exists when a personal connection exists beyond transactions and basic engagement. Of course, positive perceptions of a brand can occur within any transaction, but this is not yet enough to be emotional loyalty.
Instead, when we say emotional loyalty, we're talking about customers that are devoted to your brand, making repeat purchases despite the efforts of competitors to lure them away.
Emotional loyalty represents a much deeper connection that goes beyond the more basic efforts to build loyalty, such as discounts. Emotionally loyal customers help you secure many of the non-financial advantages of customer loyalty, such as a greater likelihood of responding to surveys, forgiving mistakes, and trying new products.
To cultivate emotional loyalty, businesses often tailor offers, campaigns, and experiences to the individual, which can help to form even deeper connections.
Try some of the ways that businesses seek to achieve this by offering special discounts on customers' birthdays, offering high-level incentives to top-tier customers, and sending personalized communications from the CEO to follow up on a recent purchase or customer service query.

4. Behavioral Loyalty
In an enduring customer relationship, you can begin to track (and change)customer behavior. Behavioral loyalty is all about encouraging customers to carry out a desired activity or action.
This can take many forms.
For example, you could nudge customers to try a new feature or to purchase a new product. Alternatively, you could offer members of your rewards scheme a discount code on key dates such as in the slower month of January or during a public holiday.
This type of loyalty sits at the core of such customer rewards programs, with the latest in technology and data science making it easier than ever for businesses to be given an insight into the buying behaviors of their repeat customers. This, in turn, can be used to both develop marketing campaigns and influence customer behavior in the long term.
5. Advocacy Loyalty
Finally, the ultimate form of customer loyalty is advocacy loyalty.
This is when your customers become your active promoters. Not only are they happy with what you do, but they're willing to spread the word about your brand, too.
Yet, there isn't just one form advocacy can take. Customers can…
Advocate for your brand by posting about you on their social media

Speak at your conferences or be involved in your case studies

Go out and actively tell their friends and peers about you
Your job is to make that as easy as that for them as possible.
Give these customers the content they need to convince their peers of the value of your brand. Provide a simple sign-up page where they can get in touch with you. And, without a doubt, incentivize your advocates to actually make the referral.
How to Build Deeper Loyalty Among Your Customers
High customer retention is something that all businesses would boast. But, sometimes retaining customers is not enough. To secure continued retention into the future, put steps in place to develop deeper types of customer loyalty among your accounts.
How can you do that? Follow these 4 best practices:
1. Gather Feedback From Your Customers With NPS
To build deeper loyalty among your customers, you need to show them you care. That begins with asking them how they feel about your brand and the products and services you are offering.
The best way to do that is with Net Promoter Score (NPS), the most widely used customer surveying system among B2B brands.
NPS asks your customers how likely they are to recommend your brand to their friends or colleagues. Then, based on their responses, it allows you to categorize customers into three groups, depending on their levels of loyalty: detractors, passives, or promoters.
While that's incredibly useful for you to know, you'll build a deeper relationship with your customers by asking them why they gave that score. This enables them to provide you with specific and honest feedback that they'll trust you to act on.
Find out how to get started: How to Implement Net Promoter Score
2. Close the Loop on Feedback
Asking for feedback is one thing. However, to build real, enduring loyalty among your customers, you need to close the loop on that feedback.
In practice, that means improving from the feedback you have collected and telling your customers what you have done (or what you are working to do). To show you're really listening, we recommend you do it within 48 hours.
Closing the loop helps you build emotional loyalty and engagement loyalty in future. In fact, we found that closing the loop fast boosts retention (by up to 8.5%), increases your NPS scores, and makes customers more likely to engage next time.
However, to make your response really special, respond personally to feedback and involve individuals from all over your company. You'll build emotional loyalty even further.
(Simple conversations can also help. By giving time to your customers, they'll feel like they matter.)
3. Engage With Absence of Signal
Sometimes, customers don't respond to surveys — that's natural. But, it tends to be those customers (that aren't showing engagement loyalty) that are your biggest churn risks. Any attempt to boost loyalty should involve them.
Start by measuring engagement. CustomerGauge's Account Experience platform shows the precise touch points at which customers engage, alongside those that don't.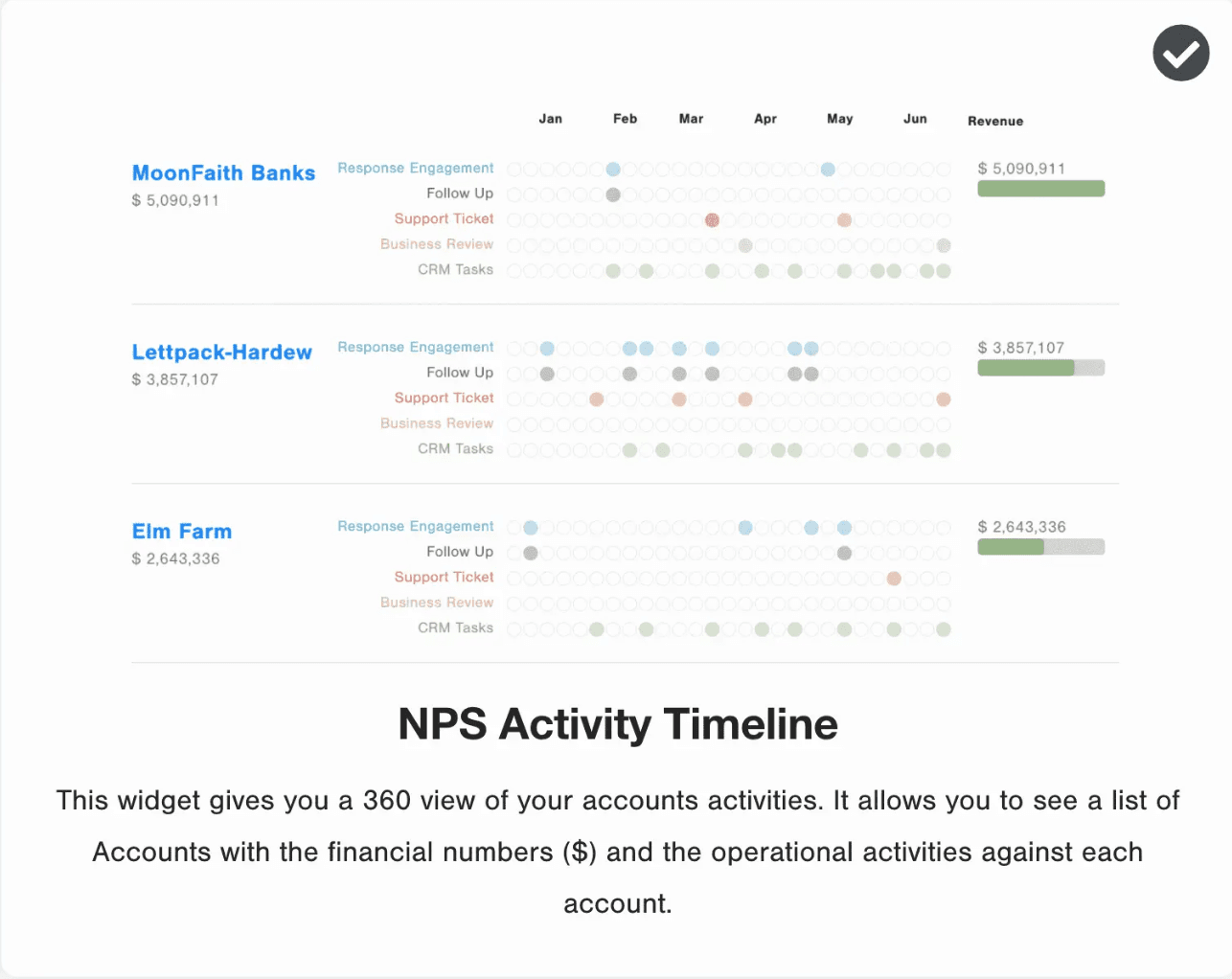 Access those customers that aren't responding by trying alternative surveying methods, phone or text messages, for example. Alternatively, offer them content or deals that bring them back into the fold.
Listen to the podcast: The Hidden Churn Indicator: Absence of Signal
4. Build an Innovative and Relevant Loyalty Program
Almost 80% of customers are more likely to stay loyal to a brand if they have a loyalty program in place. But with so many loyalty programs out there, yours needs to deliver real value to your customers for it to be truly effective.
That means it should recognize the different values of your customers and offer them perks that make sense to B2B brands.
Take TRW Aftermarket, an auto parts company for the aftermarket, for example.
The company was battling to access customers due to the high volume of competitors in its industry. So, they developed a loyalty program that connected workshops across Europe, developed a points-based system that offered rewards, and customized these rewards based on specific customer needs.
And, in hardly any time at all, TRW had made major headway in becoming a dominant and respected voice in a saturated market.
Use Account Experience to Identify Your Customer Loyalty
Now that you know the different types of customer loyalty, it's time to identify the types of customers you have yourself.
That starts with tracking customer sentiment, and here at CustomerGauge, we can help.
Our B2B customer loyalty platform and methodology, Account Experience (AX), helps you understand exactly how your customers feel about your brand, how often they engage with you and your products, and how much value they bring to your business.
For example, combining NPS surveys, revenue metrics, and 360-degree customer tracking, you can understand which customers show advocacy loyalty: those that are your best targets for your referral campaigns:
The SWOT graph above is just one of the 100s of ways to visualize your customers in our platform, cross-segmented by revenue, sentiment and feedback scores.
Our Voice of Customer (VoC) tool has been ranked by Gartner as the number one for B2B brands.
Book a meeting with our sales team to learn more.

Hey there! Did you know we have a library of customer loyalty articles? Check these topics out:
Get The Most Comprehensive B2B NPS and CX Benchmarks Report on The Planet