Voice of customer (VoC) research can help B2B brands reduce churn, identify growth and innovation opportunities, and boost their bottom line. But, to achieve these goals, you'll need to turn VoC insights into action and link your VoC system to revenue.
In this article, we'll show you how some leading B2B brands use voice of customer research to drive growth. However, not all of them are that smart.
According to our research in The State of B2B Account Experience, 70% of businesses don't link their customer experience to financial metrics.
Don't be one of them!

Here, we'll show you how you can get the most out of your own VoC research.
What Is Voice of Customer Research?
VoC research is the process of collecting data and customer feedback to understand how customers feel about your products, services, and business as a whole.
This feedback is collected using traditional methods like surveying, as well as modern tactics such as search and social listening, collecting website behavior, and analyzing live chat interactions.
VoC research reveals detailed insight into your customers' requirements and expectations.
However, simply collecting this information isn't enough. Businesses must thoroughly analyze their voice of customer research and leverage the findings to improve their customer experience (CX).


You can translate VoC insights into action by creating a voice of customer system. The program should provide a clear link between VoC and revenue, helping your business fight churn, increase sales, and grow your bottom line through up-selling and cross-selling.
How VoC Research Can Help You Drive Growth
There are 4 ways that you can use VoC research effectively to drive growth for your business:
Close the Loop
Closed-loop feedback is the method you use to respond to customer feedback and take relevant action based on it.
Closing the loop is crucial to decreasing customer churn. Our research revealed that companies who don't close the loop increase their churn by at least 2.1% year over year.

Research by our intelligence team in 2022 also revealed that businesses who closed the loop after running a Net Promoter Score (NPS) survey had 3x the number of promoters when they next ran their survey (as compared to businesses that don't have a closed-loop process).
Closing the loop is a detailed operation, but VoC research specifically helps you determine both how to respond to your customers and who should intervene.
Sometimes, it's not enough for your support team to intervene alone.
Instead, managerial or executive intervention may be necessary. For example, some of our clients' CEOs have been known to pick up the phone for high-value accounts. But this doesn't just happen at random.
If your customer service is driven by data, you can make decisions about who should intervene at each stage, and which accounts require the most attention.

Case Study: How VoC Research Helped SuperOffice AS Close the Loop
SuperOffice AS is a leading European supplier of CRMs. Their software helps businesses improve customer service and market productivity, and secure stronger sales.
Due to the breadth of SuperOffice AS's operations, the platform has established many feedback channels, including support, consultants, partners, and salespeople. The business wanted to explore additional ways to structure feedback and set up routines to close the loop with customers.
SuperOffice chose CustomerGauge to integrate VoC research into their organization, to help increase employee engagement, and to swiftly close the loop to combat customer churn.
With CustomerGauge's help, SuperOffice now has a structured VoC system in place to save detractors and promptly close the loop. This system focuses on 'high-engagement' accounts—ones that interact most with the brand through meetings, support requests, and sales.

SuperOffice's team created an algorithm that identified highly engaged users and surveyed a set number of users per working day. SuperOffice's strategy helped them foster deeper relationships with their high-engagement accounts, and the brand receives a steady stream of feedback that it uses to improve CX.
Thanks to Account Experience, SuperOffice closes the loop and quickly responds to detractors. When a detractor submits their SuperOffice survey, the AX system's workflow trigger assigns a request to the right department and case manager, so the team can identify the root cause and act swiftly.
"CustomerGauge is a best-of-breed NPS platform, and we are a best-of-breed CRM, marketing and customer service solution," Hans Chr. Grønsleth, Director of Digital Customer Experience, said. "Together it was a perfect fit."

Learn more about how CustomerGauge helps SuperOffice AS close the loop by reading the complete case study.
Reduce Churn
Did you know that U.S. companies lose $136.8 billion annually due to customer switching?
Customer churn is a costly problem for businesses—but it's one that VoC research can help you tackle.
VoC research can reveal:

The specifics of why customers churn. When analyzing customer churn, there's no room for guesswork. Businesses must identify the root cause of customer problems using real data. With VoC data, you can learn why customers churn and where your weaknesses lie.



What causes your customers to stick around. Knowing what works is as important as knowing what doesn't.
Collecting this information helps you determine your customer's challenges and take action to improve customer satisfaction.
Case Study: How VoC Research Reduced SingleHop's Churn by 50%

SingleHop is an IT hosting company and services provider that has been helping companies seamlessly deploy and manage infrastructure since 2006.
SingleHop started working with CustomerGauge's Net Promoter® program in 2011, and over two years, they achieved a 50% increase in customer retention.
As SingleHop grew, the company needed a better way to connect the large volume of customer data in their CRM (Netsuite) with NPS data stored on CustomerGauge's platform.
In 2017, CustomerGauge integrated with their NetSuite CRM to bridge this gap.
This initiative has allowed SingleHop to:
Compare NPS data with customer data and support metrics

Streamline surveying work

Improve communications between the two systems and extract data more efficiently
The integration provided SingleHop with a more holistic view of their account relationships, allowing them to survey multiple people on the account and putting them in a stronger position to take action based on customer feedback.
Learn more about how SingleHop grew with CustomerGauge by reading the complete case study.
Product Development
VoC research can drive product innovation by helping you identify customer expectations and pain points.
The insights can help you answer questions like:

What do your customers like about your product?

What challenges do your customers face when using your product?

Why did certain customers stop using your product?

What new features would customers like to see?
These insights can also help you ensure product-market fit, which is a compelling value proposition that addresses why customers are likely to use your product.
VoC research ultimately lets you cut through the noise and guesswork by interacting directly with your customers.

One study found that VoC research not only helps firms collect knowledge for product innovation, but also allows them to develop relationships with a larger number of customers.
Increase Upsells and Cross-sales
Research by Gartner found that VoC research can increase the success rates of upselling and cross-selling by 15-20%, demonstrating VoC's potential to drive top-line revenue.
But, unfortunately, our research found that 65% of B2B companies aren't integrating their upselling and cross-selling efforts with their CX design.
So, be sure to make the most of your VoC research by identifying relevant cross-sell/upsell opportunities and try to understand what you can sell, and to whom.
VoC research can also help you drive referrals by identifying customers who are most likely to recommend your brand, i.e. your promoters.
Moreover, it also helps you identify which customers you shouldn't ask for a referral from — your NPS detractors.
However, while promoters are already loyal to your brand, they won't necessarily spread the word until you encourage them. We call this 'activating' your promoters.

You can learn more about increasing referrals with VoC research in our B2B referral marketing guide.
5 Steps to Growth with VoC Research
Now that we've covered what VoC research can do for businesses, let's see what actions you can take to drive growth within your own company:
1. Optimize Your VoC Research
You need to answer a few questions in order to take the right actions to optimize your VoC research and get the best results.
These include:

Are you using the right VoC metrics in your CX program? We recommend you use NPS as a basis, because it gives you deep insights into customer sentiments. It's simple, short, encourages high response rates, and helps you identify drivers behind customer actions.
Our research revealed that 41% of B2B brands lead with NPS, as it's an excellent choice for gaining insights into customer sentiment.
Other metrics you might consider include:


Customer satisfaction score (CSAT), to track the success of individual interactions. CSAT doesn't offer detailed insights into customer loyalty, but it helps you understand customer sentiments towards specific interactions.

Customer effort score (CES). This metric is an important indicator of customer loyalty, as it's based on the understanding that the less effort a customer makes to interact with you, the greater the likelihood that they'll return.
Have you optimized your response rates? Our research found that higher response rates are directly correlated with higher NPS. Conversely, low response rates are an indicator of potential customer churn. In our experience, loss of signal is a reliable churn predictor. This is because when customers go quiet and stop interacting with your brand, they're often ready to leave. So, optimizing your response rates can be vital to increasing customer satisfaction and reducing churn.

Are you collecting feedback from the right people (and accounts)? Are your biggest accounts not responding? The value of your responses varies depending on each account's value. If your largest accounts aren't responding, it's important to investigate the problem to prevent churn and revenue loss.
2. Choose the Right Voice of Customer Framework
Voice of customer frameworks are the models or structures used to measure, analyze, and improve VoC research.
We devised the Account Experience framework because we found the market lacked an existing VoC framework to meet the complexities of B2B customer relationships. Existing models didn't account for the differences in account sizes and the greater upselling and referral opportunities in B2B.
So, we built the Account Experience model to cater to these complexities and to tie NPS gains to revenue (which we developed the Monetized Net Promoter Score for).
Here's the path to success for new customers of our Account Experience model.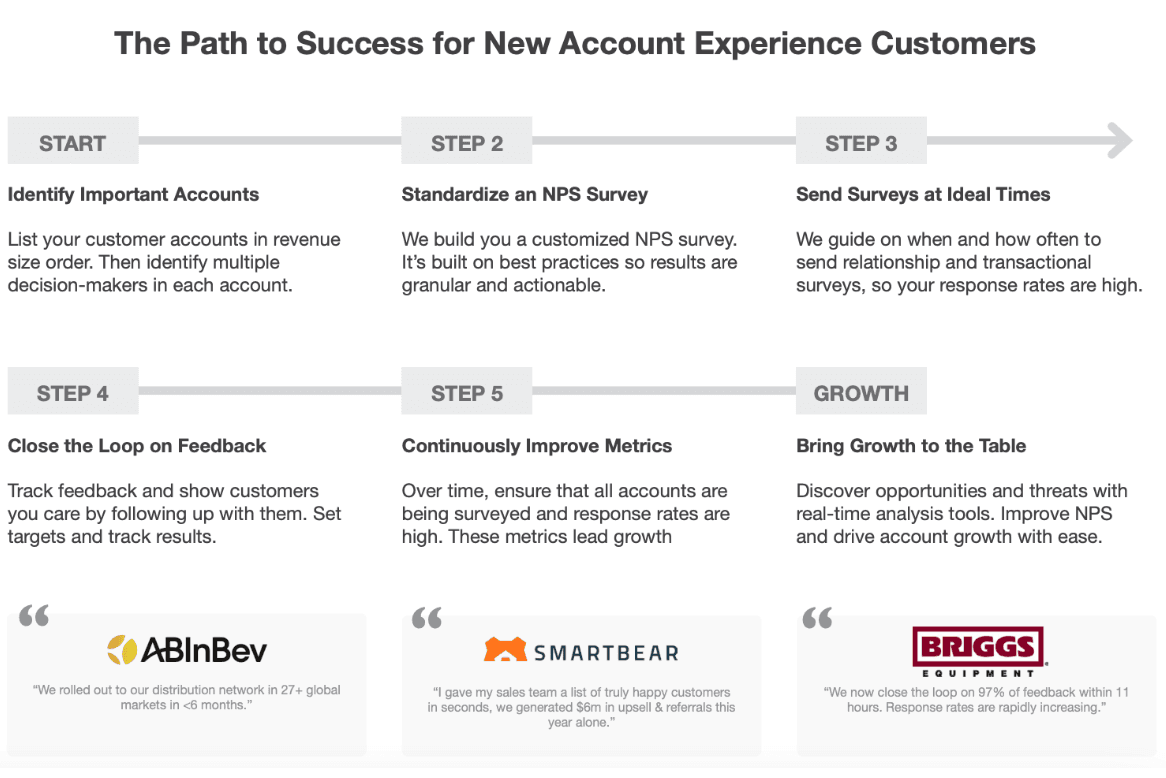 And if you're skeptical about new frameworks, check out our customer success stories.
You might be interested in learning How Alchemista Went From Losing Their Biggest Customer to 100% Retention.
3. Create a VoC System Based Around Revenue
A Voice of Customer system is a formal structure that integrates VoC research into your company. This is the system that translates your VoC research into action.
Earlier, we mentioned how our Monetized NPS metric ties revenue gains to NPS scores. But, why is this important? Isn't NPS alone sufficient?
Well, no.
NPS is useful as a standalone metric for understanding customer sentiment, but when you're reporting and justifying spend, it's crucial to determine how your company's bottom line is affected.
Monetized Net Promoter identifies precise opportunities for retention, referrals, upsells, and cross-sells — and what these insights mean for your bottom line.
You can see how a system led by monetized NPS compares with one driven by traditional NPS in the diagram below.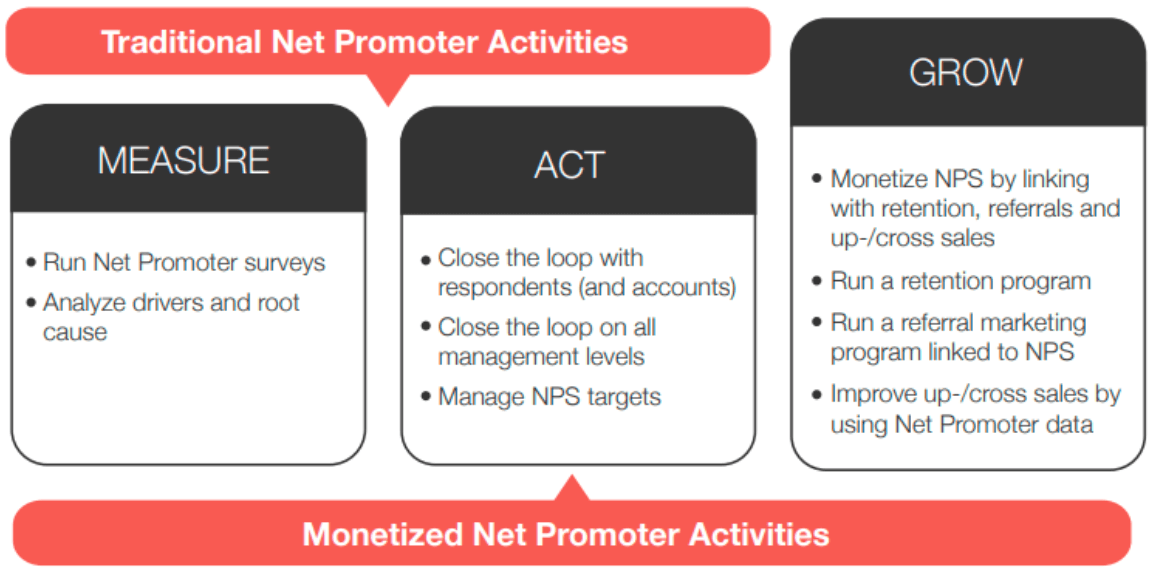 4. Track and Optimize Vital Metrics
Although NPS should lead your VoC program, there are other important metrics to track and optimize, including your response rate, customer retention rate, customer churn rate, and ROI.
In B2B, account sizes vary significantly, and some customers are worth more than others. So, it follows that you should prioritize budget allocation to the highest ROI projects. But, our research revealed that less than 40% of companies have taken this step.

We created the CustomerGauge ROI calculator to help you calculate ROI and determine the cost of doing nothing.
5. Commit to VoC With a Dedicated Team
Many B2B brands have not invested enough in personnel to drive CX success.
According to CustomerGauge research, 32% of B2B brands don't have a dedicated team to manage customer sentiment, and 24% have only one person overseeing CX.
It makes sense for B2B teams to avoid investing in CX teams if they can't justify the ROI. That's why it's crucial to embrace monetized NPS and link your efforts to revenue.

And to make sure your teams have the necessary skills to help your CX programs mature, consider exploring professional certifications and upskilling initiatives. For example, the CustomerGauge Academy can prepare your teams to deliver better B2B customer experiences.
Choose CustomerGauge to Translate Your VoC Research Into Growth
To eliminate the guesswork in your VoC system, it's crucial to link VoC research to revenue.
That's why we developed Monetized NPS as part of the Account Experience framework.
CustomerGauge helps you improve your VoC research, tie NPS scores to revenue gains, and implement a VoC system that helps you promptly close the loop. There's a reason Gartner ranked us #1 for B2B.

Translate your VoC research into action with CustomerGauge, the best-in-class CX platform for B2B brands. Get started here.


Get The Most Comprehensive B2B NPS and CX Benchmarks Report on The Planet