Search online for strategies to reduce customer churn and you'll find thousands of pages on B2C attrition.
But what about B2B customer churn? There's just not as much support out there for you.
At CustomerGauge, we're here to fill that gap. Our extensive research has taught us that specific and deliberate B2B-focused tactics are a must if you're going to reduce churn in B2B.
That starts with recognizing who the customers are that are churning. Unlike in B2C contexts, that's not a single individual, but a group, all with different pain points, desires, and problems to solve.
This fundamental difference is the first thing to recognize when tackling B2B customer churn.
But there's a lot more to do. First, let's take a look at what B2B customer churn is all about and explore some strategies on how to prevent it.

What Is the Average Churn Rate in B2B?
In our B2B NPS and CX Benchmarks Report, we found that B2B churn averages at 28%.
However, this can change by industry. For example, here are the average retention rates of 11 different industries (you can subtract the numbers from 100 to find the churn rate):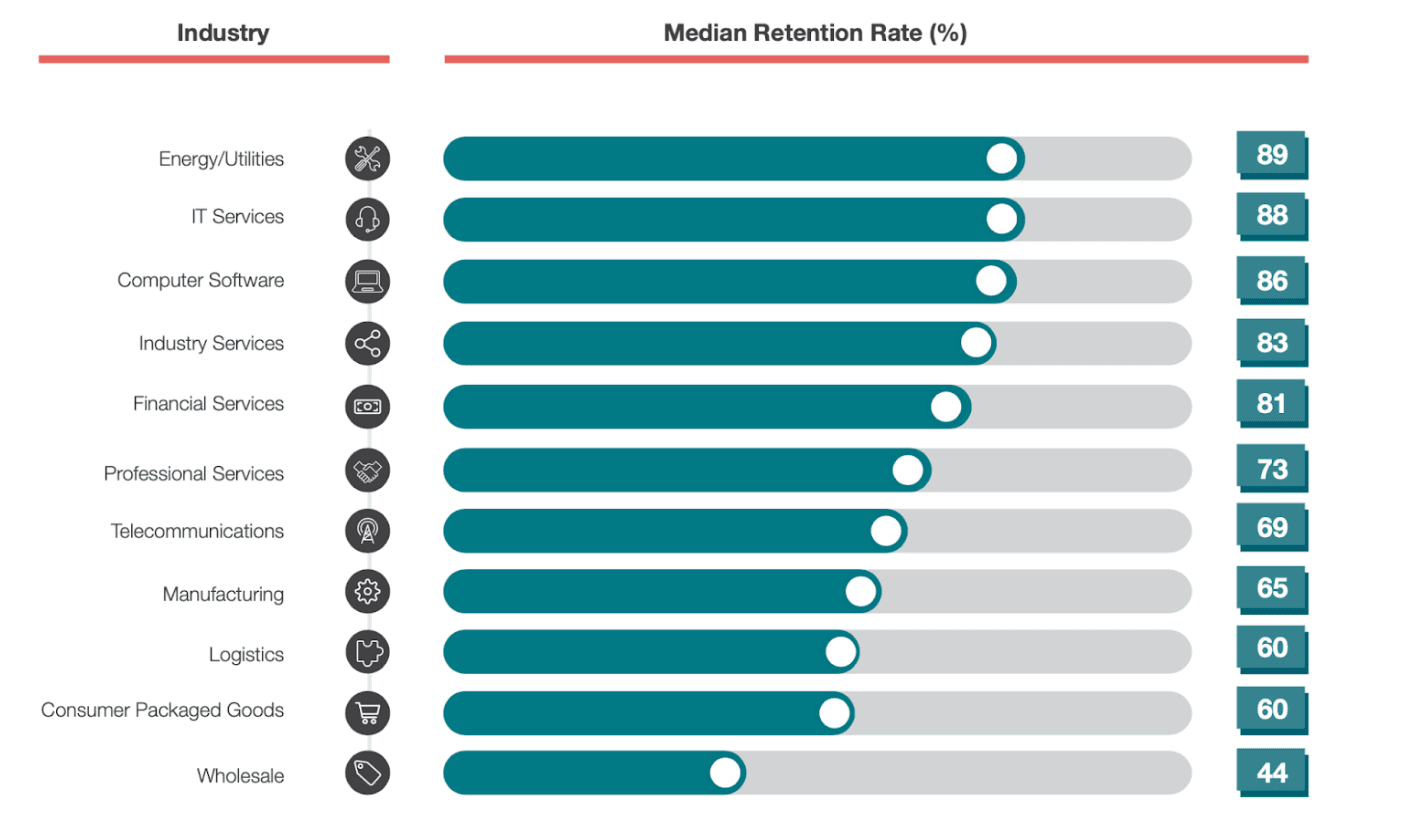 How Is B2B Churn Different From B2C Churn?
Typically, B2B churn is lower than B2C. However, that's not the only thing that makes B2B churn its own unique beast:

B2B customer relations are more personal. B2B customer relationships tend to be more grounded in personal relationships than in B2C. Churn can therefore often depend on the quality of the relationship and the degree to which you nurture and invest in these relationships.

B2B accounts have many different users (and many more reasons for churn).In B2B, you're likely dealing with more complex organizational hierarchies, from a customer's sales and marketing team to its operational division and C-Suite. All of the different needs and priorities of these different groups need to be considered if you're going to reduce churn.

B2B customers can vary massively in value.While in B2C contexts different customers often have very similar values, in B2B there's no such equality. One customer account can be worth 100 times more than another, and that means the stakes of churn can be much higher.
So, what makes a good customer anti-churn program for B2B? Let's take a look at some strategies that will help.
7 B2B Customer Churn Strategies
The following strategies are practical and actionable. They're designed to help you to start reducing churn straight away.
1. Identify Issues Through Relationship and Transactional Surveys
Net Promoter Score (NPS) surveys are all about gauging a customer's overall loyalty to your company. They're primarily oriented around one, simple question:
On a scale from 0 to 10, how likely are you to recommend our product, service, or company to a friend, colleague, or family member?
The results from your NPS surveys will enable you to group respondents into three categories: promoters, passives, and detractors. Each of these has a different level of loyalty to your company, as well as a different impact on your revenue growth.

Promoters. These are the customers who answer 9 or 10 to the NPS question provided above. They're loyal, enthusiastic, and passionate about what you do. They're also likely to refer you to others, which can boost your bottom line.
Passives. Your passives answer your NPS question with 7 or 8. They're not as enthusiastic about your company as your promoters, but there isn't an immediate threat of them churning.
Detractors. Your detractors answer between 0 and 6. They're not happy with their experience, and are most at risk of churning and spreading negative word of mouth. Customers on the receiving end of a bad experience are twice as likely to tell others about your brand.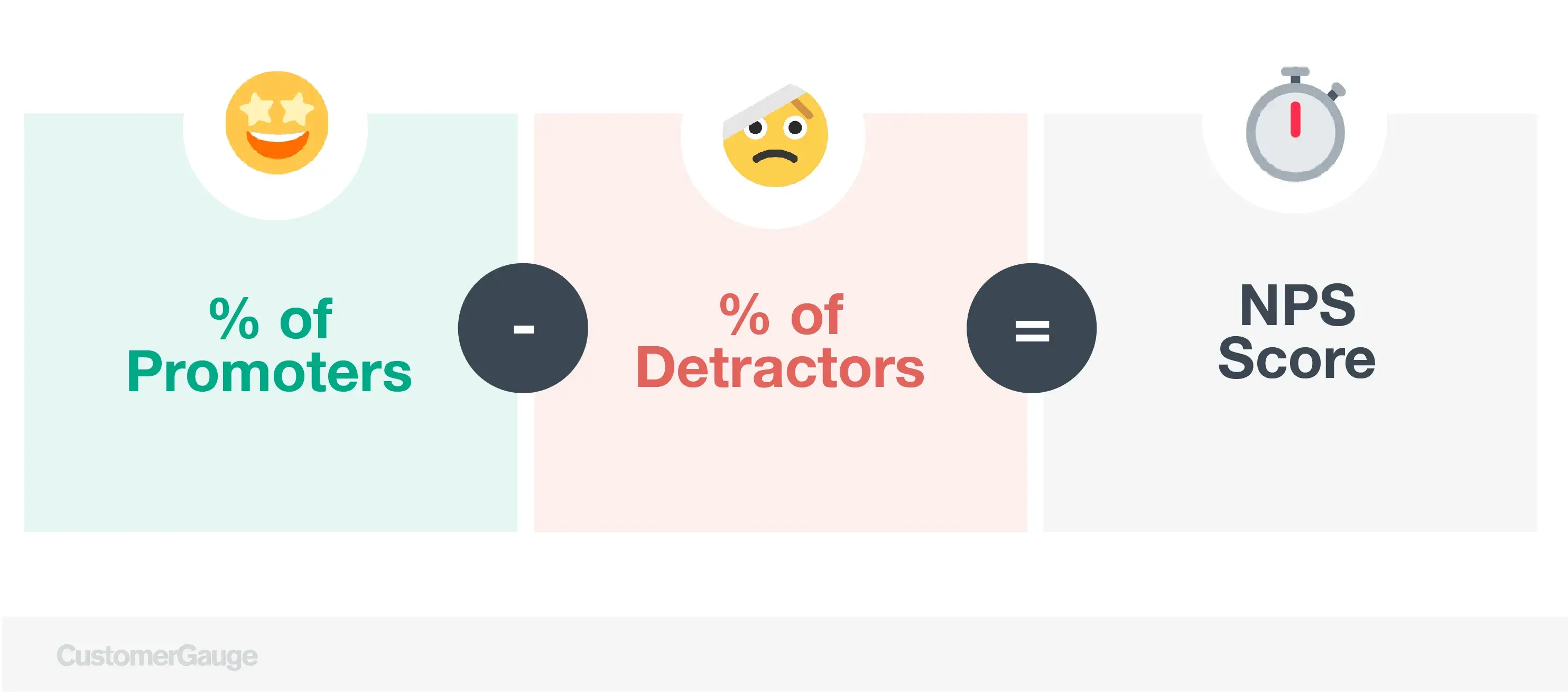 Each of these groups of customers requires a different response. Reach out to your detractors and improve their experience as a matter of urgency, especially if they're a high-value customer (more on that below).
But also don't neglect your passives or promoters. One negative experience could turn your passives into detractors, while one positive experience could turn them into promoters.
However, regular relationship surveys should be supported by regular transactional surveys.
If relationship surveys are all about customer loyalty, transactional surveys dive deeper into how a customer felt about a specific interaction or transaction.
They're designed to measure customer satisfaction with a particular part of the customer journey, such as your onboarding process, your customer service, or your technical support.
By knowing what these issues are, you can improve them and prevent churn before it's too late.
2. Link Your Customers With Financial Data to Identify High-Value Customers
According to our research, 70% of B2B companies don't have their customer experience program linked to their financial data.
But if you don't know how your anti-churn efforts are affecting your bottom line, how do you know what your customers are worth and how do you track your success?
Using Account Experience, our customer retention methodology that ties your NPS data to your revenue, you can see how much your at-risk customers are worth. Reaching out to them first with a compelling reason to stay will make a meaningful difference to reducing customer churn — and boosting revenue.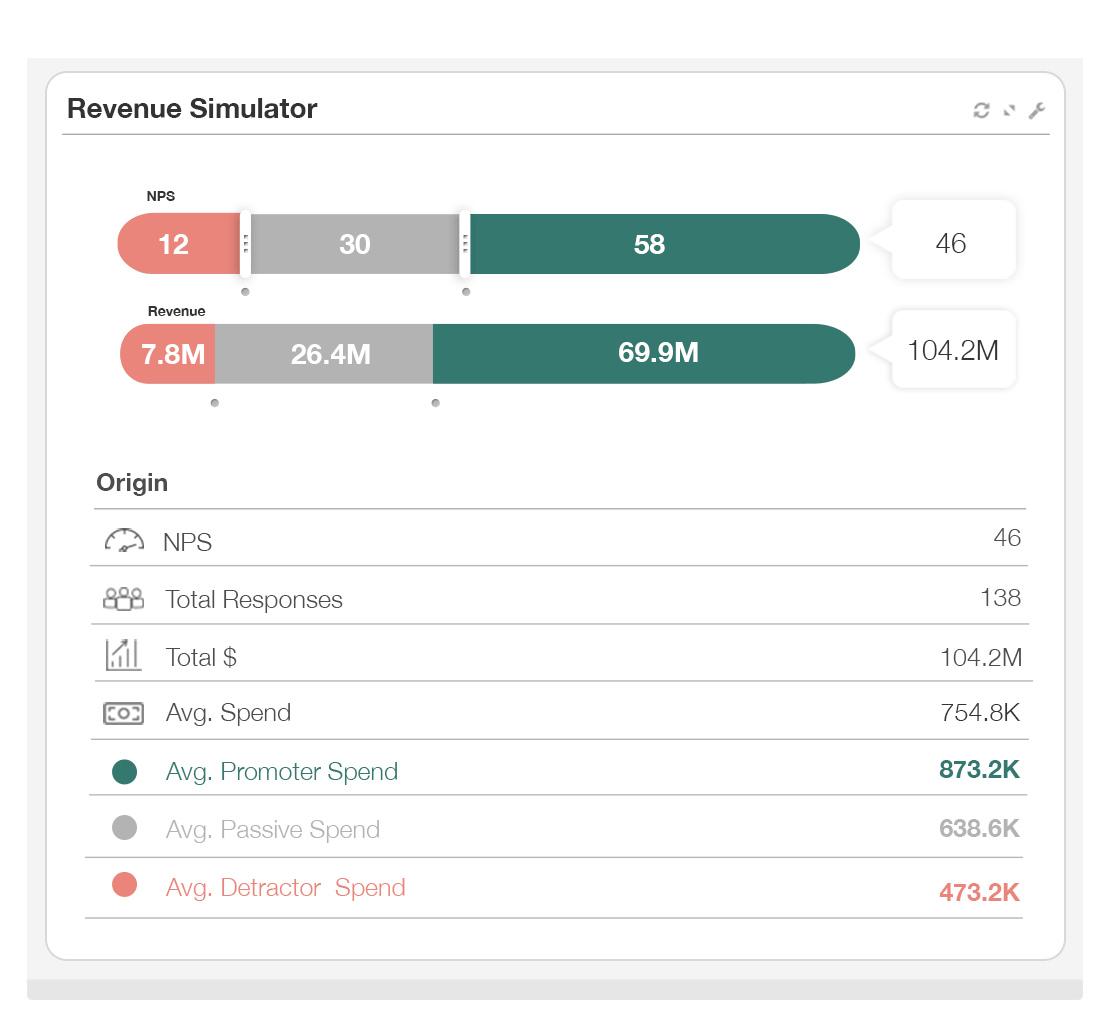 Find out how INAP Reduced Churn by 50% using Account Experience.
3. Keep a Close Eye on Engagement Data
Yes, NPS matters, but there are many other account signals that tell you whether your customers are happy or not, and what areas of your business might need your attention.
In addition to surveying your customers, take a look at product usage, support tickets, and email engagement. An influx of tickets on a particular issue should raise a red flag for you, and resolving this problem quickly and effectively will show your customers that you're really paying attention.
Further, pay attention to silence, or what we like to call "absence of signal". If customers are not engaging with your surveys or your product, it could be a warning sign that they're on the edge of churning.
But if your customers aren't responding to your surveys, how can you find out more about their experience? Here's how: by trying different survey distribution methods.
For those who aren't filling out email surveys, try text messages or telephone interviews. For regular website visitors, give a pop-up a shot.
The trick is to engage your customers on the channels they use the most, not the one that's easiest for you to manage.
H&R Block did exactly this when they started collecting data across a variety of channels, equipping frontline staff with customer insights and getting buy-in from all departments.
4. Close the Loop Every Time
Closing the loop involves considering the feedback you've received from your customers and acting on it quickly and effectively.
At the very least you should respond to your customers, but ideally, you should also demonstrate that you've taken their comments into consideration and created meaningful change that will benefit them.
Showing your customers that you've really heard them can be the most important difference between keeping an account and losing it.
And remember, closing the loop doesn't only apply to your detractors. It's for all your customers. CustomerGauge research shows that B2B companies that close the loop on all customer feedback increase their retention rates by 8.5%.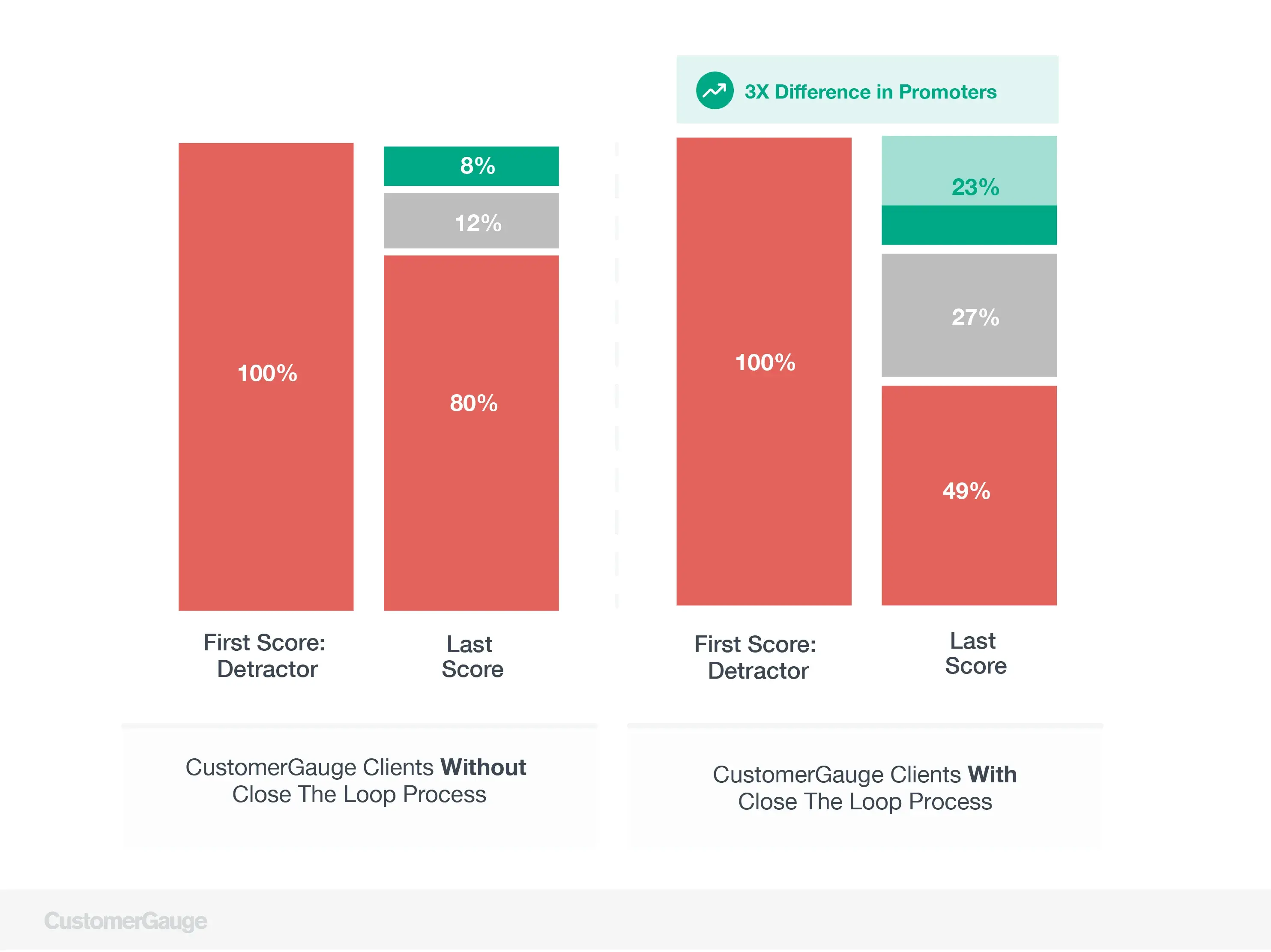 Interestingly, though, the majority of companies, some 62% in fact, don't have targets for closing the loop. This means that they're not monitoring how quickly it takes for feedback to be addressed, or whether it gets properly addressed at all.
Taking the time to set targets matters. Just ask DHL.
DHL prioritizes closing the loop with 100% of its customers, and detractors are followed up within an impressive 48 hours. Senior managers and the C-Suite get daily reports from CustomerGauge, and customers that are identified as "low-scoring detractors" are contacted immediately.
The result? DHL has increased its NPS by 10 points in several countries and has doubled its customer response rate.
Learn more: DHL Achieves Higher Renewal Rates & Growth Using CustomerGauge
5. Send Multiple Surveys
While it's fair to be concerned that sending too many surveys might annoy your customers, our research has found that surveying multiple times a year can help to reduce B2B churn.
We discovered that B2B companies who survey a single contact once a year have an average retention rate of 44%. However, those that survey multiple times a year to multiple contacts have a retention rate of 82%.
Reduce your B2B churn by asking for more feedback and act on it accordingly, of course.

6. Upsell and Cross-sell
According to Gartner, 80% of profits come from 20% of customers.
This means that your most engaged and enthusiastic customers (your promoters) are likely to be more willing to hear about what else your company has to offer than your passives or detractors, or even brand-new customers.
Capitalize on this. Upsell, cross-sell, and run referral programs.
This will help your already loyal customer base to stay loyal, and will make them more likely to see value in your business and spread their positive experience through word of mouth.
Find out more: How SmartBear Brought in $6 Million in Referrals

7. Introduce a Loyalty Program
Does your business have a loyalty program in place? Research shows that almost 80% of customers are more likely to stay loyal to a brand if it rewards loyalty.
Your loyalty program can take many different forms (just check out these 5 real-world customer loyalty programs for B2B). Offer rewards or discounts to customers who make repeat purchases or incentivize them to engage with your product or service further.
Use CustomerGauge to Avoid B2B Customer Churn
At CustomerGauge, we eat, breathe, and sleep B2B. We've put the strategies above, and several others besides, to the test as we work to reduce B2B customer churn for our customers.
Want to find out more about our platform for customer churn reduction?
About the Author