4 Signs of Customer Churn Risk
Let's start by looking at the key indicators of customer churn risk that you should be monitoring. From a low NPS score to lost client contact, here are four of the most important.
1. Low Net Promoter Score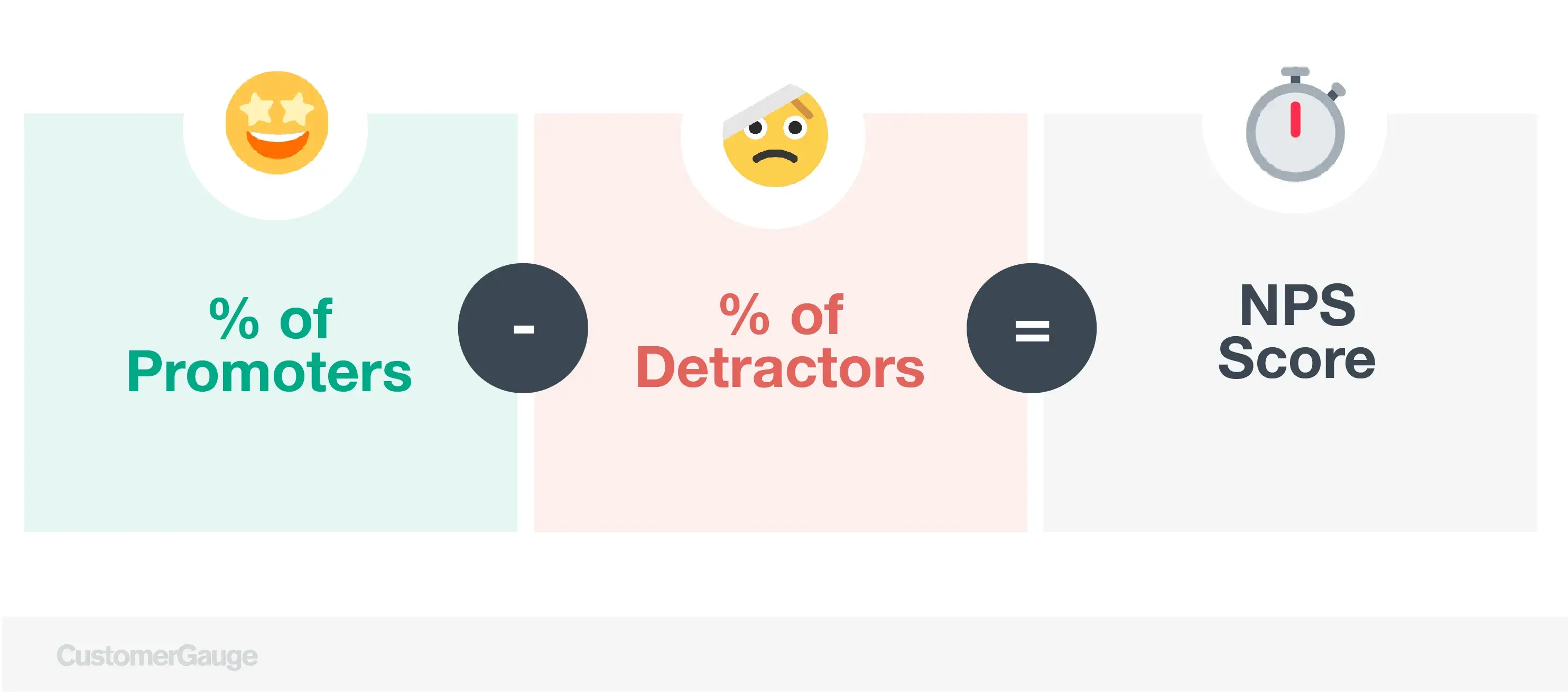 The first, and probably most obvious, sign of churn risk is low customer satisfaction. If your customers are telling you they're not satisfied, there's simply no reason not to believe them. And if you don't act to change, you can't act surprised when they walk out the door.
But what's the best way to track customer satisfaction levels? The answer is Net Promoter Score.
Net Promoter surveys are designed to give you the clearest insight into your customer experience and the impact it's having on your revenue. For instance, the survey can highlight the customers that are most at risk of churn—alongside those who are most loyal.
As you may know, the surveys work by asking your customers a simple question:
On a scale of 0-10, how likely are you to recommend our product/service to a friend or colleague?
Based on their answer, you can then categorize your customers into promoters (those loyal customers), passives, and detractors (the churn risks you should keep an eye on).
If you're running surveys and find a high proportion of detractors, you can bet that your churn rate will be high too. But the point of the survey is to find out why and to intervene. And thanks to NPS driver questions, your customers will give you clues for how to make them stay.
Yet there's a problem here. Typically, NPS survey response rates average out at 12.4% for B2B brands (although you can get a lot more).
That means that while they are a hugely insightful tool for gauging churn, not all of your churn risks are going to respond. To detect customer churn, you're going to have to look in multiple places for signals of churn.
2. Lowered Product Usage and Activity
Reduced usage is a sign of possible churn that doesn't require customers themselves to tell you that they're a flight risk. As a predictor of future low engagement, it's a good early indicator that things might not be okay in your relationship.
Usage and activity rates measures how often your customers are using your products.
There are many signs you can use to track this, such as platform logins, feature usage, or overpayment for features that they don't use.
Indeed, one of the most important signs is feature attrition. When customers notify companies that they're looking to decrease their use of certain features or services, this should be an immediate red flag. Your company should have a good understanding of your client's business needs to build strong cases for product adoption.
Typically, monitoring these rates is a customer success activity, but it's also a crucial part of any customer experience program.
For example, the CustomerGauge Account Experience platform includes 360 Customer Tracking. This tracks your client account's activity (via product usage, NPS feedback, CSAT, and many more measurement methods) and warns you in real-time of slipping usage, lowered engagement, or explicitly unhappy customers
3. The Loss of a Champion
In B2B sales, there are typically many different stakeholders at work in each account. Yet it's usually just one of these players that is instrumental in pushing for the adoption of your product. We call this person a champion.
But what happens when a champion leaves? You end up with a customer account without anyone rooting strongly for your product. That could have a big impact on your long-term relationship. In fact, your client may stop using your product at all as a result.
The exit of one of your product champions is a crucial sign that your client may soon churn.
Though, you can prevent this from the outset simply by not relying on a single champion. From the onboarding stage, establish a healthy contact list within each account—with the highest-value accounts needing the largest number of contacts. A diversity of different contacts—from every level of your customer account—will help too.
4. The Hidden Sign of Customer Churn: Absence of Signal
Finally, there's a sign of churn risk that may pass you by completely: absence of signal.
This is the name we give to customers who risk flying under the radar—who simply aren't engaging at all.
Because it would be too easy if every customer who was about to churn told you they were about to churn. In the majority of cases, they just stop showing up. But what perhaps is surprising is that they're not necessarily your NPS detractors.
Rather, they're more typically your passive customers: those who never seemed overly unhappy in the past.
Yet there are warning signs that will show that any client at all might have had a change of heart about your brand — or found someone else:
Low engagement with surveys. We said that detractors are a risk—but at least they are telling you how to improve. A bigger problem is those who just don't reply, as you don't know what they want from you to stay.

No support requests. Support tickets might sound like something that you don't want in your business. But actually, it's a sign that your customers are using your product.
About the Author