Finally, we're entering an era where customer retention is critical to a company's growth.
To many of us it's always been obvious — continuously filling a leaky bucket is my definition of insanity, especially if that hole is enormous.
Until recently, many of our customers didn't even know how bad their customer retention rate really was.
That's why we made it one of the first questions we ask: 'Do you know which of your customer accounts are about to churn?'
99% of the time, the answer is a hard "no".
Answering this question is the power of a well-set-up customer retention dashboard.
Almost every company tracks data across their touchpoints which could help with retention.
So, a solid retention dashboard should focus on bringing that data together in a way that drives visibility; gives an indication of performance; and ultimately equips the customer retention leader with the tools to report and improve customer retention.
We've thought long and hard about what widgets and visualizations help move the needle on retention, so here are 6 of our favorites.
6 Net Promoter Graphs For Your Customer Retention Dashboard
1. The NPS Lifecycle Visualization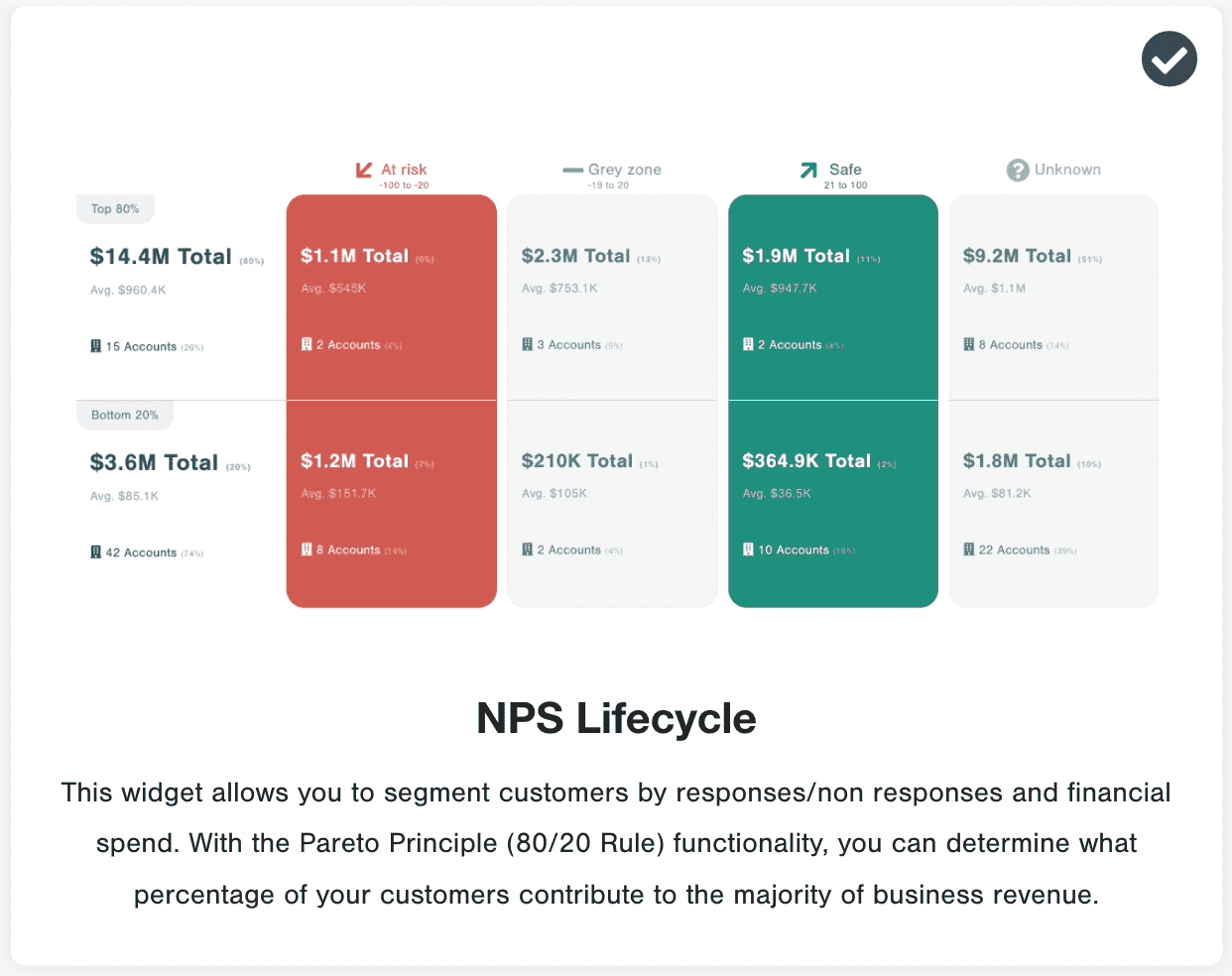 The NPS lifecycle widget in the CustomerGauge NPS platform is a powerful addition to any dashboard where the goal is to retain more customers.
The lifecycle widget utilizes the Pareto principle (which, when adapted to business, states that roughly 80% of your revenue comes from 20% of your customers) to assess the health of your top customers.
It first takes a look at your highest-value customers and divides them into the top 80% of revenue vs bottom 20%. Leveraging the NPS score of the surveyed accounts, it divides those customers into "at-risk of churn" (i.e. their overall NPS score is less than -20) and "safe from churn" (i.e. their overall NPS score is more than 20).
Critical to the visibility of your customer health is the last column, "unknown". It tells you how much revenue is unaccounted for (they didn't respond to the survey).
Would you be comfortable knowing $9.2m in revenue isn't filling out your NPS surveys?
Answer: Absence of signal is a hidden churn signal. So, definitely not!
2. The NPS SWOT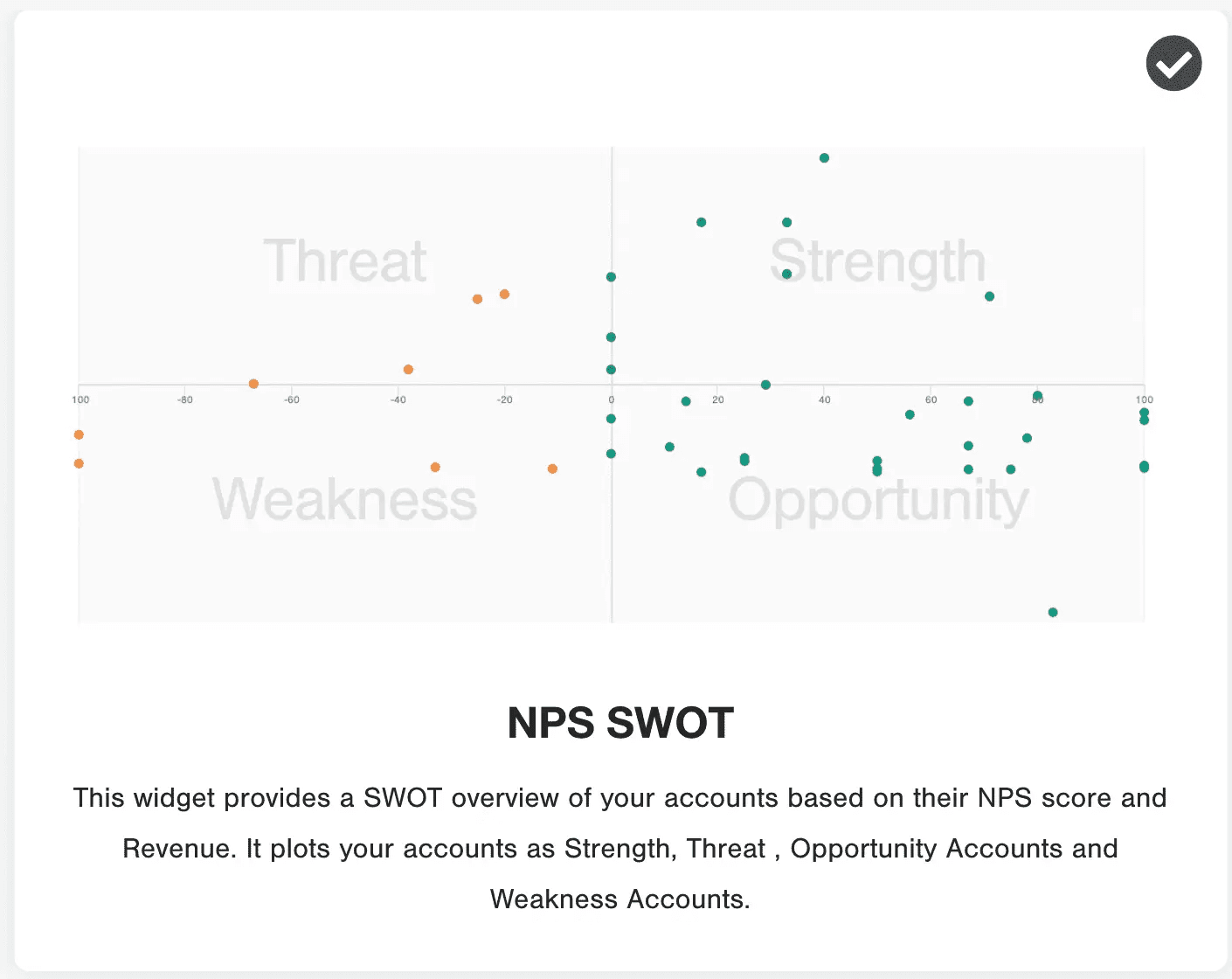 The NPS SWOT (strengths, weaknesses, opportunities, threats) helps to visualize the opportunities your customer base represents.
The SWOT uses both the NPS score and the annual revenue of each customer to determine their place.
Here are the key categories:
Opportunity: A customer with a high NPS score but low account revenue (i.e. happy customer, ready to be upsold)

Threat: A customer with a low NPS score but high account revenue (i.e. a very valuable but unhappy customer)
With this NPS visualization in your customer retention dashboard, your team can not only focus their energy on rescuing high value customers, but they can find big opportunities to grow happy customer accounts, too.
3. NPS Absence of Signal
We'd rather our customers are unhappy and giving us feedback than completely disengaged.
At least unhappy customers can be listened to and their feedback acted upon (indeed, detractors are more likely than any other group to become future promoters).
Our absence of signal (mentioned in NPS graph 1) widget indicates whether a customer is disengaged or not.
By integrating several customer touchpoints (customer support, surveys, quarterly reviews) you can track whether that account is being energised throughout the year.
With this graph in your customer retention dashboard, you'll know if an account is losing interest and can act fast to boost customer retention.
4. Average Spend of Each Loyalty Bucket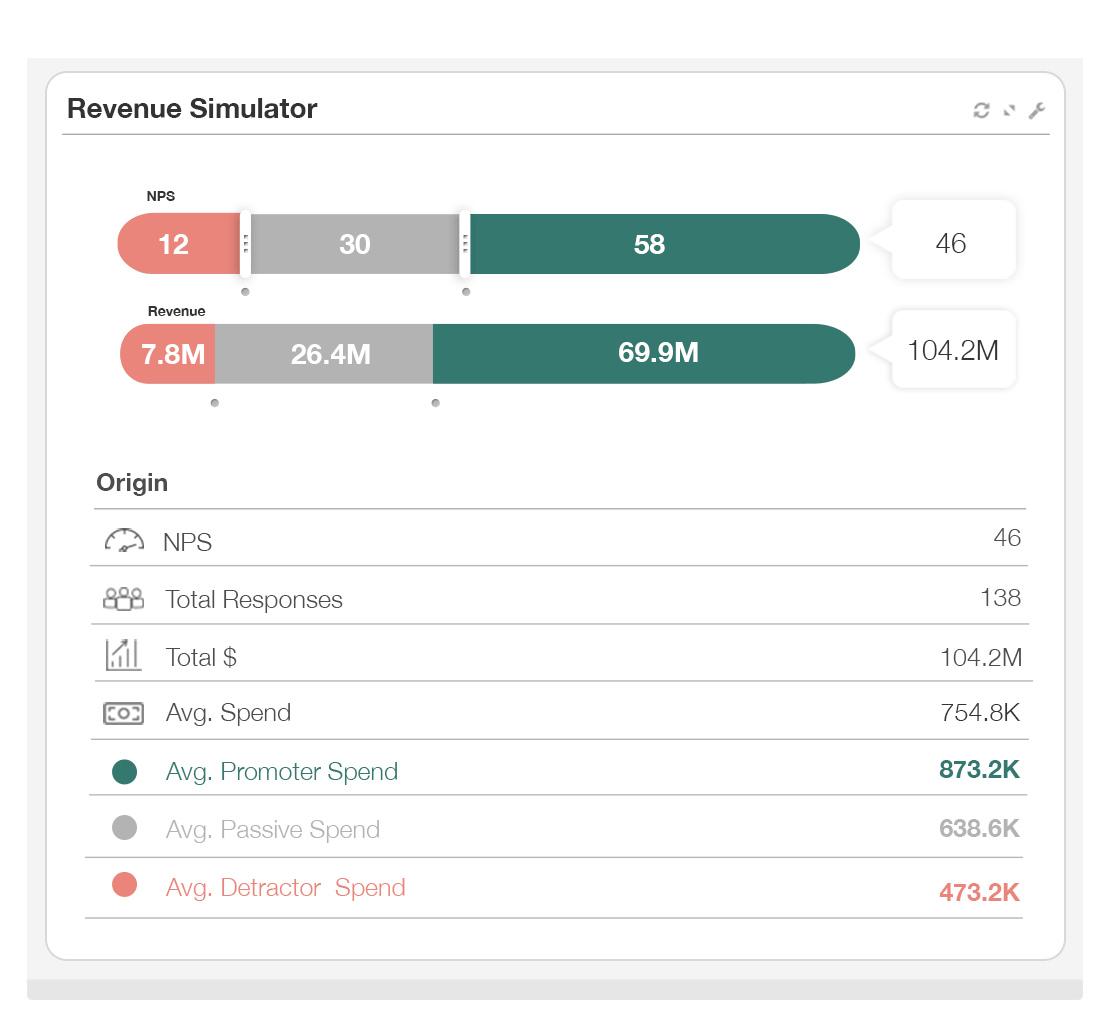 Our revenue simulator widget is an extremely valuable addition to any customer retention dashboard.
It shows a snapshot of your company's financial health by tying the score of your customer to the annual revenue they bring in for you.
The effect shows you how much of your overall annual revenue sits with promoters (safe) vs detractors (at-risk of churn) so you can turn up to your management meeting with clarity on why CX needs investment this year.
We've also added a slider so you can simulate the impact of converting more detractors into promoters (a great way of getting buy-in for CX transformation that helps your retention goals).
5. Visualize the Drivers of Retention
Our fleet of NPS driver analysis widgets includes waterfall charts, loyalty charts, scatter plots, and other tables.
Once you, or your NPS software, have calculated the contribution of each driver to the overall NPS score, an NPS driver segmentation is a great way to visualize it.
The chart below shows that the 'customer support' touchpoint is a controversial one, contributing significantly to the responses of both promoters and detractors.
By identifying the root cause of customer dissatisfaction, you can start ACTING to improve customer retention.
6. Close the Loop Customer Retention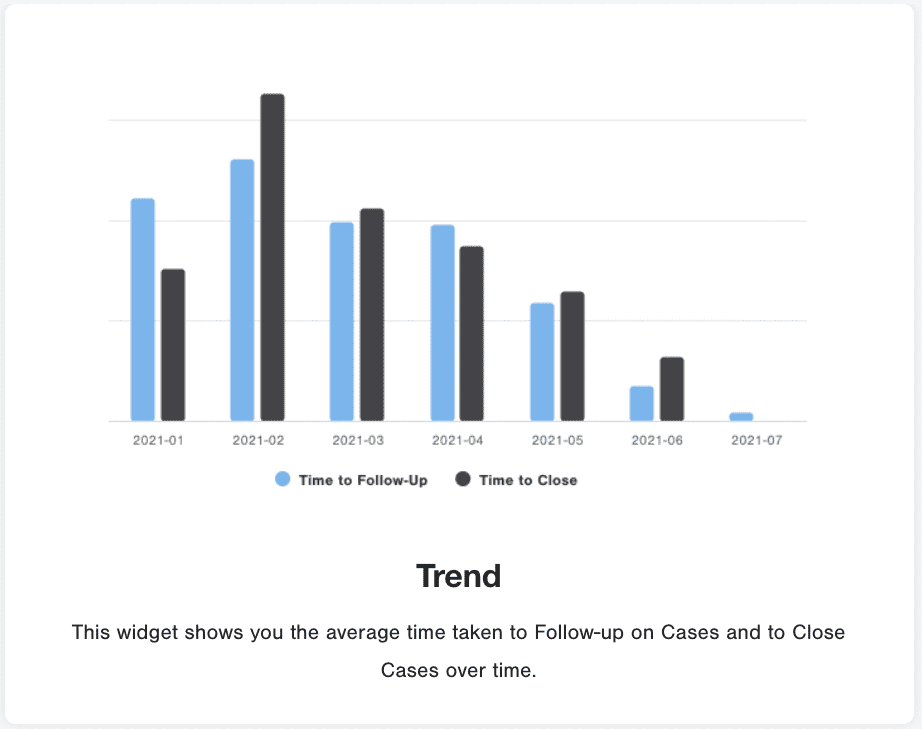 Our research on closing the loop clearly shows that the faster you follow up with unhappy customers, the better your customer retention rate is.
Your customer retention dashboard MUST show how your team is performing on closed-loop targets.
We've built a whole suite of widgets that help you manage this performance. Each is designed to drive visibility, set S.M.A.R.T goals, and push forward your customer retention efforts.

Frequently Asked Questions
A customer retention dashboard is your visual homebase for all your customer experience and retention efforts. It needs to track key performance metrics around customer retention—like retention rate; churn rate; and Net Promoter Scores for each account. However, in a good customer retention dashboard, we also suggest that you include detailed insights on leading factors of customer loyalty as well, things like closed-loop rate; customer engagement signals and the drivers of customer loyalty this month.
To answer this question properly, I've roped in an expert on customer retention—our very own Ian Luck, VP of Global Marketing at CustomerGauge. (He's been driving flagship customer retention campaigns for over a decade and was key to product development at CustomerGauge.) Here's Ian's answer to why customer retention is important: "Ever wonder how companies develop inhuman growth rates year over year? Turns out, they're masters at maximizing customer retention rates. In fact, these companies usually have triple digit net retention rates and beyond. Customer retention is an often overlooked way to maximize growth. But there are benefits beyond growth. With stellar retention comes brand ambassadors that will talk about your brand every chance they get—driving more and more net new revenue opportunities." There you have it: strong retention = strong revenue growth + more referral opportunities.
About the Author