If your B2B organization is suffering from low customer retention, it can hurt. You'll see revenue disappear to churn, you'll likely spend lots on customer acquisition to make up for that loss, and you'll start to question the quality of your customer experience overall.
In fact, you'd be right to question your customer experience. Because so many brands don't. CustomerGauge found that 44% of businesses don't know their retention rate at all. What's more, 70% of companies don't have their customer experience program tied to financial data. It's a serious error—because without this knowledge, they'll never know why their customer retention is suffering.
But if you've landed here, you're already ahead of most of the competition. And now it's time to tackle your low customer retention problems head-on.
In this article, we share 5 best practices that you can rely on to cut churn and improve your retention rate. We'll take you through how to ask for—and act on—feedback and how to engage customers that just don't respond.
But first, let's run through why retention matters—and just how low is low when it comes to customer retention.

Why You Should Work on Retention
Customer retention refers to the rate at which customers stay with your business. Retained customers are the loyal purchasers that stick around even when others churn. And most importantly, they're one of the most important pillars of your organization's revenue. Why?
The reasons are simple:
It costs more to sell to new customers. It's a stat you may know already: according to the Harvard Business Review, it can cost anywhere between 5 and 25 times as much to sell a product to a new customer than to a customer you know already. By letting high churn endure, you'll be spending more than you should on bringing in new custom.

An increase in retention leads to an increase in profits. Satisfied customers spend as much as 140% more than other customers. Meanwhile, existing customers are more likely to buy your newest products.

You can boost your customer experience overall. Your customer retention efforts don't exist in a vacuum. Instead, the steps you put in place to cut churn will have an impact on your other customers' experience too. And that means more satisfied customers all round.
But what's a good retention rate? Let's find out:
Just How Low is a Low Customer Retention Rate?
100% retention rates are admittedly rare (as Alchemista revealed in this presentation). But while that may seem ambitious, your goal as a business is to keep your rate as high as possible. And there's no reason to aim for any less than perfect.
So, what is a good customer retention rate? It's time to talk about benchmarks.
According to our research, the average churn rate for B2B brands overall is 23% over any given year. That means that you could aim to keep your retention rate above 77% to be on average. However, the industry you're in will have a big impact on the retention rate you can expect.
Here's what we found in our The State of B2B Account Experience report: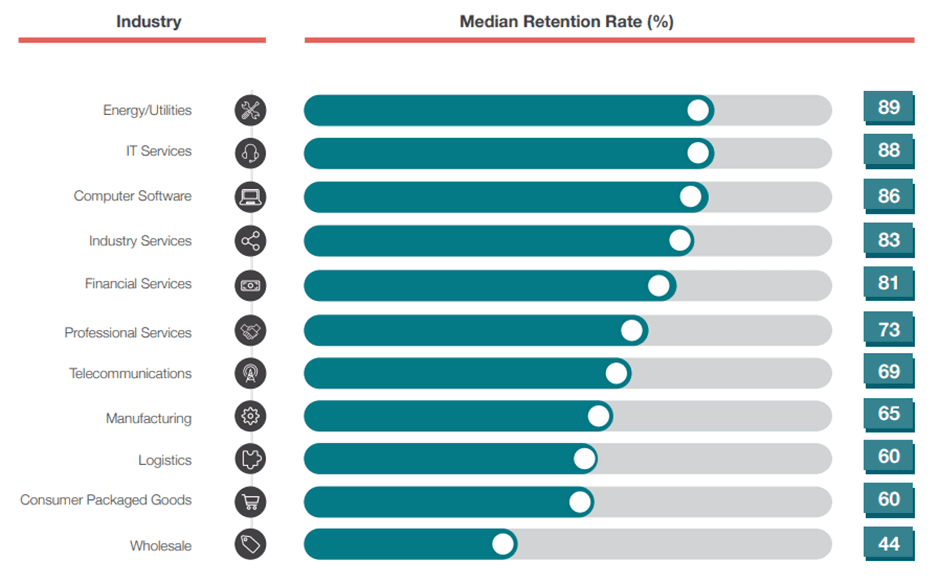 With this in mind, what makes a low retention rate for energy companies may still be a good rate for the wholesale industry. Some industries naturally have a higher rate of churn.
If you aim to be one the best (Slack, Snowflake, Zendesk, etc) then you must go beyond retention, to account expansion. Growing your existing customer accounts through upsell and crossell is key to sustainable, fast growth.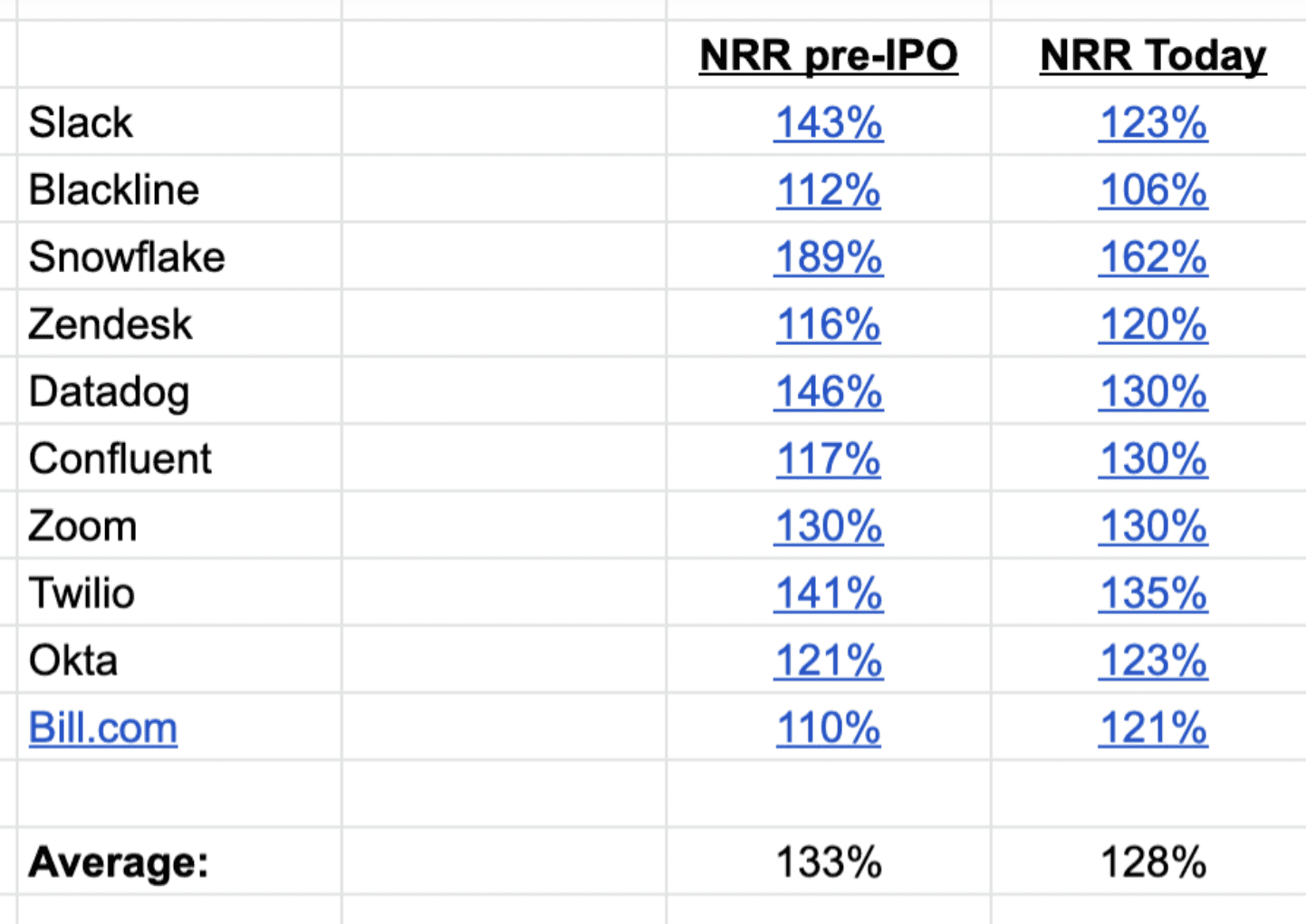 Data source: SaaStr Article
But what's important for your business is to start measuring your churn. In fact, as Cary Self, VP of Education and Program at CustomerGauge, told us, too many companies just aren't doing it:
"In my role with company leaders, churn tends to be a metric that many know very little about. There's a huge misconception around how much effort it takes to measure churn.
"The next biggest misconception is that there's nothing their team can do to prevent churn. NOT TRUE! Once you know how to discover churn, you can identify the reasons behind it. We tell our customers all the time, just start somewhere. One small action is better than no action and it will help you retain customers."
With that in mind, here are 5 best practices to adopt to secure the best retention you can.
How to Improve a Low Retention Rate: 5 Best Practices
1. Actively Ask for Customer Feedback (and Close the Loop)
There's an important, if counterintuitive, thing to remember: your customers are unlikely allies in the battle for retention. Why? Simply, because they're the people with the best understanding of what would make them stay. And that's an insight that you need access to.
The best way to get that insight is through customer surveys. Survey systems such as Net Promoter Score (NPS), for example, can help you quickly gauge customer sentiment about your brand. You'll quickly discover which customers are at risk of churn and what drivers are having the biggest impact on churn rates.
(And don't stop there. With CustomerGauge's Account Experience platform, you can understand the financial impact of your retention rate and NPS too—so you can track exactly how much churn is costing you.)
But surveys are not always enough. Once your customers have told you how they feel about your organization, product, or service, you need to reach out to them and tell them what you'll do to change.
Our data shows that running an NPS system alone can boost retention by at least 7%. But closing the loop with everyone can take that up to a massive 8.5%.
As Cary Self has said:
"
This should go without saying, but act on feedback. Nothing annoys your customers (and your employees!) more than their taking the time to give feedback and the company doing nothing about it. Why bother having the program if you aren't going to create change from the feedback you're receiving?
Customer feedback case management should be built into your voice of customer for sales platform, and integrated directly into Salesforce.
2. Boost the Number of Contacts in Each Customer Account
Many B2B brands think it's enough to engage with just the one person in their customer account. However, this is a serious weakness. Why? Because in any B2B account, there's not just a single person using your product. To truly drive retention, you need to gauge the sentiment of as many individuals in each account as possible.
That's because, in our experience, we've found that the loss of a contact in a client account can be one of the earliest signals of customer churn. Often, if the individual in an organization leaves who was once pushing for adoption of your product, it can leave you in an awkward position.
But, also, we find that simply engaging with as many account contacts as possible boosts retention all by itself—on average by as much as 18%.
Onboarding can be a good time to collect the details of as many individuals as possible. Yet if you've missed that opportunity, there's no time like the present.
3. Tackle Loss of Signal
"Churn does not come from feedback and data, it comes from a lack of feedback and data. A majority of the churn we've experienced over the years was preluded by an absence of signal."
At CustomerGauge, we often say that absence of signal is one of the most powerful predictors of churn risk.
Imagine that an account doesn't engage with your surveys, they don't issue any support requests, and usage rates are stagnant. Typically, this means that they're not getting what they want from your product—but aren't bothering to tell you.
As such, monitoring engagement is one of the primary tasks in your retention-boosting strategy. And platforms like CustomerGauge's Account Experience makes this easy. Using the 360 Customer Tracking tool, you can monitor survey engagement, product activity, support tickets, and more—so that you can keep an eye on the whole history of your interactions.
Of course, once you know your customer engagement rates, it's important to intervene if they're low. Reach out to your clients and ask them what you can do to improve.
4. Understand the Drivers of Customer Experience
We introduced NPS above. This will be a fundamental element of your customer retention efforts—yet its focus should not be simply on finding your headline NPS score. Rather, you should use your NPS surveys primarily to unearth the drivers behind your customer experience.
What does that mean in practice? That your focus always needs to be on the reasons for customer retention. There are three ways you can elicit this information from your customers:
Transactional surveys. The best NPS programs will use both relationship surveys and transactional surveys. Relationship surveys take the pulse of your overall customer relationship, which can be used by your sales team to actively track the relationship's health. However, transactional surveys dig into individual interactions—such as a purchase, delivery, or customer service engagement. This way, they give you highly specific insight into the reasons for customer satisfaction.

Driver questions. Whichever type of survey you're running, the NPS question should always be supplemented by a follow-up or driver question. This is when you ask why your customer gave you a particular score and what you can do to do better by them.

Cascading questions. Cascading questions are a type of survey format that provide a personalized pathway of questions. They let you dig right down into customer sentiment while giving customers a personalized survey experience.
Find out more: Why You Should Use Cascading Questions in Your Surveys
5. Build a Team Committed to CX Goals
Finally, a focus on retention—through improved customer experience—needs to be built into the very DNA of your organization. It's not a metric or task that should be the exclusive responsibility of your customer success managers. Rather, all your staff should be aligned around customer experience goals—from your C-suite to your frontline staff.
"
One of the biggest mistakes we've all made is making retention a responsibility of one person or one department,
"
To better understand how to retain a customer you have to understand the customer journey. But most companies don't look at the entire journey of the customer. Really though, all departments need to be involved with the retention strategy, to see where each department engages with the customer and the impact each interaction has on the overall loyalty.
And to make customer experience a success, goals help a lot. Setting goals for customer retention, NPS response rate, account coverage, and closing the loop will help boost growth. In fact, our data shows that teams that set goals for customer experience grow twice as fast as those that don't.
How CustomerGauge Helps
At CustomerGauge, we support B2B and B2B2C companies to improve their customer retention by measuring account feedback and providing insights to frontline staff that help them prioritize their at-risk accounts. Our Account Experience platform makes it much easier for you to deploy customer surveys and track your closed-loop feedback. Thanks to our 360 Customer Tracking feature, you can see exactly which customers are engaging and when.
About the Author