If you're reading this article, you're likely already sold on the value of customer retention.
You're aware that retaining customers is 5-25 times less expensive than the acquisition of new ones, and that for long-term sustainability & profitability, you need to fix your leaky bucket.
So, before we dive into the strategies for driving customer retention in the modern era, let me leave you with some words of inspiration from SaaStr Founder, Jason Lemkin.
Read Jason's full article here, in which he says "There are no excuses. … Triple down on customer success, customer marketing, and customer happiness. [Customers] not only will stay a decade or longer. But they'll likely grow 3x-10x in size. Almost like clockwork. No matter how big you get."
Here we'll share 10 B2B customer retention strategies that leverage customer feedback to help you do just that — deepening customer relationships, building trust, cutting customer churn, and improving retention rates.
10 Practical B2B Customer Retention Strategies
1. Drill Down Into Specific Touchpoints with Relationship & Transactional Surveys
If you're familiar with Net Promoter Score surveys (NPS), you'll know that you can use them to gauge a customer's overall loyalty to your company/brand by asking one short question:
On a scale from 0 to 10, how likely are you to recommend our product/service/company to a friend, colleague, or family member?
If you ask a variety of stakeholders, at a variety of hierarchy levels, you'll collect a score for each of your accounts (calculated like this).
Customers typically leave additional information about why they left the score, too. Both together have been proven to correlate with relationship health, account retention, and growing share of wallet.
Net Promoter should not be a research tool for your marketing or CX team. It should be an action tool that drives visibility into your customer accounts for your frontline account management team.
Simple to implement and easy for customers to answer, NPS surveys ask customers to consider the broad experience and satisfaction they have with your organization.
Relationship NPS surveys gauge the customers' overall experience with your brand. If done at regular intervals, with multiple stakeholders in each account, you can clearly track customer loyalty and identify any churn risks.
Learn more: Account Experience—The Methodology for B2B Companies to Tackle Churn & Drive Account Expansion with Voice of Customer
Transactional NPS surveys, on the other hand, examine the customers' experience at particular touchpoints in their journey with you.
For instance, are customers getting frustrated by your onboarding process? Is your customer service too slow to react? Is your technical support failing to resolve issues? These individual interactions could push unhappy customers to the edge of churning.
Surveying these touchpoints can help you step in and find a solution before it's too late.
So, how can this information help your account management (sales or success) teams? In short: identify accounts at-risk of churn (those with poor engagement or response rate; or leaving NPS scores below 7) AND, critically, identify accounts ready to grow through upsell or referrals.
SmartBear, the billion-dollar software company, brought in $6 million in referral revenue in one year by identifying their happiest customer accounts with Net Promoter. Alchemista on the other hand now has a 100% retention rate. Both are impressive examples of the power of NPS.
2. Follow Up with Your Passive Customers Regularly (Not Just Your Detractors)

When you receive your NPS survey results, you can start grouping respondents into three groups: promoters, passives, and detractors.
Depending on the category, you'll be able to determine your customers' loyalty, but also their potential impact on your revenue growth:

Promoters (answer 9 or 10 to the NPS question): This type of customer is loyal, enthusiastic, and passionate about what you do. What's more, they typically go out of their way to refer you to other customers, and this can have a direct positive impact on your bottom line.
Passives (answer 7 or 8): This type of customer isn't as enthusiastic as your promoters, and there's always a risk of them churning or becoming detractors. However, they're unlikely to spread negative word of mouth at this moment in time.
Detractors (answer between 0 and 6): This type of customer is not happy with their experience. They're at the most risk of churning and spreading negative word of mouth. Customers on the receiving end of a bad experience are twice as likely to tell others about your brand.
While you'll definitely want to dedicate energy, time, and resources to improving the experience for your detractors, often companies get complacent with their 'passive' category.
These customer accounts are indifferent, which means they're right on the precipice of joining your detractors and are often most susceptible to competitor bids.
With the right amount of attention and nurturing, you could sway them the other way and nudge them toward becoming promoters.
3. Be Open About Closing the Loop
Closing the loop means considering the feedback you've received from your customers and acting on it (quickly and effectively). As such, closing the loop requires you to respond to your customer and, if possible, demonstrate that you've taken their comments on board.
Because when you think about it, that's why people fill out surveys in the first place. They care enough about their experience with you that they want to help you improve it. Don't sleep on their engagement — act quickly.
Keep lines of communication open throughout, ask to talk to them more about their issues or address them in your QBR. And, once an issue has been resolved, let them know "this is what we did as a result of your feedback."
Crucially, this must be the attitude for all customer feedback, whether they respond with positive or negative feedback. Our data shows that B2B companies that close the loop on all customer feedback increased their retention rates by 8.5%.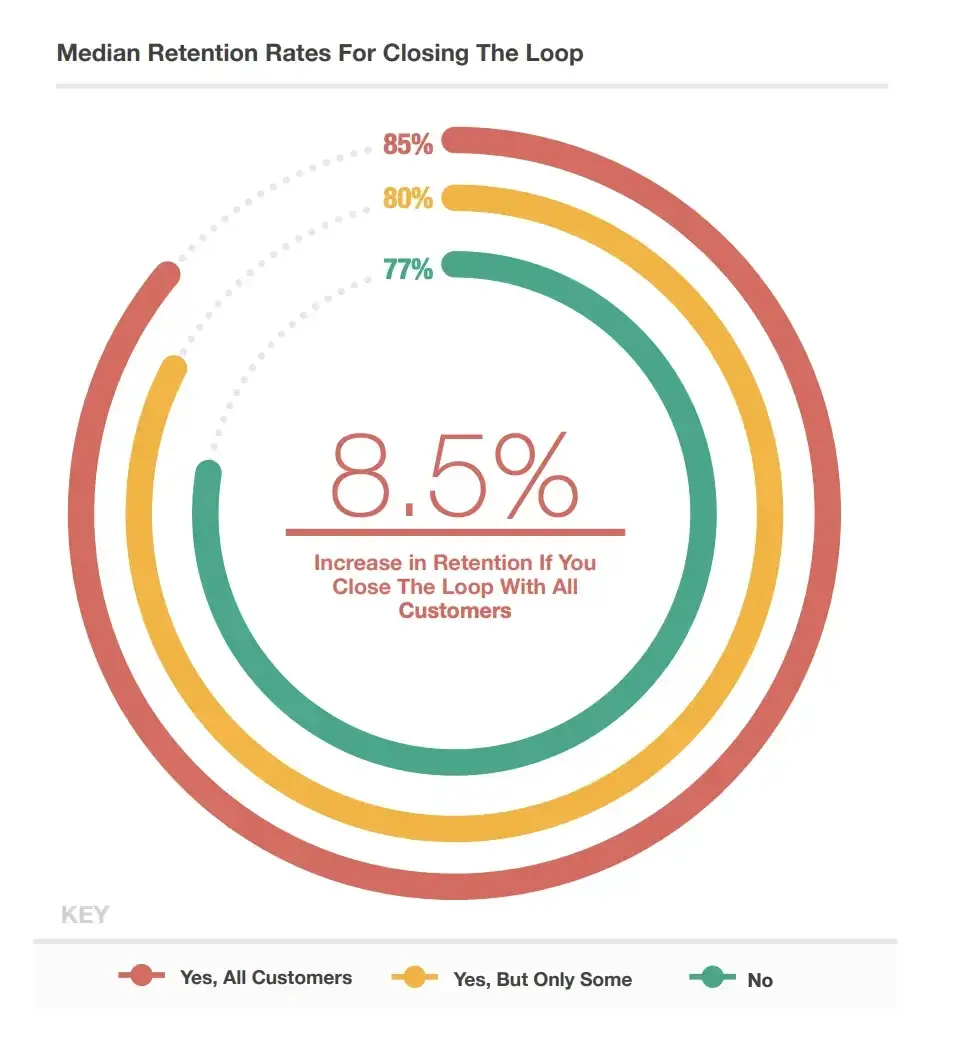 As the above chart (from our own database of B2B customers using Net Promoter) shows, companies that close the loop on negative customer feedback convert 23% of those customers into promoters by the next time they are surveyed.
Read more: Closed Loop Feedback (CX) Best Practices & Examples
4. Set Close-the-Loop Targets
Closing the loop works best if you do it quickly. And one way to ensure you're fast off the mark is to have a target. 62% of B2B companies admit they do not have targets for closing the loop and guess what? They're the slowest to do it.
For example, DHL Supply Chain places a huge emphasis on closing the loop with 100% of its customers.
As feedback comes in, they ensure all detractors are followed up within 48 hours. Senior managers, as well as the C-Suite, get daily reports sent directly to them from CustomerGauge.
Customers that are deemed "low-scoring detractors" are immediately followed up with by senior management.
DHL uses our case management functionality to track negative feedback, set closing-the-loop targets, and get alerts when targets aren't being met.
Learn more: DHL Achieves Higher Renewal Rates & Growth Using CustomerGauge

5. Track Multiple Signals (Not Just NPS)
So, the first two tips cover the Net Promoter Score angle, but you can't rely on NPS alone to paint the full picture.
Yes, surveying is essential, and doing it regularly can help you uncover actionable insights, but your customers can be a goldmine of valuable data even when not prompted — if you know where to look.
Combining NPS or satisfaction metrics with account signals like product usage, support tickets, and email engagement can help your company monitor engagement from an entire account, across all stakeholders and channels.
The key is to get everyone involved, which is precise what tax prep giants H&R Block did.
By collecting data across a variety of channels, equipping front-line staff with client insights, and getting buy-in from all departments, they could commit to CX at all levels of the organization.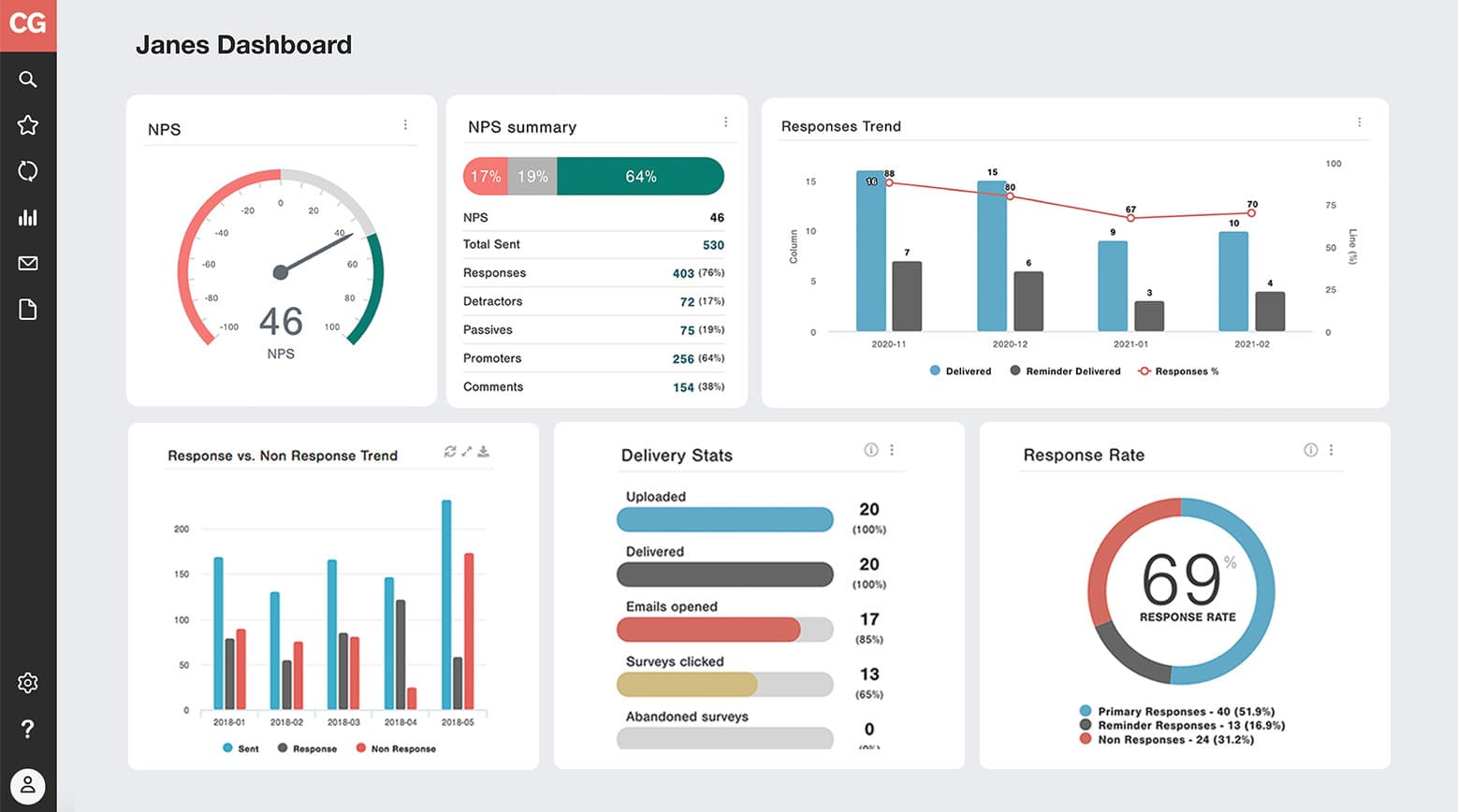 6. Use Financial Data to Direct Engagement with At-Risk Customers
According to our research, 70% of companies do not have their customer experience program linked to financial data. In our eyes, this is why experience programs fail in B2B organizations—or at least go unused by sales and customer success teams.
If you don't know how your customer loyalty and retention efforts are affecting your bottom line, it's difficult to track success.
But there's another side to the coin. If you don't know how much each customer is worth to you, then you can't gauge the impact of their churning. It matters much more if your largest 5 accounts leave than your smallest 5, so B2B companies should not be treating feedback from all 10 accounts with the same importance.
Using Account Experience, our customer retention methodology that ties your NPS data to your revenue, you can see how much your at-risk customers are worth. Reaching out to them first with a compelling reason to stay will make a meaningful difference in customer retention (and revenue).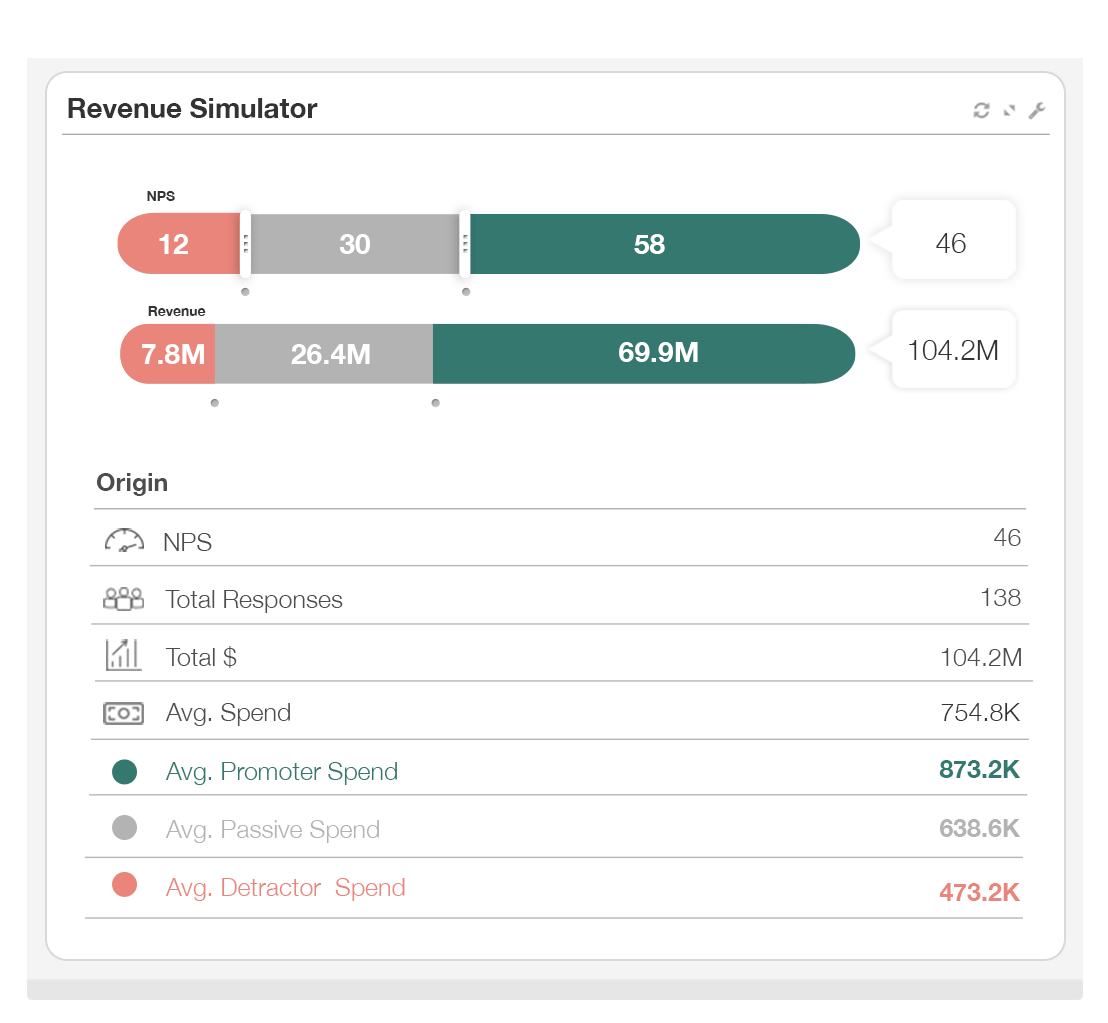 7. Don't Be Shy (Send Multiple Surveys)
This one's nice and simple: surveying multiple times a year can increase retention rates.
You might feel that sending too many surveys will annoy your customers, so you hold back on regular check-ins. That's understandable. But our numbers tell a different story.
We found that B2B companies who survey a single contact once a year experience a median retention rate of 44%. Yet, those surveying multiple times a year to multiple contacts experience an 82% retention rate. That's almost double the retention rate by simply asking for more feedback (and acting on it accordingly).
💡We follow one golden rule: your customers only get bored and tired of your surveys if nothing comes of them. Follow up and act on their feedback and they'll happily be surveyed 4 times per year.
8. Attack Absence of Signal
As briefly mentioned before, one of the clearest signs of impending churn is a lack of engagement, or what we've dubbed an "absence of signal."
If your customers aren't responding to your surveys, how can you take action to improve their experience?
You need to minimize the absence of signal and maximize engagement by trying different feedback collection methods, that's how.

Not filling out email surveys? Try text messages or telephone interviews.

Are they visiting your website often? Hit them with a popup.
The key is to try and engage your customers on the channels they use the most. Avoid the temptation to force them to use the one that's easiest for you to manage. Bite the bullet and find the one that works best for them.
Nothing bad will ever come from improving your response rate!
Listen: The Path to 80 NPS & Revenue Growth w/ Brian Hodge (The Account Experience Podcast)
9. Identify Upselling and Cross-selling Opportunities with Your Promoters
We've touched on re-engaging your passives and reaching out to your detractors, but you mustn't rest on your laurels when it comes to your promoters.
According to Gartner, 80% of profits come from 20% of customers. It stands to reason that your most engaged and enthusiastic customers will be more willing to hear about what else your company has to offer.
Capitalize on this: upsell, cross-sell, and run a referral program to boost retention and, ultimately, grow your customer base, too.
While this doesn't directly influence retention, it does improve your Net Revenue Retention, which includes upselling. The LinkedIn post by Jason Lemkin in the introduction refers to the power of NRR for business growth.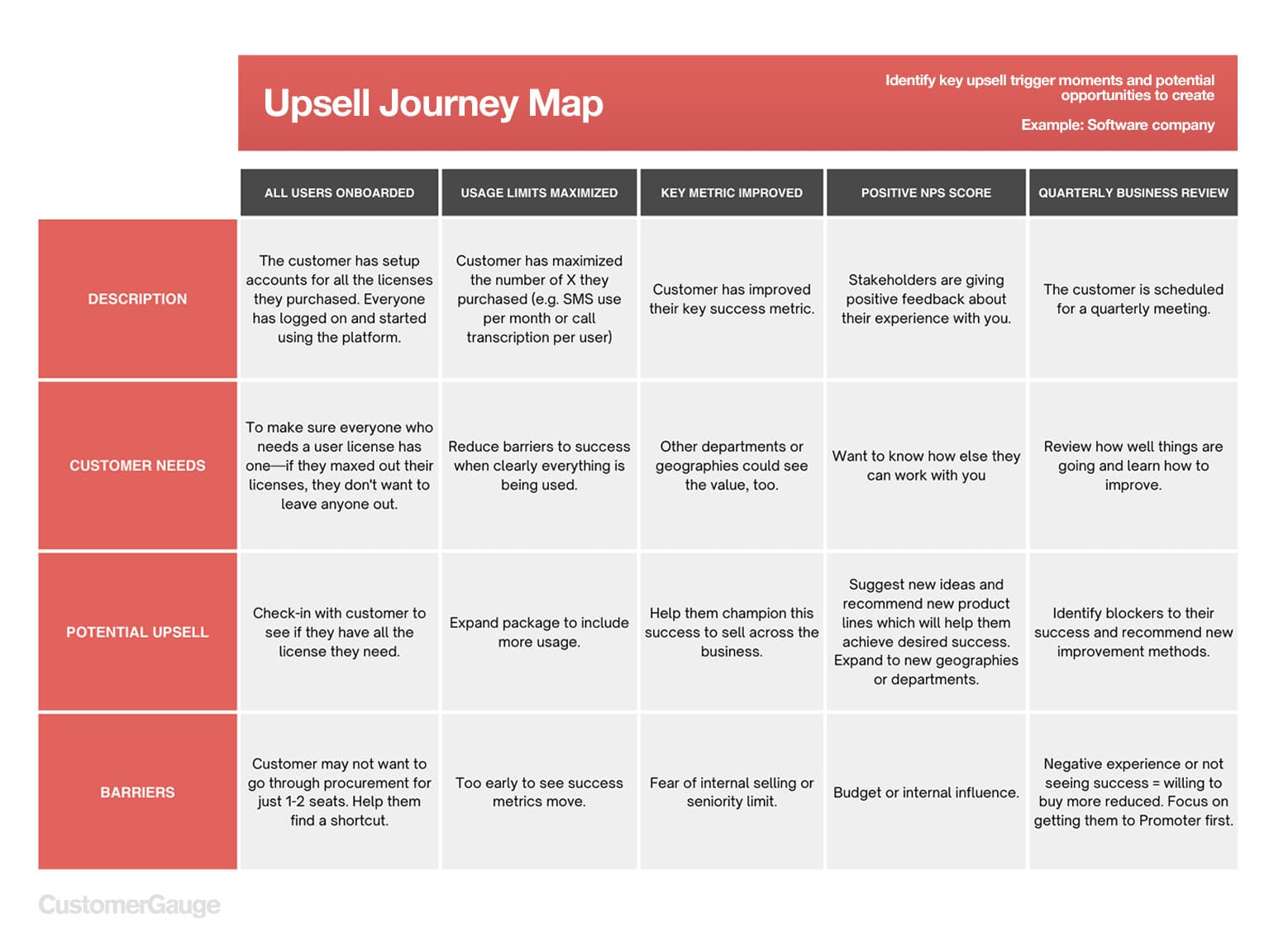 Read more about identifying up-sell and cross-sell opportunities with experience data here.
10. Introduce a Loyalty Program
Finally, research shows that almost 80% of customers are more likely to stay loyal to a brand if it has a loyalty program in place.
Consider offering rewards or discounts to thank your customers for repeat purchases, or to incentivize them to engage with your product or service further (for example, undergo training to close a knowledge gap).
Looking for inspiration? Check out these 5 real-world customer loyalty programs for B2B.
Try CustomerGauge for B2B Customer Retention
CustomerGauge can deliver accessible, actionable account experience insights for your B2B company through our customer retention platform. Using our real-time dashboards, alerts, and customer journey maps, your company can close the loop with your customer base and identify areas for continual improvement.
Click here to learn more and book a meeting with our sales team!
About the Author