Looking for B2B account management strategies that reduce churn, increase revenue, and grow your accounts?
So was Gemma Beddow at Briggs Equipment, a CustomerGauge user since 2020. She described one of her company's previous pain points during her speech at the CustomerGauge Awards last year:
"The most common response we get [from customers when we act on their feedback] is 'oh, I didn't think anyone actually read my responses'. We've even had messages from non-responders we followed up with who said 'you know what, next time I'm going to respond because I didn't realize anyone did anything with the surveys'."
Gemma's company was experiencing a common problem. Her customers thought they weren't being listened to or that the company wouldn't take any action, so they didn't bother providing feedback.
Today, Briggs Equipment looks a bit different — the company closes the loop with 97% of their survey responses in just 11 hours on average.
How did they turn things around? Gemma's team considers every single piece of feedback crucial. And they now go even further by showing their customers that they're listening using survey responses for corrective action.
Plus, the team they've created and rolled out since is genuinely inspiring, that's why we had Gemma speak at our biggest voice of the customer (VoC) conference of the year, Monetize!
This is just one example of an account management strategy that really works, but there are many more.
In this article, we'll explore exactly what works (and what doesn't) in B2B account management, how things differ from B2C, and most importantly: how to put it all into action.

What Is Account Management?
As an account manager, you're responsible for nurturing and maintaining relationships with customers after they've bought a service or product from your company. It's your job to help solve any problems they might have and ensure their experience with the business is satisfying and valuable.
This is important because it puts you at the frontline of fighting churn and fostering loyalty. But account management is not just about retention. It's about growing accounts through upsells and referrals, too — and customer experience (CX) is at the heart of that.
How Does Account Management Differ in B2B and B2C?
When it comes to account management strategies, many are focused on the B2C model. But B2B account management differs in fundamental ways:
B2B accounts are more complex, with hierarchies and multiple stakeholders and decision-makers. There are also finance and technology teams and senior leaders. That means getting a true picture of account sentiment can be more challenging because AMs need to make sure they're engaging with stakeholders at every level, rather than just with one contact.

Revenue per account varies more in B2B. Since accounts in B2B consist of businesses, rather than individual customers, their revenue share can vary dramatically. AMs need to make sure they're prioritizing accounts with both customer experience data and revenue share in mind.

B2B accounts are looking for a trusted relationship. In B2B, there's no 'impulse buy'. Every purchase has to be carefully evaluated against potential competitor products: ROI, pricing, suitability, and of course, their long-term relationship with you.

B2B accounts are looking for human, dedicated support. B2B accounts need more in-depth, human support. This is because issues tend to be more complex. Rather than just needing to communicate with one individual, vendors need to provide consistent, high-quality support to multiple team users, all on one account.
Getting all of this right can be a real challenge.
According to our research, only 20% of B2B leaders are sure that their entire organization understands how their experience program supports their strategy. This lack of clear-sightedness leaves B2B companies at risk of churn, loss of profits, and ultimately stagnation.
CX: The Fundamental Aspect of Your Account Management Strategy
Remember Briggs Equipment from earlier? One of their biggest issues (and why they weren't getting feedback) was that their customers just didn't believe they took what was being shared into consideration.
Naturally, Briggs Equipment never intentionally ignored feedback, they simply didn't have the correct plan and technology in place — unfortunately, this is all too common.
But customer experience (CX) forms the foundation of any successful account management strategy, so you want to make sure it's as good as it can be.
Here's why:
Poor CX is a major driver of churn. Think about all the touchpoints in the customer journey: purchase, onboarding, tech support, and referral requests. In all of these interactions, your company needs to understand the customer's needs and find constructive, positive solutions to grow the relationship.
If they're not satisfied, they'll likely go elsewhere. In fact, according to PwC, almost a fifth of customers will churn after a single bad experience — it's your job as an account manager to prevent that.
To improve customer sentiment, you need to show customers you care. It's not enough to just have the lowest-priced product. Customers are increasingly looking for brands that really care about their experience.
That means creating extra value; benefits for a product or service that balance its cost. You can do this in a variety of ways, such as providing great customer service, quality products, and generating useful content such as educational materials.
Great CX drives revenue. Let's face it, if your customer feels that they're getting the best bang for their buck, great product, quality support, and a trusted relationship with your company, then they will stick around, buy more, and encourage others to do so, too.
When it comes to revenue, this is a strategy that works. Remember. attracting a new customer can cost you five times more than retaining an existing one, so look after the ones you have by making their experience top-class.
That's why we created Account Experience: put customer experience front and center. We must have got something right, as we were voted Gartner's no.1 VoC vendor for B2B.
But how do you make sure you're providing the best CX possible and taking full advantage of the benefits? We'll take you through the things that do (and don't) work in B2B account management.
Let's dive in.

What Works and What Doesn't in B2B Account Management
AMs have a lot on their plate. That's unsurprising when you think about all the stages of the customer lifecycle. Account managers are responsible for everything from onboarding new customers and making sure they're getting the most from the product to providing quality support and finding upsell opportunities.
Making sure all of these stages are as productive as possible is crucial in maximizing customer lifetime value (CLTV). If a customer is retained by your company due to the experience you're offering, they're likely to buy more and refer others — increasing their CLTV.
Meanwhile, the longer customers stick around, the less you'll need to spend on customer acquisition, as you'll earn more through upsells and customer referrals.
Take a look at what happens when you make earned growth a fundamental part of your AM strategy. Customer lifetime value dramatically increases, and acquisition costs fall, substantially.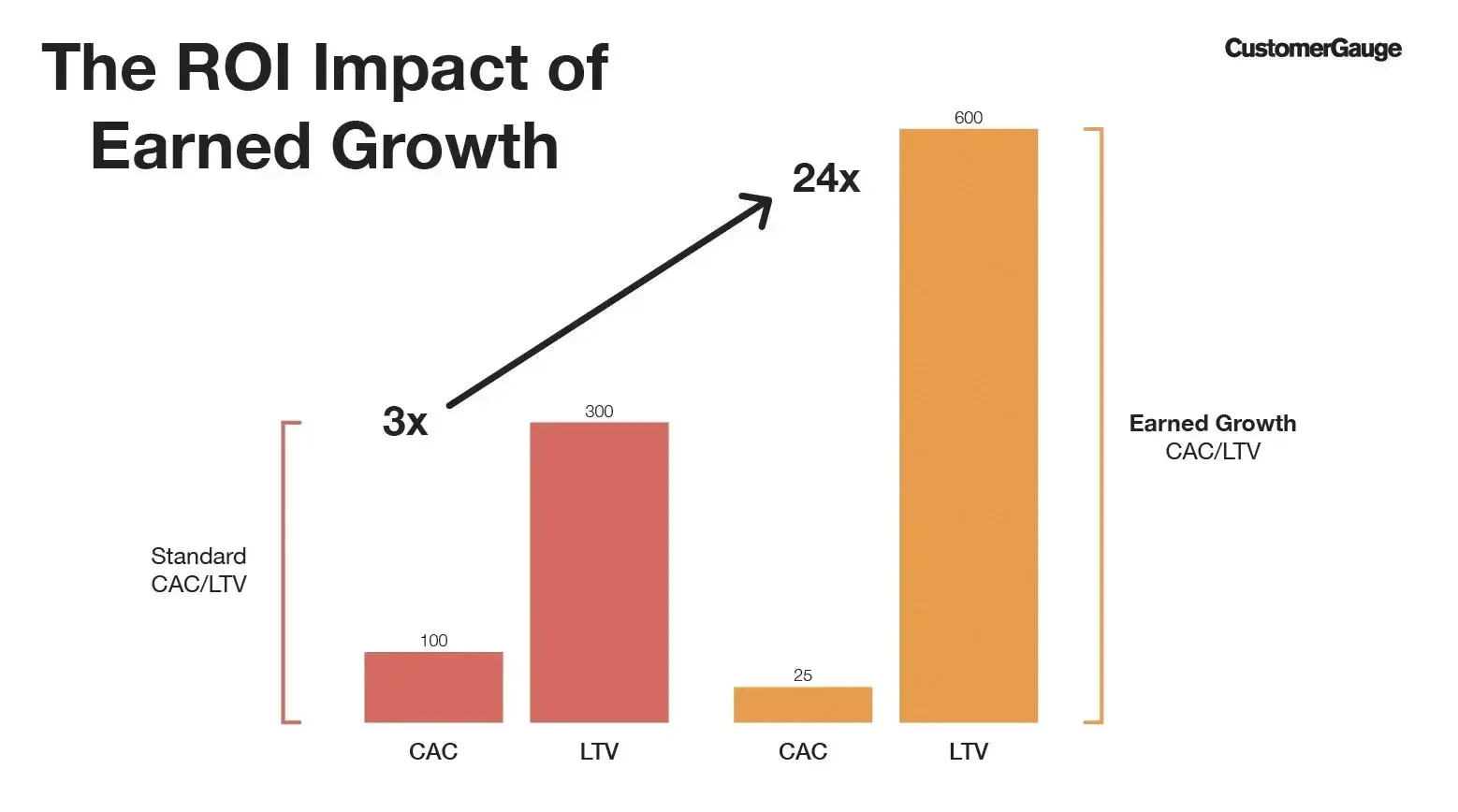 The following five strategies are all based on this core principle. By following them (and avoiding the common pitfalls) you'll increase feedback, nurture relationships, and ultimately, maximize revenue.
What works: Building a Customer Feedback Strategy Specific to B2B
What doesn't: Blindly firing off customer surveys
So you know you need to send surveys; they're the backbone of any customer experience management strategy.
But a great CX program is much more than just spraying out surveys. We go into much more depth into this topic in our article, NPS survey best practices, but here's a round-up of the key points:

Use Net Promoter Score (NPS). NPS measures customer response to a straightforward, action-based question: "On a scale from 0 to 10, how likely are you to recommend our company to a friend or colleague?".
It's easy for your customers to understand and quick to complete. What's more, it's easy for you to use the results to drive tangible action.

Ask the right questions. So, one of your customers gives a low NPS score. You need to get to the bottom of exactly why and close the loop as quickly as possible.
Identifying the drivers of customer sentiment is crucial. Including driver questions in your surveys, or using cascading questions to get more information, will help you understand why your customers are feeling the way they are. Alternatively, root cause analysis can help.

Send the right type of surveys at the right time. We advise sending relationship surveys every quarter and transactional surveys after every key interaction. For example, after purchasing or receiving tech support.
Follow up and acknowledge responses. Survey fatigue is a real thing. If you keep sending out surveys and don't follow up or acknowledge the feedback, your customers are going to stop responding. Take Gemma from Briggs Equipment — they now have an amazing response rate because they actively follow up on all feedback and show their customers the changes they're making as a result.

Chase up non-responders. Here's the bottom line: if you don't hear from a customer, you should consider them at risk of churn and label them as Detractors to receive an accurate understanding of your customer data (take a peek at the graph below) So, if all you're getting is radio silence, reach out by whatever means: by email or just give them a call (it's amazing what a simple conversation can do).
Engage at every level of an account. Even if you're hearing from an account, are you getting the whole picture? In B2B, accounts tend to consist of stakeholders at many levels.
For example, if your contact on an account gives you great feedback, but unknown to you, the CEO thinks your service is lousy, that account will be at risk of churn — and you won't know until it's too late.
That's why it's crucial to have the right tools for collecting VoC;a simple survey tool just isn't going to cut it.
Account Experience
from CustomerGauge has been designed with the needs of B2B in mind, with intuitive tools to make sure you're sending out surveys when the time is right, engaging with all stakeholders, and following up on non-responses.
What works: Balancing Self-Service with Human-Based Support
What doesn't: Relying too much on one type of customer assistance)
Self-service can take a variety of forms, but all rely on technologies to automate tasks that would otherwise be performed by a human representative. For example, ATMs, online ticket purchasing, and self-checkout at hotels are all great examples of self-service options that really work.
But self-service technology has evolved as now you can utilize technology to troubleshoot more challenging problems. Chatbots, for example, are now routinely available for more mundane tasks in customer service, such as checking on an order or requesting a refund. This is because self-service options tend to be quicker at providing customers with the resolution they seek.
In B2C, customer journeys are typically shorter, less complex, and the financial stakes lower than in B2B. So, self-service options tend to work particularly well for this business model.
But the trend for self-service is starting to impact B2B, too. For example, a study carried out by McKinsey & Company found that 86% of companies preferred to reorder using self-service tools.
That said, we all know self-service isn't enough by itself. For example, your customer may have a problem that doesn't easily fit into one category; they may be struggling with the self-service system itself, or perhaps, they'd just like to talk with someone who isn't a robot.
KPMG, for example, found evidence that a whopping 95% of UK B2B companies prefer a dedicated human relationship manager.
As with many things in life, it's all about balance. It's possible to make self-service really work for B2B, but only if it's done right.
What works: Tying NPS Data to Revenue
What doesn't: Treating CX as separate from financial performance
CustomerGauge research found that 70% of companies don't link data from their CX programs to financial data; shockingly, 62% don't know the ROI of their CX efforts.
This is one of the main reasons B2B CX programs fail. If you can't demonstrate the economic benefits of your CX program to those at the top, you're just not going to get the buy-in needed — the most significant reason programs are facing cuts during the ongoing CX storm.
Linking revenue to customer sentiment is crucial to you as an account manager. It helps you prioritize your highest-value accounts, calculate churn risk in terms of revenue, and find the most profitable opportunities for upsell and referral.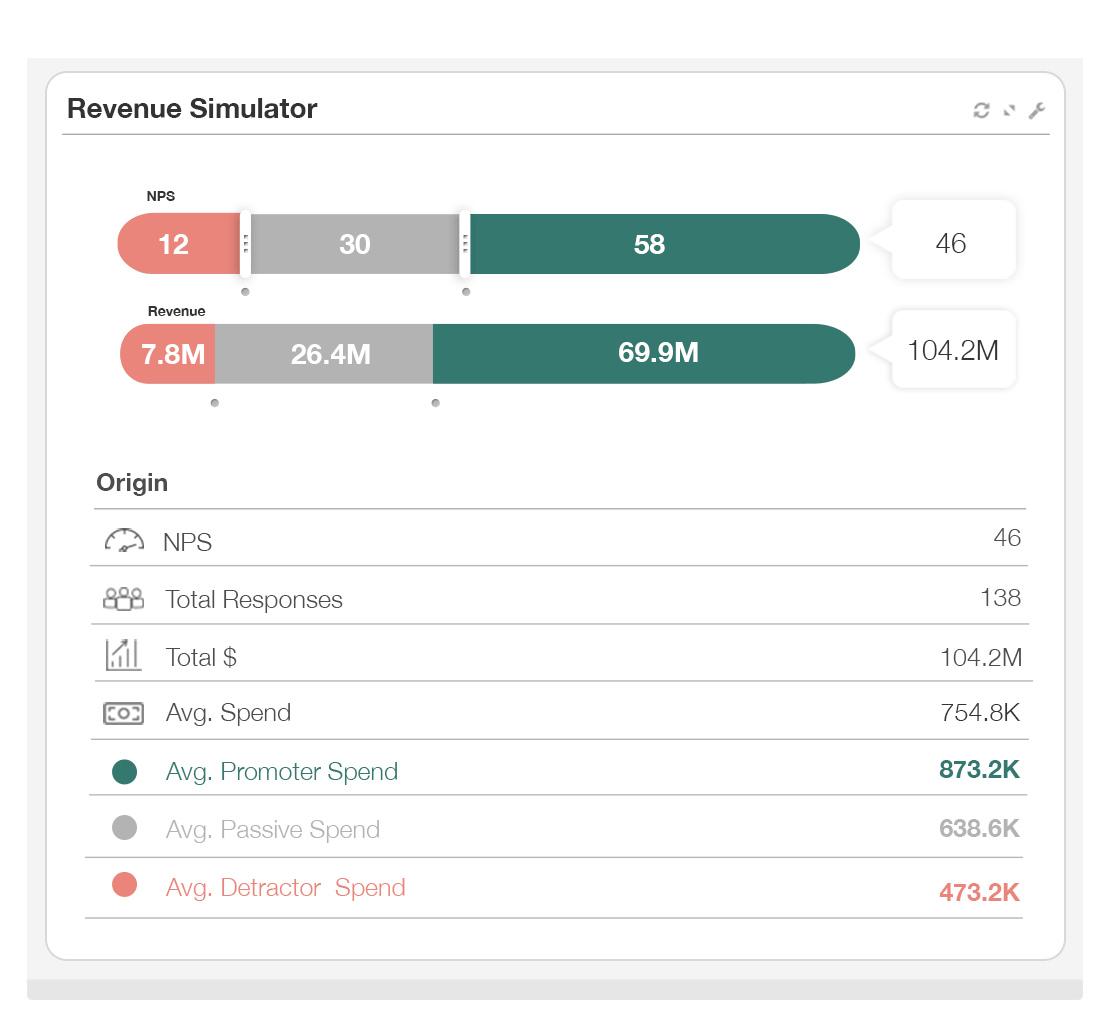 How is this done? Use SWOT analysis to map out your accounts in terms of revenue and NPS. This type of analysis means you can easily identify which accounts are your biggest threats (high revenue share, poor sentiment) and potential opportunities (low revenue share, high NPS).
That's why Account Experience includes SWOT analysis so you can easily identify which accounts are your biggest threats in terms of revenue to take action before they leave.
What works: Making Sure Every Member of Your Team is On-Board
What doesn't: Siloing data and leaving CX to just one department
We've all been there. You contact a company about a product or service, but with every interaction, you're forced to regale the representative with all the details of your problem, again.
"Why do I have to keep retelling every single person the details of my issue? Don't they all work at the same company?" you ask.
The simple answer is that the company has the data they need, but it's probably siloed in one department. Unfortunately, this situation seems to be the norm. Only 22% of B2B CX professionals claimed that their organization leveraged CX data effectively, according to a report by Walker.
Siloed customer data is bad for business.
Curt Bloom, president of BlueVenn US, sums the problem up beautifully in his article for CMS Wire:
"Businesses have masses of data, but it isn't often at their fingertips for use, and it isn't necessarily easy to understand when it is readily available[… ] Adding to the problem is the fact that data is frequently strewn across all corners of their organizations, held in a range of disparate systems and information silos, in a wide variety of data formats. This inaccessibility prevents marketers from understanding customers and their behaviors, and it hampers their ability to target consumers with relevant campaigns."
This lack of joined-up thinking has big consequences: poor customer service, poorly targeted development, and missed revenue opportunities for upsell and referral.
That's why every member of your team must be on board with customer experience. Having an automated tool (like Account Experience from CustomerGauge) to distribute the results of surveys, as well as alerts for closing the loop and chasing referrals, can be very beneficial.
Let's hear from Gemma Beddow backstage at Monetize! as she discusses how important it is that everyone has a hand in their businesses' CX program — from the C-Suite to the frontline.

Inspired? Read how Alchemista and Coca-Cola HBC transformed their companies' CX strategy by breaking down needless data silos and transforming company culture, too.
What Works: Prioritizing Growth as Part of Your Wider Account Management Strategy
What doesn't: Only focusing on customer retention
It's an easy trap to fall into. Account managers have so much on their plate that the majority of their time is spent firefighting issues to combat churn, rather than encouraging account growth.
Here's what Gartner has to say on the topic:
"The account management paradigm at many sales organizations is oriented not toward encouraging growth, but rather toward discouraging the loss of business already won, which inadvertently allows account managers to prioritize the retention of existing customers over the expansion of account spend."
It's no wonder that only 28% of account management channels regularly meet their cross-selling and account growth targets, according to sales leaders.
But with Account ExperienceTM, AMs can seamlessly incorporate growth as part of their wider CX strategy.
Here's how:
Use NPS data to identify accounts ripe for upsell. Remember the Account ExperienceTM SWOT analysis from earlier? It's not just for identifying at-risk accounts, but for highlighting opportunities, too. Those accounts with high NPS but low revenue share are the perfect candidates for upsell.
Use NPS data to identify conversion opportunities. It's not just your promoters that present opportunities for selling; your NPS detractors do, too. If a detractor is unhappy with a product or service, take a shot at converting to a promoter by letting them "try-out" something else and effectively take part in closed loop feedback.

Activate your promoters by asking for referrals. 63% of B2B companies don't track referrals gained from their B2B customer experience program. But they're missing a trick, as referrals are a great source of earned growth. So, rather than relying on chance, have a concrete, referral program in place so you don't miss crucial opportunities. You can read more on building an effective referral program here.
Get Your AM Strategy Off and Running With CustomerGauge
Getting all of this right might seem like a big ask, but it doesn't have to be.
With the right tools in place, you can ensure that everyone is on top of all your accounts (even the most complex ones), combating churn, encouraging growth, and maximizing revenue.
We're so passionate about utilizing customer feedback as part of AM that we created a specialized course on the topic as part of our Account ExperienceTM (B2B CX) Certification.
Check it out, here!
Make sure you're getting off on the right foot with Account Experience from CustomerGauge — try our
demo
today.
About the Author